Recent articles I've read (here and here) do suggest that RTB is about to take off. That 2nd link (an Optim.al story from AdExchanger today), has a definite focus on audiences (individual users), rather than content.
2013 has been a long time coming for many disillusioned Looksmart shareholders who (those few, resisting the PEEK 'offer'-I believe), have been hanging on in the hope of a kind of miracle to suddenly happen.
Patience will be rewarded
Based on real time (1st party) search 'Intent Data '- is the building of an OPEN (global reach) marketplace that's taken years to bring together.
The Looksmart Story
It's a long read but it's well worth-while for all involved.
From within the amended FORM SC 14D9/A (Filed 08/03/12), is the LOOKSMART LTD CC transcript - where Looksmart's CEO advises all of the Co's plans for what lies ahead. (In 2013)
*********
JEAN-YVES DEXMIER
"Good afternoon and thank you for joining our call today.
As you know, LookSmart is approaching a pivotal point as we continue to develop and prepare to launch our next generation of products and platforms.
The second quarter revenue & EBITDA results that we will review on this call were consistent with our expectations, given our strategic decision to cease business with several of our intermediary customers & to invest to actively develop the next generation of the LookSmart online advertising platform.
It is certain that we have not been communicating in a detailed manner with our stockholders regarding our new product suite while it has been in the development phase.
.....This decision was driven in part by our desire to tackle key technical practicalities before discussing them publicly, and also in part because of competitive sensitivities.
.......At the same time, we recognize that it is very difficult for our stockholders to evaluate the potential of their holdings absent more detail on our long term technology plan.
We aim to strike the right balance between these considerations on this call, and will use this opportunity to provide you with a comprehensive overview of what we are pursuing with our new product initiatives and how we are implementing our plan.
The online advertising market continues to demonstrate strong growth and presents a clear opportunity for creating value. There is a significant
imbalance between supply and demand in search advertising.
........Independent sources indicate that advertisers could spend up to twice their current budgets should the right traffic be available - it is a question of volume more than price.
The current U.S. search advertising market is estimated to be between about $15 billion and $20 billion today, and the vast majority of this is in the search-to-search market. Capturing even a fraction of the market would represent significant value creation for LookSmart.
When discussing game-changing events for online advertising with our customers and partners, there is strong consensus regarding the significant value that an integrated Search and Display open marketplace would have for them.
...........There is a clear opportunity to create value by providing such a marketplace, enabling advertisers, who are primarily focused on search-based advertising, and publishers, who mostly provide display opportunities, to directly meet & efficiently settle - in real time - individual search ad placements.
There are two key challenges in addressing this opportunity.
First, it appears to be much easier and more effective to integrate display into a search advertising platform than it is to alter a display advertising platform and bring it to the search advertising environment. ..... So, to capture the opportunity, one has to start with a robust & proven search advertising platform.
Second, such a marketplace needs to be capable of delivering a very large volume of display traffic to search advertising campaigns- up to 100 billion events per day. It must be a scalable, high-performance technology platform.
LookSmart is positioned to answer both of those challenges. We are positioned to deliver an open, independent marketplace by leveraging our existing search advertising platform. We developed a plan last year for a phased launch of our new product suite.
This plan will culminate in the launch of an integrated Search and Display online advertising platform that is capable of handling a large volume of display traffic. ..... We have taken very deliberate steps to execute our technology development plan:
* We have opened a technology office in the Greater Toronto Area, from where we are developing much of the technology on which our platform is based.
* Beginning this quarter, we are progressively releasing the different components of the new product suite in a seamless way that will allow advertisers and publishers to easily adopt and benefit from each new component.
* We announced the first component of the suite in July when we added display advertising solutions to our advertising capabilities.- This new offering allows advertisers to combine search campaigns & display campaigns using the LookSmart products and delivery teams.
* We will continue to release the new components of the product suite over the next few quarters, including the click server, online analytics, ad server and advertiser and publisher center.
* Ultimately, the full product suite will be available as an integrated Search and Display online advertising platform in 2013.
Overall, we believe that the market opportunity for an open, integrated Search and Display marketplace is very large, both domestically and
internationally, and that we are one of the very few companies able to capture this opportunity. By leveraging our search advertising platform
to develop a new integrated Search and Display product line, we believe that we will meet a very important customer need and drive significant
value for LookSmart and its stockholders.
Our investments in technology are the foundation for new and very significant revenue streams. Our transformative plan is well underway & we are confident that we will deliver on our new initiatives on schedule.
.........
We are beginning to expand the types and sources of search traffic without compromising on the quality of the traffic delivered to advertisers, thanks to our soon to be released next-generation click server. We are increasing our focus on direct sales led by our Chief Revenue Officer, Chris O'Hara, who recently joined the Company.
We still expect 2012 to be an investment year, especially in technology and direct advertising sales and operations, as we execute our strategic
plan to capture the very large Search and Display market opportunity.
As we have explained, those investments adversely impacted our cash
balances in the first half of the year and will continue to some extent in the second half of the year.
We believe that we have addressed the risks that could negatively affect our ability to execute on our stated plan.
We have done extensive proof of concept work and believe that we have eliminated, at this stage, the key technical uncertainties about the new integrated platform. The devil is in the detail, of course, but I believe it is reasonable to say that it is now a matter of development and execution, not a matter of technical feasibility. Search advertising will continue to be the strongest & most consistently growing online advertising market.
Its growth has been limited by the supply of quality search traffic available to meet advertiser demand. Delivering traffic through unlimited display supply and effectively targeting it to search advertising campaigns is the game-changing event advertisers and publishers are resoundingly asking for.
This is what we are set out to deliver and I am confident in our ability to execute for the benefit of all LookSmart's stockholders."
*********
Traffic UP in past three months
That Looksmart's Traffic (according to Alexa) has increased by 82% Q/Q may be proof enough that Looksmart (as advised above) are beginning to (gradually) expand the types and sources of search traffic.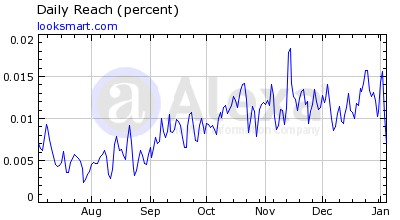 www.alexa.com/siteinfo/looksmart.com#
Always, only an opinion.
LC
Disclosure: Long LOOK
.