Michael Katz
, CEO of
InterClick Ad Network
(A Co that's now-a-day being described as being a technology company providing solutions for data-driven advertising in the United States (
View More
), has some very strong views himself on
the Tolman Geffs 'slide'
- (As shown below here). Being the 'base' I'd used within my previous instapost.
Among his comments made (below the adexchanger article),
Michael Katz
says:
"
The presence of that slide is exactly what is problematic with this industry. It completely ignores any notion of value creation (through specialization and integration) along the supply chain and depicts everything as a tax or a cost, which couldn't be further from reality.
"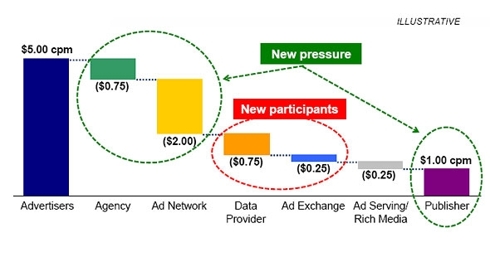 Click to enlarge
The
InterClick Ad Network's CEO
goes on to say:
"
This slide implies that for $5.00, advertisers are only getting $1.00 worth of value and that value is only being derived from the publisher inventory, which completely ignores - - - - - the effect of targeting data and/or great creative on a campaign's success.
"
He feels so strong about it all, too - in his going on to say, that .. "
the slide shouldn't exist
, and the people commenting from the sidelines
[who, me?],
need to stay on the sidelines
". 
A couple of points (I was attempting to hilight), were about:
a) How the publisher's pie was being 'sliced'. (
$5.00 down
to
$1.00
)
and, that .....
b) In using the Looksmart advertiser/publisher 'solutions' (both the
big brands
, working 'in house' - and
huge publishers
like Microsoft, Yahoo & say, a Newscorp), can get the kind of scale (globally) and completely eliminate much of those 'in-between' costs, as are shown above.
With that $5.00 spend (apart from the $0.25c 'cost' to be retained by the Ad Exchange & the $0.25c for Rich Media - where applicable), the publisher will then see an additional (up to) 350%, on that existing.
I say "
up to
", when taking into account many
Agencies
who (in effect),
will become their own DSP
operators, using that 'same' (Looksmart), API 'interface' (in a 'secondary' or, remnant ad/publisher marketplace) and will thereby - - get to be dealing 'direct' through
Exchanges
. (We should then include the $0.75c - in such cases)
Agencies
- the likes of
Publicis
, who only this month were awarded a big chunk of the
Microsoft
North American advertising account
will be in need a much talked of
(on my blog)
'separation'
(as such), when it all settles down.
Microsoft
has (already) partly gone down this road with it's Microsoft -
AppNexus
(remnant) partnership in an
OPEN Marketplace
...
Just as (I feel)
eBay selects Triad Retail to deliver customized on-site display
& will be coming into the marketplace, through (
Partner
), the
WPP
Group's
24
/
7
Real
Media
.
"
The direct, in-house strategy in this case is appropriate for eBay given their business, just as the AppNexus remnant partnership is a good move for Microsoft. Display advertising represents a huge opportunity for each company, but each one must approach it in a different way
."
www.adexchanger.com/networking/counterpo...
/
[And then
eBay's
announcement
to buy
GSI Commerce for $2.4 billion http://t.co/5i3QsUm - that
  ... will significantly strengthen our ability to connect buyers and sellers worldwide," eBay CEO John Donahoe said in a release.]
The chief executive of Publicis
Maurice Lévy
(via an excellent article in today's NY Times), doesn't give much away (maybe a smidgeon?) when talking of advertising on social networks like Facebook, when he says: 
"I am pretty sure there is a business model that has yet to be invented that will generate a lot of revenue for the social networks," Mr. Lévy said. .... "I don't know if it will be as successful as people are expecting (?), or as successful as Google with search."
www.nytimes.com/2011/03/28/business/medi...
Much has been written of
Publicis
, here on my blog.
seekingalpha.com/user/36191/instablog/se...
The
InterClick Ad Network's Michael Katz
even had his reservations about the advent of DSPs at one stage (
Ad Tech Hockey Stick: Interclick CEO Katz On Company Growth
), when saying that he ...
"
was quite skeptical of the self-service model at first and in my opinion, from a business model standpoint it's been a winner takes all game. But DSP's have been a game changer for certain;  - - - there is just too much financial incentive for them not to be - - - - -  even when they aren't providing the best solutions for clients
.", he says.
Not all clients (as
Katz
points out), will be best served. Yet, under these conditions many huge publishers will stand to gain plenty and it's pretty clear as to why, this will be so. (And have all shown their hand, of what lies ahead, I feel)
So, Ad Networks (like
InterClick
- who provide solutions for data-driven advertising in the United States), will surely survive in servicing smaller agencies and the needs of many smaller publishers - those who may not quite 'qualify' to play in the 'big ring'. But with the likes of a
Triggit
or, an
AdReady
, they (
ICLK
) will always have stiff competition, I believe.
seekingalpha.com/user/36191/instablog/se...
All, just an opinion, as always!
LC
Disclosure
: Long
LOOK
and happy to be so, too...
.