(I've added a further ppps today - see it below)
Not to be confused with Google Product Listing Ads that have been Available To All Advertisers since late 2010, it's possible that a newer pay-to-play model is now evolving. Where CPA targeted ads become available across a ONE 'frictionless', RTB global marketplace.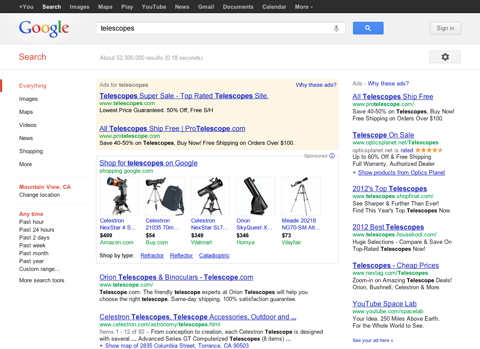 According to this (July 23rd, 2012) article - Flexible Reach for Google Display Network-Google has recently added the "Display Network" tab into the AdWords interface to make it easier for advertisers to manage their Google Display Network (GDN) campaigns. (The GDN or, Google's Display Network is a large network of publishers who are running Google AdSense or selling inventory to DoubleClick Ad Exchange, another Google subsidiary. From The New York Times to CNET, Google's Display Network stretches across millions of websites.)
Google has introduced another feature to manage GDN campaigns: "flexible reach". - A new function that Google hopes to enable users to target their campaigns more efficiently than was previously possible with "broad reach" and "specific reach" at campaign level.
And as advised in this posting, Google is planning to eventually replace "broad" and "specific reach" with "flexible reach".
The QUISMA GmbH Blog (a GroupM Company), in a more recent post, tells it's readers that Yahoo has moved into the Microsoft AdCenter.
(GroupM ='s WPP)
"Since recently in Germany, Austria, and Switzerland and in several other European countries, SEA campaigns for the search engines Yahoo and Bing are managed over the Microsoft adCenter."
Keyword based, it seems very much like Google's own offering, to me.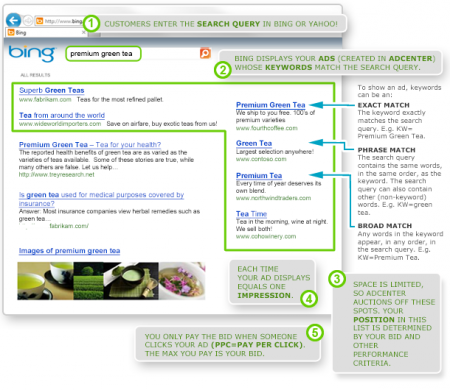 "The additional keyword options allow an even better campaign management"
At Yahoo (so far) it was only possible to choose between "standard match" and "advanced match". With the adCenter, advertisers now having three options: "exact match", "phrase match" & "advanced match".
Maybe Google (Yahoo) and Bing will ultimately 'settle' on use of just a one "flexible reach" and/or, "advanced match"? Or (for Bing/Yahoo), will it be "BROAD MATCH", as is suggested above?
Complying with European Privacy Laws:
It's not surprising that adnologies GmbH (another GroupM Company) describes itself as being a Company that connects agencies, advertisers, networks & publishers by providing stand-alone products like DSP, DMP, Ad Serving, Data eXchange, SSP, dynamic creative and dynamic video that fully integrate into the first end-to-end data-driven advertising platform.
A German-based company and with German-based infrastructure we are bound to & comply with the strict German privacy laws. Our technology is by design based on this law securing our European clients with a leading position in contractual data processing.

(www.linkedin.com/company/adnologies-gmbh)
It was (SEL's) Pamela Parker's advice in an article on Jul 23, 2012 that there were Units Resembling Product Listing Ads Appearing On Bing that then prompted my following comment to her article:
........My initial 'thoughts' are that these type Ads may well be associated with the much "higher paying" (and what are keenly sought after) CPA type - that are provided by and exclusive to, the Looksmart marketplace. As are, the Google PLAs??
The comment was quickly DELETED. Why? http://tiny.cc/ataxhw
"Win-Win" for Advertisers and Publishers
As Pamela Parker has pointed out..marketers would likely be pleased by the introduction of such a unit at Microsoft Advertising/Bing since the Google PLAs have been very successful. RKG's own recent research indicates that PLAs drove 15% of non-branded clicks on Google in the second quarter, but at a 23% lower CPC than comparable text ads.
Through a ONE independent Looksmart global marketplace (where major search engines can come together) advertisers get to seemingly spend more - with publishers themselves (ultimately getting to) receive more in payments, with such type targeted ads already proving to be so popular.
That integration (of) Search and Display
We've been told within LookSmart's Rejection of PEEK Investment's Unsolicited Tender Offer that among its assets is LookSmart's market positioning as a:
Scalable search advertising platform for ad networks;
Independent ad network able to integrate Search and Display and deliver an efficient marketplace for advertisers and publishers; and, an....
Independent ad network able to deliver high quality traffic to advertisers and high value advertising opportunities to publishers.
And...
That: LookSmart is well positioned to capture the market (for the) integration (of) Search and Display and the global opportunities for an independent integrated online advertising platform. (Read it)
Shareholders were also told in a conference call following Q2 results, that Looksmart's technology was now capable of 'handling' up to 100 billion 'events' per day within an OPEN, independent Marketplace.
Always an opinion. Stay tuned!
LOOK: On Aug 3: $0.83

0.07 (-7.67%)
LC
ps; August 5.. Peter Kafka, who speculates (on Yahoo's Strategy) may want to consider my above scenario as a 'done and dusted'?
"The company [Yahoo!] was considering a number of options, including one that would have involved handing over big chunks of its display ad serving to Google."
pps; How interesting!
Create keywords
Traffic ads/keywords to search engines ›
< Create keywords
A keyword is a word or phrase that relates to the products or services you want to advertise. ....... When consumers type keywords into search engines, the search engines return your ads in the paid search listings.
The keywords that you create for a given ad group are used to target your ads to potential customers. For example, if your company offers loans, you can submit 'home mortgage' as a keyword in your DoubleClick Search ad group............ When a search engine user enters 'home mortgage' in a search, your ad could appear next to the search results.>
support.google.com/ds/?hl=en#topic=1220600
Supported engine features
[ Microsoft] adCenter features in DS
Click the links below to see the Microsoft adCenter features that DoubleClick Search supports, unsupported features, and any available workarounds.
support.google.com/ds/bin/answer.py?hl=e...
ppps; Pamela Parker (Aug 24, 2012) refers to what I feel are associated with the soon to be coming - an "integration of search and display" as just being. ..."typical AdWords ads"

Pamela Parker's SEL full Story:How Facebook "Sponsored Results" Search Ads Aren't Like AdWords At All
Disclosure: Long LOOK and excited!
.