Development Securities PLC (LSE: DSC) full-year 2012 results interview with CEO Michael Marx and Senior Executives.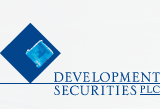 Commercial real estate and property developer Development Securities announced full-year 2012 results saying gains of £28m it had made from its Development and Trading portfolio vindicated its strategy of acquiring and regenerating secondary real estate.
Video transcript available to download.
Register at http://www.3bnexus.com to set automated e-mail alerts for broadcasts by your preferred Investors, Companies, Sectors, Markets or Regions.