Madhavi Vuppalapati Involved In Multimillion Dollar Business Fraud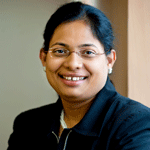 About Madhavi Vuppalapati: She was born in Andhra Pradesh, India 23 March 1972. She founded Prithvi Information Solutions Pvt Ltd in 1998 along with her brother Satish Vuppalapati and took the company public in 2005. She is married and have a child and lives in Seattle, Washington. Holding a graduate degree from Carnegie Mellon University in Pittsburgh and a Masters in Computational Mechanics. She is the only female CEO amongst the top 50 Indian IT and telecom services companies.
Involvement in Business Fraud: Madhavi, Prithvi Information Solutions and its affiliates had been involved in a conspiracy to create fictitious, counterfeit customers and associated accounts so as to induce Kyko Global, Inc. and Kyko Global GMBH (plaintiffs in the case) into advancing over US $17 million in funds or purchasing sham receivables, running up to over tens of millions of dollars.
On 6th September 2013 United States District Court in Seattle, Washington entered a judgement against Madhavi Vuppalapati and its affiliates & ordered to pay US $17 to Kyko Global, Inc
Sources:
https://www.pacermonitor.com/public/case/1839892/Kyko_Global_Inc_et_al_v_Prithvi_Information_Solutions_Ltd_et_al
http://docs.justia.com/cases/federal/district-courts/washington/wawdce/2:2013cv01034/193582/134
http://dockets.justia.com/docket/washington/wawdce/2:2013cv01034/193582
http://www.scribd.com/doc/213280425/Madhavi-Vuppalapati-s-organisation-Prithvi-Information-Solutions-Ltd-to-pay-17-568-854-to-KYKO-GLOBAL-INC-as-ordered-by-United-States-District-Court
http://www.scribd.com/doc/214398076/Writ-of-Garnishment-against-Madhavi-Vuppalapati-and-Company-by-United-States-District-Court
http://www.scribd.com/doc/214401207/Madhavi-Vuppalapati-s-Personal-Car-Seized-by-Sheriff-and-Directed-by-Court-to-Auction
http://www.scribd.com/doc/214401608/Madhavi-Vuppalapati-s-Personal-Assets-including-Jewelery-and-other-House-Hold-Goods-Seized-by-Sheriff-and-Auctioned-on-Direction-of-Court