$EA`s stock price has hit a 10 year-low in the past days. We believe that this drop is unjustified, given that the company recently had one of their best years ever, and is moving towards profitability.
Opportunity
$EA`s FY13 strategy is to focus on growing digital revenues for their popular brand games, like FIFA and Battlefield. This means that they are focusing on games that generate positive results, in fact, they are releasing only 13 new titles for the coming year.
This will help them increase their profit margins, which have been historically low or negative. The market has responded negatively to this new strategy: the stock is down 50% year over year. However, we believe this strategy is great, and is the key to success for $EA in the future. As this pays off for their current profitable games, they will be able to provide all this digital content for their future new releases and increase their profitability.
Console gaming
The biggest argument against buying $EA would be that their sales will decrease because mobile and social gaming are getting more and more popular and their console brands will not be popular anymore, because of the slowdown in the console gaming market. However, we believe that gaming will continue to happen whether it is on a console, on mobile, on a website or on a tv.
EA has always adapted to the changes in the industry to be able to create great games for all the different consoles available at that time and they should continue to do so. They have started to earn sigmificant revenues from digital sales with Nucleus, Origin and P4F. What's more is that their mobile and social games are actually quite popular: FIFA, Scrabble, Monopoly, Tetris are some of the best selling games in Apple`s app store.
Also, we believe it is only a matter of time before they bring out more of their brand games to mobiles and tablets, which should enable them to profit from that shift in gaming.
Earnings projection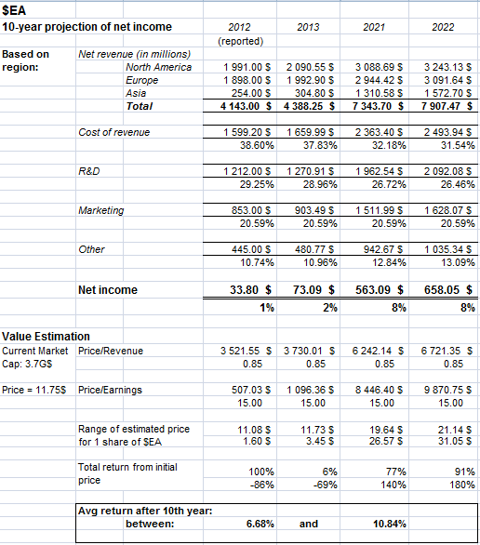 For these projections, our assumptions are as follow:
5% yearly growth for the European and North American markets
20% yearly growth for Asia as the market is still not fully exploited
Decrease in cost of sales by 2% of net revenues every year because of the focus on digital sales which returns higher margins
Decrease in R&D expenses by 1% of net revenues every year as we believe technology will make the process of creating games be easier and less expensive
Stable marketing expenses
Increase in other expenses by 2% of net revenues every year
Price/Earnings of 15 in 2022
Price/Sales of 0.85 in 2022 (same as today)
The range of estimated price in 10 years from now given the preceding assumptions is between 21.14$ and 31.05$, or a return of 91% to 180% from $EA`s current price. Annualized, that comes down to a 6.68% to 10.84% return.
How could $EA generate net revenues of 7.9G$ in 10 years from now?
Well, the FIFA and Battlefield brands are expected to sell about 20M copies each next year (FY 13). If the average revenue by copy is 30$, then that would be 600M$ in revenues for each brand. Given the current popularity of those brands and their international growth in the future, they will sell a lot more in 10 years. With 33M copies that sell for each brand, that comes up to 2G$ total, we believe those numbers are easily attainable in 10 years. Also, other brands will be able to generate those kinds of revenues: Madden, NBA Live, Sims, Burnout, NHL, Need for Speed, etc. If you add the mobile and social games, it adds up pretty fast. We also believe that game advertising will be a big revenue driver in the future, as well as digital content, which EA is currently exploiting really well.
Risks
A lot of risks could affect the revenue growth and cost reduction for $EA, these risks include:
$EA not being able to adapt to new technologies by not having the internal innovation to produce quality games.
Competitors producing new games that are similar to $EA`s games and are much better, or cheaper or both, which would give no reason for customers to buy $EA's products.
Loss of reputation after having marketed a badly reviewed game, or a game with bugs, or a crash/hacking in their servers with digital content (P4F, Origin, Nucleus).
Not being able to meet their sales target due to poor execution. Our earnings projections rely on $EA`s good marketing strategies, efficient product and inventory management, and competent employees. These factors could all have a negative impact on sales if poorly managed.
Their annual report has a list of all potential risks for $EA`s business, we believe the preceding ones are the most important. However, $EA has coped with those risks for almost 20 years now and we believe they are sufficiently capable of coping with them moving forward.
Conclusion
If you are satisfied with the rate of returns that the stock is projected to give you given our assumptions that EA will grow its revenues significantly while being able to increase profit margins, then $EA is a buy right now.
Disclosure: I am long EA.