Today Blackberry (NASDAQ:BBRY) celebrated its triumphant return with a blow out weekend at London's Selfridges. Currently, the Blackberry Q10 figures on the front page at Selfridges, itself a rare feat as I can't remember the last time this venerable store promoted a cell phone on its landing page. This is what the staff told me:
"They have never seen anything like it;"
Beat anything they had seen be it Iphone 5 etc.
Here is a photo of the staff that is doing this; fyi these are NOT the staff that I spoke with. I got this information someone else there.
I Was Wrong about Multi Unit Buyers: They don't buy in 10s or 20s but 100s and 200s! Below is a photo of a multi-unit buyer (20 units) and the stacks. People have been buying 10-20 bricks at a time!!
This has been going nonstop, people walking away with stacks of bricks as per the photo. This is still going today. Selfridges has just become a mass clearing house for the Q10.
On Friday I reported back an early indication of Blackberry's torrid opening day launch at the Carphone Warehouse's flagship store there. I visited the store again Saturday and Sunday and can report the following:
Saturday:
They receive two shipments per day, AM and PM;
The units are sold out in the first hour or so
Pre ordered backlogs are building;
Saturday at 5PM they were still lining up at the 'multi unit lines' and; 'individual units lines' to pre order (CPW make paying online difficult for security reasons; pre-orders are best done in stores.)
Walk-in handsets had sold out
You could only pre-order for a couple of days delivery or pick up one you had pre ordered prior to the
Saturday was a repeat of Friday, with more stock… no hard numbers
Sunday:
They sold out in the AM (I suspect also in the PM shipment but I left just after it arrived, so I can't confirm that)
From what I was able to discern, it is not unimaginable at all that they did 10,000+ units opening weekend from Selfridges. (Selfridges sells online too) I got a soft confirmation of this but if you estimate 3 days at 2500 + online, it's quite doable?
Someone please call James Faucette at Pacific Crest and ask him if Blackberry is DOA?
The Q10 cost $880 in London. Blackberry users here are mostly all buying the Q10 out right (without contracts) if that gives you an idea of what pent up can do. Three years since your last upgrade can make for droves of keyboard lovers as CarPhone Warehouse at Selfridges just found out. [MC Go and see if it was the most successful launch ever]
What does this mean going forward? In this article last February you heard that the Z10's launch at Selfridges "has been comparable to the launch of a new iPhone."
TAKE NOTE: You now know Z10 launch paled in comparison to the Q10 this weekend. Ergo, the Q10's launch blew out past Iphone launches. WOW. People really missed their keyboards or what? [Shall I go confirm this]
Look at What the Z10 did To Apple in the UK Three Months:
Three months later, a Blackberry with a touch screen has managed stop and turn around years long market erosion. The stats below show you Blackberry's vendor market share based on Browser stats.
http://gs.statcounter.com/#mobile_vendor-GB-monthly-201101-201304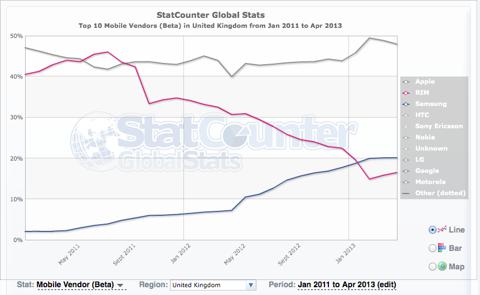 Sample size: 703 Million UK page views, 17 Billion Global
The inflection point is evident: February's launch of the Z10. This happened largely at Apple's expense. Blackberry rose from a low 14.94% to 16.57% A multi year reversal was arrested by a Blackberry Z10 without a keyboard? Say what? Don't hang your hat on the specifics of the % here, but do note the trends:
The Inflection point was February launch of the Z10;
An all touch device drove Blackberry's growth here. Say What?
A significant part of the loss is coming at Apple's expense.
Now imagine what the Q10 is going to do to that chart?
What Should Investors Do:
If Blackberry has not been short squeezed by the end of this week then keep an eye out for my next SA article concerning an alarming up tick in failed trades at brokerages (large ones 100k+ shares). This will be of great interest to professionals who understand the mechanics of shorting and settlement. Basically, Shorts cannot cover their bear raids as there is no more stock to borrow and so they started 'failing trades.' No one will let them sell naked anymore, no more stock to borrow. (Borrow rate is 9-10% for BBRY stock -This is insaley high)
So what?
Well, a lot of the volume on BBRY is FAKE, day traders, HFT. Any real buyer comes in ...it moves…. The shorts can't cover themselves as they would move it up. They are basically boxed in. This is trade is like a big fat pig waiting to explode. And here comes the Q10 sing in 'I love Bacon!'
SPLAT!
If that's not bad enough, record date is May 21 for the next AGM July 9 in Waterloo. You know what that means: Stock recall to vote, Shorts lose their borrow. This would be a 'Technical Knockout' for the Shorts. All this with the Q10 burning them beneath.
Is Your Hedge fund Manger Short BBRY? Call him and ask?
The Bricks: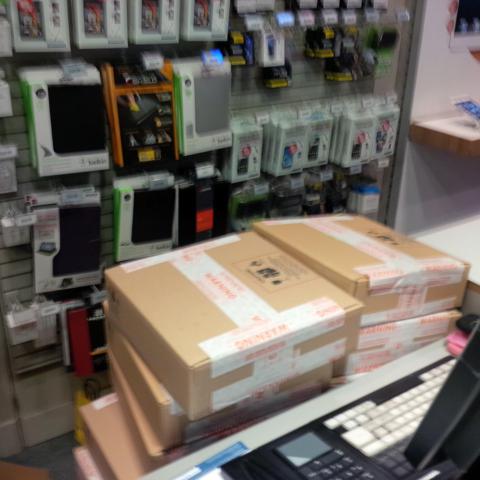 Monday's Crew: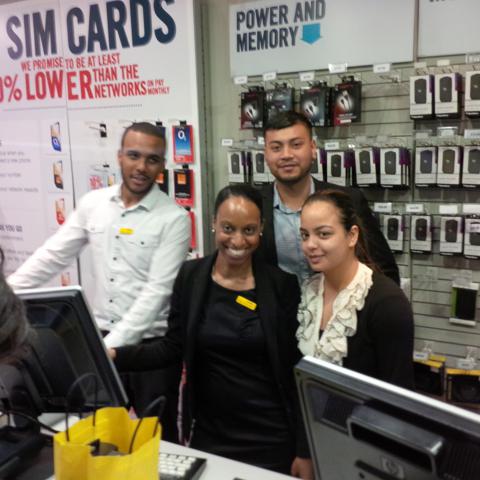 Multi Unit Buyers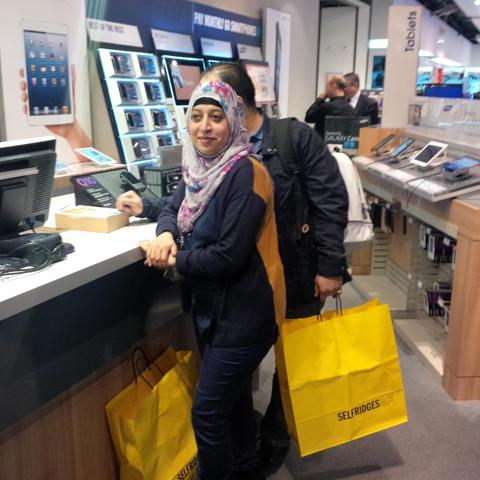 Disclosure: I am long BBRY.
Additional disclosure: Short Barrons