No commodity is safe right now. In a world of ample supply of just about everything we see the global sell-off of all commodities continuing.
Here's the setting: Oil tankers are sitting empty as the world is awash of oil and there is no need for global transports, natural gas is full of hot air and about as ripe as a Costa Rican banana left in a car trunk, gold has been popped given the prolonged avoidance of catastrophic events, silver is just a child's game with everyone taking their marbles home, and sellers want out of this stuff.
Here is a picture from the last five minutes, in the gold markets....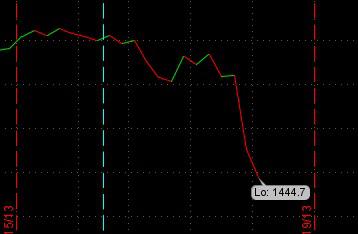 given it's $60 dollar plunge. Take care everyone, this is going to be a rocky week for all commodities....
Disclosure: I am short APC, BBG, BP, BTU, CHK, COG, COP, DVN, ECA, ELP, EQT, FST, GS, JPM, KWK, LNG, NFX, QEP, RRC, SPY, SRE, SWN, UNG, UPL, WPX, XCO, XEC, XOM, XOM, GLD, SLV, SPY.