Why the upcoming sell-off in natural gas could be the largest ever in history!
Sifting through some data points we re-looked at the CFTC Commitment of Traders report that came for April 9th. Within it we saw a staggering figure: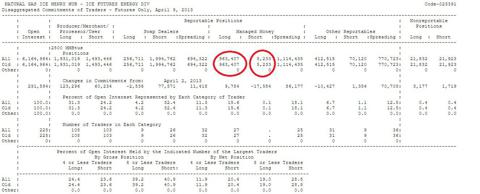 963,407 vs. 5,233
These are the number of long positions by managed money and the short positions by managed money.
having a 99.995% long position is absolutely nuts! and when this equalizes get ready for one of the largest drops in natural gas history. even if it went to a 1:1 long and shorts we would see massive (and we mean MASSIVE selling in these markets).
This is bay far the biggest bubble we have ever seen in this product type!!!!!
No other product type is like this and it is about to topple like a ton of bricks coming down, -just imagine an asteroid deep impact.
We cannot over emphasize the danger in the natural gas market right now.
Disclosure: I am short UNG.