After having several conversations with individual investors it became clear to me that some people are unaware of a series of upcoming events that will very much so affect FaceBook's (NASDAQ:FB) stock price. The particular event I am speaking of is the expiration of FaceBook's lock-up periods. A lock-up period is a predetermined amount of time after an IPO in which FaceBook employees, and close associates of the company who were given shares for compensation, are not allowed to sell those shares until the lock-up expires. This is done so that shares will not flood the market on the IPO day and hurt individual investors.
Supply and Demand
For those of us that have taken a basic economics course, we can easily see how a large amount of supply and no change in demand will affect the price of some product, in this case a stock. When there is already a market for a product and a new supplier enters the market, the price of said product will go down. The new supplier entering the market causes a surplus of the product. Whenever there is a surplus, the price of the product will drop in order to meet the demand, or sell the entire product. The following chart may better illustrate this for you: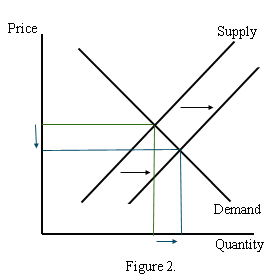 Read more about supply and demand here.
The main thing to note is that an increase in supply will force the price of the product down. These rules can also be applied to stock, and in our case FaceBook.
Lock-Up Expiration Dates
The first expiration date will occur on August 17th, 2012. On this date, 271 million shares will become eligible to be sold to the general market. This is about 13% of FaceBook's total shares outstanding. The second expiration date will occur on October 16th, 2012. On this date, 247 million shares will become eligible for sale by insiders. The big date that everyone should know about and consider is November 14th, 2012. On this date, 1.2 Billion shares held by insiders will become eligible to be sold. This is a huge amount and is over 50% of FaceBooks total shares outstanding. There are also two expiration dates that will occur 211 days and 366 days after the IPO.
What Will Happen?
On average, stocks tend to fall 2% on their lock-up expiration dates. Many companies only tend to have one expiration date, but because so many shares are held by insiders, FaceBook decided to layer their expiration dates in order to preserve the price of the stock. According to this Seeking Alpha article, Zynga (NASDAQ:ZNGA) fell around 8% on its lock-up expiration date, and Groupon (NASDAQ:GRPN) fell around 9%. Because these social media sites fell such a large amount, I would expect FaceBook's price to act in similar fashion. Some people are claiming that insiders are going to hold their shares in hopes that the stock may be up around $40 in a few years. I would expect insiders to do this (hold their shares), however I would also expect more insiders to act irrationally and sell their shares on the expiration dates provided. If you held $20 million worth of FaceBook stock at the IPO date and now it was only worth $10 million, you would probably cash out in fear that it may go down to $5 million and even $1 million. It would also be different if such a large number of shares were not eligible to be sold. As I stated above, FaceBook will have a huge amount of shares flood the market within the coming months, and there simply won't be buyers to buy them all up. Some bulls may say that the stock is already priced for lock-up expiration dates, as seen last week when the stock declined five days in a row. While they could be right, I would be surprised if the stock's price did not take a negative turn post-expiration date.
How you can profit
This may seem somewhat obvious now. A few days or weeks before the expiration dates, investors should look to short FaceBook. I would set trailing stop losses in case the market moves against you, and I would only look to hold those positions for a very short term play. If you do not want to risk a lot of capital, but you still want to benefit from a potential negative price move, buy long puts. I would focus on puts Out-of-the-Money and I would not hold those positions for a very long time either. Options need to be traded constantly, especially if you are going long as the time value will erode your premium, or profits. More on options.
I do think that after all of the shares have hit the market, FaceBook will no longer be trading at a premium and it may be a bargain price for a long position. However until these lock-up expiration dates have passed, I would be wary of taking a stake in FaceBook.
Disclosure: I have no positions in any stocks mentioned, but may initiate a short position in FB over the next 72 hours.