By Christopher Diodato - TradersBase.com
I must say, the GNW call might have been my best trade year to date, rising over 30% in under four weeks. That said, with such a parabolic rise, there has to be a correction around the corner. For those who bought with me in November around $5.50, the consecutive 3-5% daily rises have been exciting, but it seems that sellers have stepped in. The stock is, for at least the short term, now vulnerable to a decline. Here's what I'm looking at.
Long Term
From the long term perspective, GNW still seems like a strong buy, with a breakout from a two year descending triangle pattern, and other, shorter term breakouts from bullish rectangle continuation patterns.
(click to enlarge)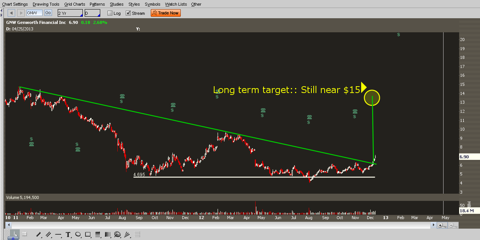 Click to enlarge
Still Likely To Correct
The price action today showed that supply had stepped into the market, with a long legged or "rickshaw man" doji on high volume. Price advanced to new intermediate term highs this morning, flattened off, and then fell back to opening levels. While, still up nearly 3% for the day, this action of sellers stepping in during late afternoon is alarming.
In addition to these supply/demand issues, price has been diverging with momentum on the 30 minute time frame.
(click to enlarge)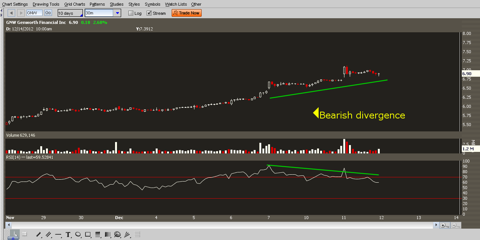 Click to enlarge
I have, at this point, correction targets at around $6.30, and then at $6. I'm still extremely bullish on this stock for the longer term, so I will likely just ease my current position (long $6 calls, short $5 puts) by covering my short put position, and then selling $6 puts once the price reaches those lower levels. If I see a break above today's trading range, I will be back on the bull train, if not, it's time to let the stock take a break.
Happy trading!
~Chris Diodato
Disclosure: I am long GNW.
Additional disclosure: Holding a bullish synthetic spread on GNW