With the first few trading days of 2014 proving to be less than impressive, some may be wondering what to be buying in this recent dip. Since numerous studies have proven that stocks in outperforming sectors tend to outperform over the intermediate term, investors should be seeking out the strongest sector right now and then initiate their buying within these strong sectors. So, what's the strongest sector?
To compare performance of sectors, I use relative strength lines. The way to read these charts, in this case, is if the line is moving higher, the sector is outperforming the market. If the line is moving lower, the sector is underperforming the market.
Technology's (NYSEARCA:XLK) relative strength line, while choppy, remains in a multi-month uptrend, indicating the sector is still a relative outperformer.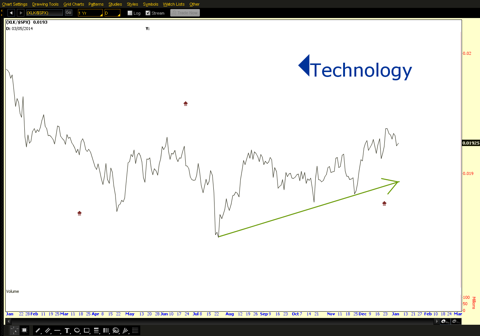 Consumer cyclicals (NYSEARCA:XLY) and industrials (NYSEARCA:XLI), both economically sensitive sectors, continue to perform well. Therefore, buy candidates could be found within these sectors.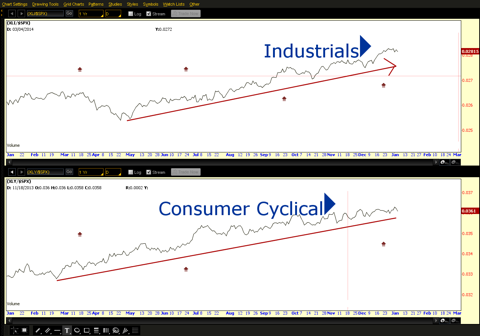 Retail's (NYSEARCA:XRT) relative strength line continues to lose steam, and is at a multi-month low, reflecting an underperforming sector which should be avoided.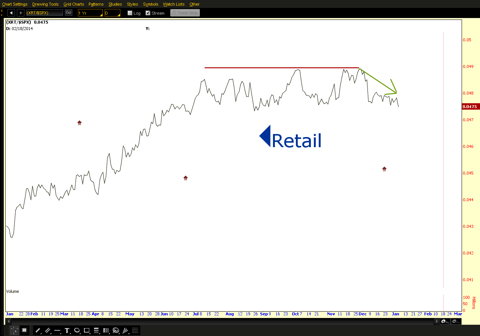 The materials sector (NYSEARCA:XLB), after being a market underperformer for most of this bull market, is now a relative outperformer, with the sector's relative strength line near its highest level in close to a year. Interestingly, strength appears most concentrated among chemical stocks, such as DuPont (NYSE:DD) and Dow Chemical (NYSE:DOW).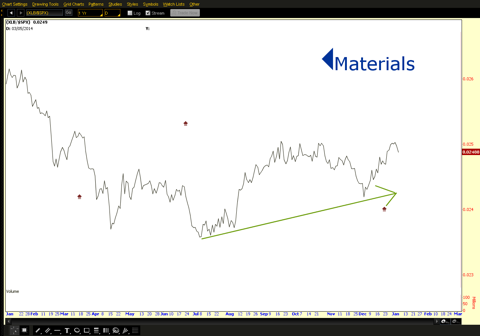 As for gold miners, see the chart below. The verdict for these stocks is still "not yet," despite the attractive values found in some miners, as the relative strength line of the Market Vectors Gold Miners ETF (NYSEARCA:GDX) continues to tumble. Junior gold miners (NYSEARCA:GDXJ) appear equally as risky. If one insists on buying gold stocks, it should likely be for trading purposes only.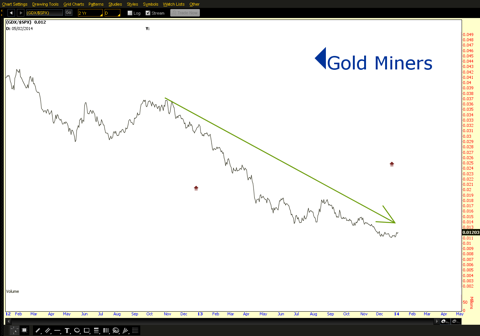 The chart below of the relative strength lines for consumer staples (NYSEARCA:XLP) and utilities (NYSEARCA:XLU) will likely cause pain to the dividend investors out there. The downtrends in these indicators show that these stocks remain consistent underperformers, likely as a result of rising interest rates on bonds, which typically negatively impacts high yielding, low growth stocks. An equally startling chart is the relative strength line of REITs (NYSEARCA:IYR), which has been falling sharply for months. All suggest that dividend hunters should stick to the cyclical sectors, such as technology, materials, industrials, and consumer cyclical to find their high yields.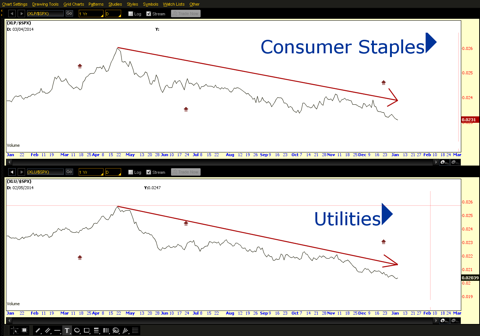 Finally, the strength of the financial sector appears erratic . As mentioned previously, REITs, which often move inverse to long term interest rates, have performed very poorly. Regional banks (NYSEARCA:KRE), on the other hand, tend to receive a boost when interest rates climb. And last, large cap banks (NYSEARCA:XLF) seem to follow their own path. Currently, the relative strength lines of both large cap banks and regional banks are climbing, indicating both market segments are outperforming. Therefore, picking a winning stock in one of those areas of the market will likely be easier than in other segments, such as REITs.
What's the bottom line? Dividend players, in this environment of rising interest rates, need to stay away from traditional high yielding sectors (REITs, consumer staples, utilities) and look elsewhere. Opportunities for investing appear in many of the so-called cyclical sectors, with industrial and technology stocks leading the pack.
Disclosure: I have no positions in any stocks mentioned, and no plans to initiate any positions within the next 72 hours. I wrote this article myself, and it expresses my own opinions. I am not receiving compensation for it (other than from Seeking Alpha). I have no business relationship with any company whose stock is mentioned in this article.