"It's been a fairly innocuous correction, hasn't it?" wonder CNBC pundits as well as every "buy only large cap, high dividend paying, value stocks (which, by the way, only represent a very small portion of the broad market) type investor." Both the DJIA and S & P 500 are right near their bull market highs, so why be concerned? Truth be told, this correction has caused a considerable amount of damage to the market leaders over the past year and a half. Specifically, I am referring to the small/micro cap segments and the NASDAQ momentum stocks (TSLA, PCLN, GOOG, AMZN). What does this mean for investors? Perhaps, more importantly, what does this mean for the state of the bull market?
These conclusions are being drawn from the recent behavior in various Advance-Decline Lines, which are, calculated on an end-of-day basis, and represent the cumulative difference between the number of stocks advancing and the number of stocks declining. Before major market tops, broad market Advance-Decline Lines, which tend to move in step with a bull market, begin to diverge and move lower. When this happens, despite the potential for continuing new highs in the major price indexes, it serves as a warning that the bull market is showing signs of internal fatigue, as there are now more stocks, on a day-by-day basis, declining than advancing. In my opinion, this indicator gives a much better perspective of the "health" of the bull market better than any value-weighted price index, such as the DJIA or S & P 500. See the chart below for the warning sign prior to the 2007-2009 bear market.
(click to enlarge)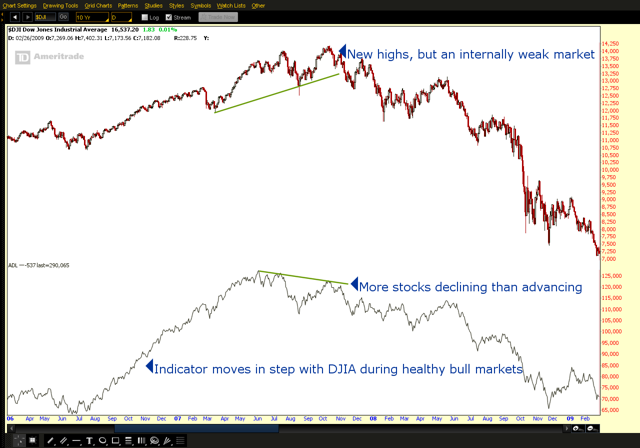 Click to enlarge
Below is the NYSE Advance-Decline Line now. Notice that it is in a steep uptrend, which is a sign of a healthy market. That is, healthy across the NYSE universe of stocks, which are typically larger in market cap and of much higher quality than stocks listed on the NASDAQ, due to the strict criteria needing to be met to be eligible for NYSE listing.
(click to enlarge)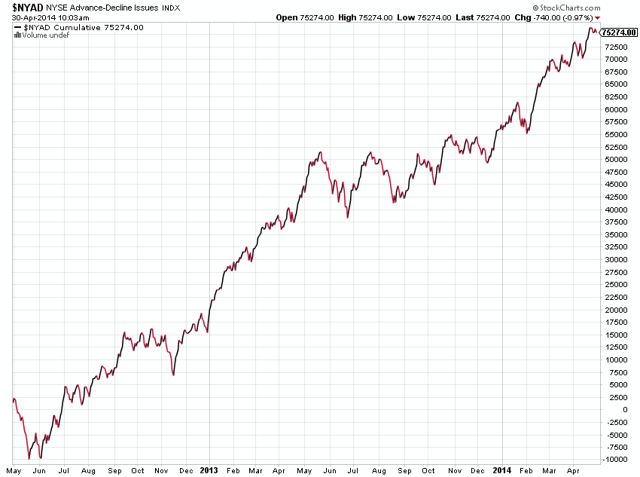 Click to enlarge
What about the lesser known, and frankly, lesser cared about NASDAQ Advance-Decline Line? Remember, beyond the NASDAQ 100, the remaining roughly 2250 NASDAQ listed stocks are typically very small, if not micro cap stocks, so the NASDAQ Advance-Decline Line is a small/micro cap indicator. Here it is below.
(click to enlarge)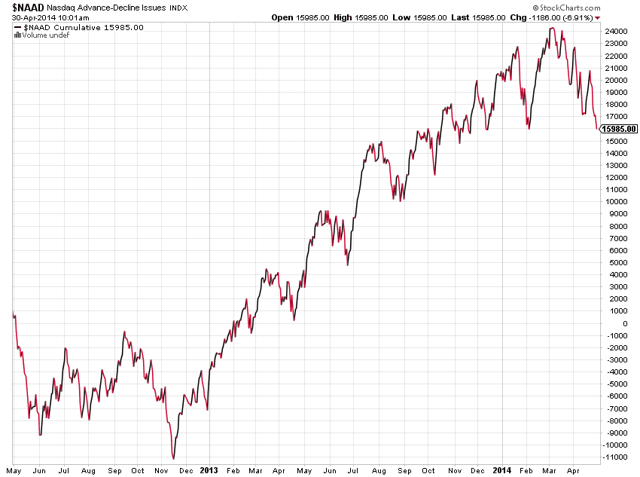 Click to enlarge
Notice any difference? The NASDAQ Advance-Decline Line, since early March, has been suffering. Thus, it appears investors have been shifting from "risk-on" stocks (micro and small caps) to "risk-off" stocks (mid and large caps).
This alone is not a sign to liquidate and hide for the next year, but it is a warning flag that the bull market is aging. Investors should watch the NASDAQ Advance-Decline Line, which can be accessed here, in the weeks ahead, once this correction concludes, to see if it can exceed its early March high. A failure to exceed that high would suggest a deteriorating market environment for small and micro caps, which can be invested in using the ETFs (NYSEARCA:IWM) (NYSEARCA:IWC) (and a nudge not to invest in these segments), and, if lessons over the past century hold true, that weakness will eventually, and this may take weeks or even months, spread to the mid and large caps.
Disclosure: I have no positions in any stocks mentioned, and no plans to initiate any positions within the next 72 hours. I wrote this article myself, and it expresses my own opinions. I am not receiving compensation for it (other than from Seeking Alpha). I have no business relationship with any company whose stock is mentioned in this article.