By Christopher Diodato
On your mark, get set, go!
Run as fast as you can as far as you can. You likely start off at a sprint, slowing down to a jog, and then a walk.
Eventually, at a crawl by now, you realize that you're exhausted and need to go back.
This is exactly what the market is showing signs of, exhaustion.
(click to enlarge)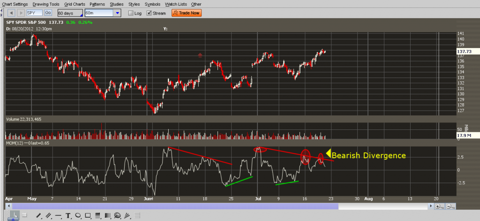 Click to enlarge
As you see from the bottom section of the screenshot (it's the momentum), with each advance, the overall momentum of the thrust is becoming weaker. If you extend the green line on the right side out to the edge of the chart, one might even say that the momentum is in a large triangle formation.
So when will momentum stall out completely? We believe it already has. Today was the key pivot day that we have been watching closely since mid June. Not too exciting of a day, but important nevertheless.
A Doji Star Appears
The market drifted in a range of about 0.75% today. It gapped up with some strength, but could not finish the day above the open. This gives us a pattern called a doji star. It represents a sudden halt of momentum. I would not give much credence to this pattern if it did not fall right below the 78.6% resistance level at about 1380 on the S & P 500. Of course, this pattern won't be validated bearish until we close beneath today's low. Still, something to keep an eye on.
(click to enlarge)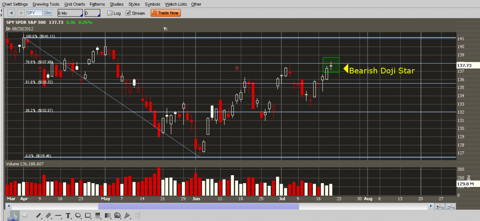 Click to enlarge
If today was the top, and knowing from experience how these types of setups act, tomorrow should be relatively boring, and then the real turmoil will start next week.
Happy trading!