Despite a sell-off for stocks in response to a lack of job creation in the U.S. during November, the S&P 500 index remains near its recent 2010 peak. Investors on Friday had expectations dulled over the vigor with which the economy is recovering, while job creation remains intact. 
Doubtless many financial advisors and investors running long of equities inside their portfolios were at the least unnerved at the low job count for November and wonder whether now is the time to lock-in gains or stick with it. 
I face the same quandary within my Interactive Brokers paper account where several long positions put in place earlier in the year are displaying nice gains. Among them for example are healthy gains of 30% on Deere & Co. (NYSE:DE), 27% on shares of Oracle Corp. (NASDAQ:ORCL) and 18% on McDonald's Corp. (NYSE:MCD).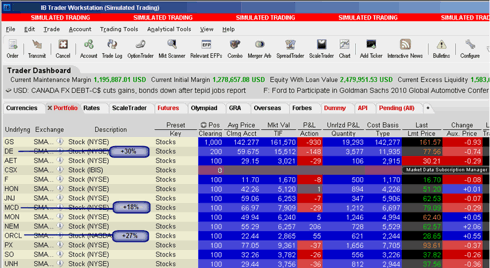 Click to enlarge

 My "what-next" decision was made easier recently when IB released its new "Write Options" tool, which allows investors and advisors to enhance the yield on existing long stock positions by writing covered calls. The tool also enables clients to write covered puts on existing stock shorts. 
The Write Options tool is easily accessible within the Trader Workstation platform and populates with portfolio data using a single mouse-click. The investor then has the ability to determine the characteristics of call or put options to write against long or short stock positions. The investor chooses an option expiration subject to a specified number of days before options expire allowing them to take a short or longer term horizon. 
The user can also determine how close to the current stock price the strike price should be.  Some users may want to play it safe and choose further strike prices if they really, really want to hold onto the stock. In my case, I'm sacrificing holding on to the stock in exchange for a larger premium. If my shares are called away from me by expiration, the premium is a fair compensation and if the stock doesn't land in-the-money at expiration then the premium I'm collecting is pure gravy.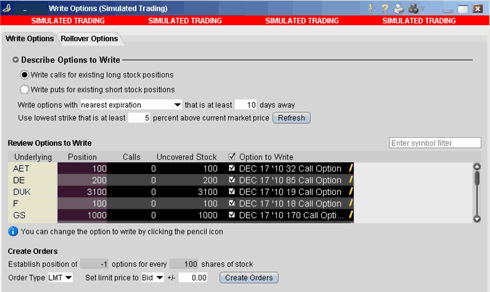 Click to enlarge

Given the criteria I have selected I can also drill down on a per stock basis to see what premiums are available and potentially choose a more suitable alternative. I can be selective and choose a closer or further strike price depending on how much I desire to keep hold of the stock. 
For Aetna Inc. ($30.24 - AET) for example, my criteria automatically delivered me the nearby December expiration call option at the $32.00 strike. Currently this single position is up by only 3.7% from where it was bought. The call premium available at this strike is 16 cents. If I sell a call option covering 100 shares at that price my gain assuming the shares land out-of-the-money and below the share price by December 17, my gain is bumped up to 4.3%. If I'm lucky enough to have Aetna stock called at that time, my maximum stock plus option gain would be 10.3%. 
However, I can easily beef up the premium received by choosing a closer strike, in this case at the $31.00 strike where the quoted premium is 36 cents. If the stock rises above the strike I'd snag 7.6% or approximately twice what I'm up today on this position.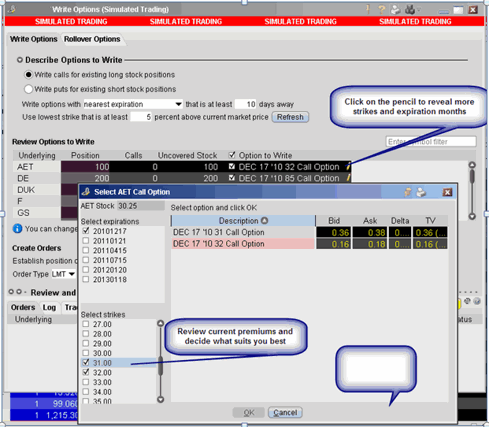 Click to enlarge
I can choose to run with my strict criteria or I can review a variety of available premiums at multiple strikes using this tool. When I'm satisfied I can easily create all of the orders for review with a single click on the "create orders" button. Once I've double-checked my work it's time to simply transmit the basket of orders and allow them time to fill.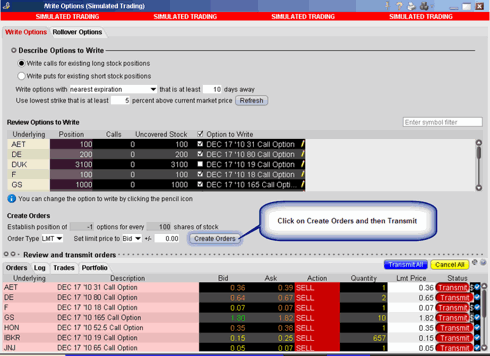 Click to enlarge

Investors have been writing covered calls for the longest time and this is no new trick. But this automated solution makes the process far easier for investors and especially advisors wanting to wring additional yield out of positions they are holding. 
The 65 cent premium on Deere & Co., for example, is worth an incremental 1% on top of my initial entry price on this stock and would be a convenient exit strategy in the event shares closed above the $80.00 strike in mid-December. If that happened I'd be locking in a total of 35% gains on both stock and option by actually doing very little. The downside is that should shares in Deere keep on rising, I miss out on every cent above the strike price, save for the premium I agree to take in today. 
What's even neater about this tool is the fact that once an investor is comfortable with writing covered calls or puts and is happy with the criteria selected, the Option Rollover tool allows me to replicate the open call or put position by constantly moving ahead through the calendar assuming I avoid being called or having stock put to me in which case the position is closed. 
I reckon that by writing these contracts two weeks before options expiration, based on a long stock portfolio that cost me an initial outlay of $56,265 I'm creating after-brokerage income of $528 just by inviting the market to rally further and call my bluff. That's equivalent to a 1% gain just by setting up this rather clever tool. Learn more by following this link. 
Andrew Wilkinson is senior market analyst at Interactive Brokers Group in Greenwich, CT. The views expressed herein are the personal views of the author and are not intended to reflect the views of Interactive Brokers Group or any of its affiliated companies.