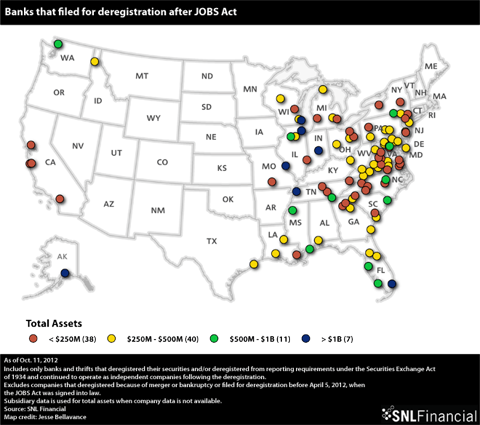 According to SNF Financial, twenty-two more community banks have deregistered their common stock with the SEC in the last three months, as small banks continue to take advantage of the JOBS Act signed into law April 5,2012.
In all, 96 banks have filed to deregister since the law took effect, based on SNL-collected data current as of Oct. 11.
The Jumpstart Our Business Startups Act eased regulatory burdens by increasing the threshold under which a bank or bank holding company may terminate registration of its securities. Under the new law, banks can terminate their registration if they have 1,200 shareholders of record or less. Previously, it was 300 shareholders of record. The act also raised the threshold requiring banking companies to register under the Exchange Act to 2,000 shareholders from 500.
The deregistration filings gain freedom from reporting to regulators as well as will cut compliance costs.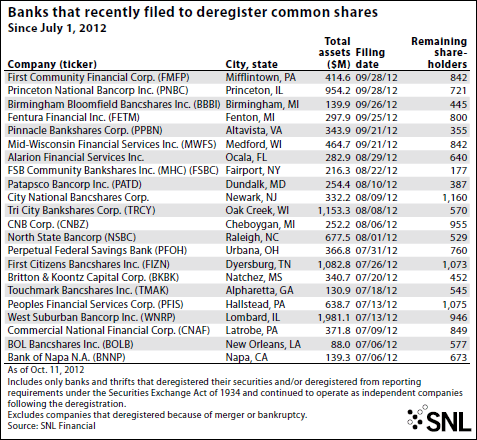 Ninety-five of the 96 banks would not have been able to go private before the law changed, since they had more than 300 shareholders on record. Most of the banks that have gone private under the new law are small community banks with less than $500 million in assets. Only seven had more than $1 billion in assets.
The 96 banks that have filed for deregistration since the JOBS Act is greater than the total number of banks that deregistered in the last 20 quarters before the JOBS Act was implemented, excluding banks that deregistered due to mergers or bankruptcies.
Disclosure: I have no positions in any stocks mentioned, and no plans to initiate any positions within the next 72 hours.