By Tom McCurnin
Barton, Klugman & Oetting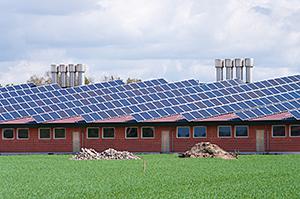 Three Solar Energy Cases Expose Challenges of Leasing Solar Equipment to Government Entities
No Matter What the Enhancement Might Be
Having just come off a failed solar power project in the Salton Sea in Southern California, I read with great interest a trilogy of cases involving a lease close to $32.2 million, not counting court and attorney fees, of solar equipment involving 16 county fair groups in California. There are other such leases with in the United States. Here are the ones in California:
FAIR AND LOCATION

INITIAL
PROJECT
COST
SELF-GENERATION
INCENTIVE
PAYMENT
NET
PROJECT
COST
Kern County, Bakersfield
$ 1,653,160
$ 854,412
$ 798,748
Eastern Sierra Tri-County
172,718
97,202
75,516
The Big Fresno, Fresno
4,342,629
2,456,262
1,886,367
Amador County, Plymouth
311,527
150,789
160,738
Shasta District, Anderson
819,804
423,039
396,765
Tehama District, Red Bluff
542,829
307,032
235,797
Santa Maria, Santa Maria
1,085,657
614,064
471,593
Lake County, Lakeport
390,092
236,724
153,368
Antelope Valley, Lancaster
3,171,527
1,838,684
1,332,843
Marin County, San Rafael
929,692
614.064
315,628
El Dorado County, Placerville
788,060
446,592
341,468
Sonoma County, Santa Rosa
3,595 522
2,209,027
1,386,495
Chowchilla-Madera County, Chowchilla
499,738
179,140
320,598
Lodi Grape Festival & Harvest, Lodi
195,181
97,164
98,017
Napa County, Calistoga
346,135
194,328
151,807
National Orange Show
2,155,728
1,228,131
927,597
(PNC 2 Fair and Locations (1))
This article is about three of the cases above to demonstrate why equipment financing of solar energy is so challenging. The first challenge is the cost-the cost of the equipment is astonishingly high. The second challenge is finding a creditworthy lessee. Finally, what makes the lease work are Clean Renewable Energy Bonds ("CREBs") which provide qualified issuers and qualified borrowers with the ability to borrow at a 0% interest rate. If those elusive carrots aren't present in the deal, the whole transaction collapses.
The Solar Program
A consortium of local California fair associations formed the California Fairs Financing Authority, a California nonprofit Joint Powers Authority ("CFFA") to acquire and finance solar projects for approximately 16 different local County fairs. Solar power panels were purchased from the vendor and were leased by National City Commercial Capital (now PNC--- National City Commercial Capital Corporation, who originally wrote the leases, had.
The equipment was described on the lease contracts as "install 2,988 KX158G photovoltaic modules (page 51), install 6,336 Kyocera KC158G modules (page 52), Install 630 Kaneka GSA211 photovoltaic modules, 1188 install 270 Kyocera KSI-167G photovoltaic modules (page 54) and each location was different. (2)
In California, it was contemplated that California Fairs Financing Authority would issue Clean Renewable Energy Bonds, pending its application to the IRS. Although the imputed premium rate of 7% was certainly high for government financing, it was anticipated that fair group would refinance the leases with a 0% loan, as allowed by energy bond rules. The county fair associations would save around 5% in energy costs, and thus pocket the difference. They were also supporting "green energy." This all sounds too good to be true, doesn't it? They should have remembered the old saying, "If it sounds too good to be true, it isn't."
Oh, yes, the leases had fairly convoluted and not merely a Fair Market Value --- as well as continuing rental payments (if the equipment was not returned at the expense of the lessee.) (3)
The Leases
The leases were all to California Fair Finance Authority, which acquired title to the solar panels and disbursed them throughout California to 16 different local county fair associations. The local fair associations, in turn, agreed to pay user fees to CFFA, and PNC took a security interest in that payment stream. The leases envisioned that they would be refinanced once CFFA was qualified to issue Clean Renewable Energy Bonds and this term was incorporated into the purchase option.
In essence, the parties contemplated two options: (1) either PNC would purchase the CREBs, or (2) they would be purchased by a third party. In either scenario the deal is refinanced. The parties never contemplated that they would evaporate.
For several years, everything went fine. The country users enjoyed the electrical savings, made the payments to CFFA, and CFFA, in turn, forwarded the user fees to PNC.
What Went Wrong
In a perfect storm of problems, this deal collapsed in 2010.
Before the signing with the El Dorado County Fair Association, documents brought forth in the case the written statement that William Garnett and Cliff Svovoda, employees of PNC, pitched the fact that PNC was getting a generous interim rate of return pending the refinance through the CREBs which would be issued by CFFA or even PNC. The statement was, ""[W]e will get the info you require--but, really our deal was we were going to take CREBs and, if we didn't, we would help them move the deal to someone who would." (4)
First, the California Finance Fairs Authority did not obtain Clean Renewable Energy Bonds refinancing, making this large dollar lease awfully expensive for 16 County fair associations. Although the energy savings was pegged at 5%, the lease was at 7% and could go on for over 10 years. Without the energy bonds and a refinance as was the original proposal, this deal made no sense for the 16 county fair associations.
Second, because of a budget crisis, many of the county fair associations simply did not have the money and defaulted. Unlike a true sovereign entity, these entities only have the money their local county dolls out plus a small stipend as the state also contributes via agriculture funds, so they are in a sense uncollectable. They put on an annual fair, only renting the real estate.
Finally, according to Becky Bailey-Findley, executive director of the California Fair Services Authority, when the California Fairs Finance Authority failed to obtain the Clean Renewable Energy Bonds, they laid off all of its employees and contracted out its management to the California Fair Services Authority, a separate agency. Thus, CFFA is out of business.
This leaves PNC to collect its very large obligation against 16 county fair organizations in California. While I cannot speak for every fair association sued, I know for a fact that many small county fair associations are staffed with only a handful of full time employees and they rent the space from the county, so their collectability is in doubt. For instance, it is no secret about the financial problems with the Santa Clara County Fair Association who went bankruptcy in 1995 and local newspapers report are in financial troubles again (5). Solano County is reportedly close to bankruptcy (6)
Forget about the clause of returning the equipment or repossessing the equipment that sits on a roof and is connected to a building leased by the county fair association, often they are owned by the county government. By the way, there were no landlord waivers or mortgage waivers in the court exhibits of the lease documents. Most likely many of the locations are on county owned real estate and would involve a "lease" approved by the county board of supervisors. The matter would have to become public information as I believe the county manager would have to inform the board of supervisors about the repossession action, as well as the county would have to approve putting the building into good order after the collateral was removal.
The reader will note that most the county fair associations have settled the lawsuits. If approval is required by a governmental agency, such as the County Board of Supervisors, terms of the settlement may be made public. The Sonoma County Fair Association received approval to pay $1.2 million on a contract balance of over $3 million. (7)
What is interesting to me is a court filing in which Eldorado County states that PNC and CFFA used National City Commercial Capital's outside counsel, and that none of the Fair organizations ever had a lawyer look at the lease. I do understand that given the size and funding of these organizations, hiring outside counsel would be prohibitive. But to rely upon National City Commercial Capital's outside counsel for legal advice? Really?
In today's case, three of the 16 county fair association factors came into play, and a state association essentially went out of business, leaving the lessor high and dry, suing a group of local non-profit fair associations with uncertain collectability. The fair associations claimed that the lease was unfair and that they never read these multi-million dollar leases and relied upon the lessor's attorney to give them legal advice.
Here is a brief status of three of the cases discussed in this article:
#1
• PNC Equipment Finance v California Fairs Financing Authority USDC ND, Cal. CV 11- 3768 (US DC, Northern District of California). Complaint, Answer and Counterclaim filed. PNC sought injunction compelling CFA to remit user fees to PNC. Tentative settlement reached amongst local fair associations and PNC in January, 2012. Dismissals entered as to some Counties.
#2
• PNC Equipment Finance v. California Fairs Authority USDC ED, Cal. CV 11- 02019 (US DC Eastern District of California). Complaint, Answer and Counterclaims filed. Eldorado County actively litigating matter. Central issue is that lease did not transfer title to local fairs. The CREBs and their legal effect seem to be main issue.
#3
• PNC Equipment Finance v. California Fairs Authority USDC CD, Cal 11-6248 (US DC Central District of California). Status: Complaint, Answers, and Counterclaims filed. Settlement reached, but undocumented. Case stayed pending outcome of litigation in Eastern District.
Lessons for the Lessor and Lessee
I have attached, in a link below, a copy of the Lease and Use Agreement for anyone who wants to examine solar financing up close and personal. But take my word for it, without Clean Renewable Energy Bonds, solar financing is a lot like making sausage-you really don't want to see how it's done. (8)
I've also attached an Opposition to a Motion to Dismiss filed by the El Dorado County Fair Association, in which the attorney does an excellent job telling the County's side of the problem. (9) From their point of view, this was a bait and switch which went under the radar without counsel overseeing the transaction. PNC's point of view is naturally quite different, that this is a true lease, and it deserves to be paid. I think legally PNC's attorneys are correct, but from a collection standpoint, this deal stinks.
To summarize the lessons in these cases, I offer the following:
First, if the reader is a lessee or guarantor-Read the lease. Comedian Ron While, states in his stand up, "You can't fix stupid. There's not a pill you can take; there's not a class you can go to. Stupid is forever." I find it amazing that a so-called sophisticated government organization would not read the user agreement
Second, if the reader is a lessor, this deal without Clean Renewable Energy Bonds and a collectable lessee makes no sense. Perhaps the lessor didn't realize that fair associations are expendable. Perhaps the prospects of a 7% return colored their underwriting.
Finally, solar financing remains elusive. A simple Google search will find hundreds of companies which "allegedly" finance solar equipment, but at least in my recent experience in a Salton Sea solar development, I didn't find their promises credible, unless until the lessee has actual skin in the game. Vendor financing is available, but the suppliers may want significant equity in the underlying operating company and assignment of the existing power supply contracts.
And need I mention the collateral also sucks. It would cost more to remove, store, and resell than the obsolete panels are worth.
The bottom line to these three cases is that solar energy financing remains elusively impractical except for lessees with skin in the game. No money down leases of solar equipment are doomed for failure without Clean Renewable Energy Bonds sponsored by the IRS.
As important, not all equipment should be leased, especially with the liabilities and recovery costs being so high--- a lesson the leasing industry continues to learn the hard way.
In retrospect, the best would have been a loan with a lien on the real estate involved---not a lease!
Tom McCurnin
Barton, Klugman & Oetting
350 South Grand Ave.
Suite 2200
Los Angeles, CA 90071
Direct Phone: (213) 617-6129
Cell (213) 268-8291
Fax: (213) 625-1832
Email: tmccurnin@bkolaw.com
Visit our web site at www.bkolaw.com
PNC 2 pages 48,49,68, 82, 83
http://www.leasingnews.org/PDF/PNC2.pdf
PNC 2 pages 51,52,54
http://www.leasingnews.org/PDF/PNC2.pdf
PNC Part (page 42 is lessee responsible for removal, packing, returns of equipment in default or not purchase).
http://www.leasingnews.org/PDF/PNCComplaintpart1.pdf
William Garnett/Cliff Svovada quote http://www.leasingnews.org/PDF/WilliamGarnettCliffSvovadapage10.pdf
Solano County Fair Financials
http://www.leasingnews.org/PDF/SolanoCountyFairFinancials.pdf
Sonoma County Fair received Approval to pay http://www.leasingnews.org/PDF/SonomaCounty
BoardofSupervisorsSettlement.pdf
PNC Sonoma County Lease and Use Agreement
http://www.leasingnews.org/PDF/PNCSonomaCo
LeaseandUseAgreement.pdf
Motion to Dismiss
http://www.leasingnews.org/PDF/OppositiontoMotiontoDismiss2012.pdf
Disclosure: I have no positions in any stocks mentioned, and no plans to initiate any positions within the next 72 hours.