By Tahir Ali and Fahad Mir, SNL Financial
(click to enlarge)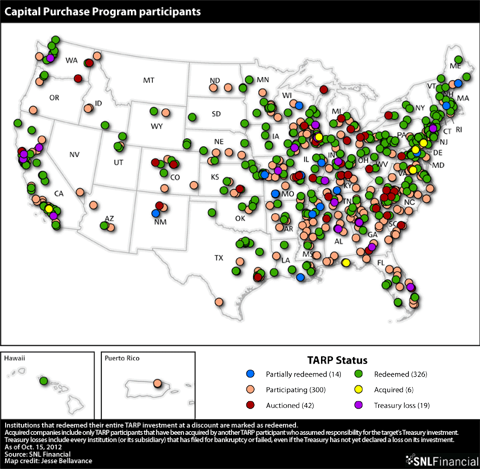 Click to enlarge
The number of banks and thrifts that have exited the U.S. Treasury Department's TARP investment has increased to 367, which includes 326 that redeemed and 41 that were auctioned. This brings the tally of companies on which TARP has recovered some or all of its investment, including partial redeemers and those auctioned, to 382 of the 707 financial institutions that received funds under the program, according to the Treasury's Oct. 10 investment transaction report. Since Sept. 26, more than $750 million has been recovered from banks and thrifts, increasing the total to nearly $232.8 billion.
(click to enlarge)

Click to enlarge
Of the four institutions from which the Treasury has recovered its investment during this period, the most notable name and largest redeemer among the group, Zions Bancorp., paid a second and final $700 million installment to the U.S. Treasury to exit TARP entirely. The bank had made its first payment of the same amount back on March 28.
Three other banks fully redeemed their TARP investments to exit the program: Winston-Salem, N.C.-based Southern Community Financial Corp.; Fairlawn, Ohio-based Central Federal Corp.; and Pittsburgh, Pa.-based TriState Capital Holdings Inc.
Although the U.S. Treasury has made clear its intentions to auction a large portion of its remaining TARP holdings, either individually or pooled together, all four institutions that exited the program from Sept. 26 through Oct. 8 paid for their investments themselves or through an acquirer instead of having their TARP equity auctioned. There are now only two banks remaining that have TARP amounts outstanding similar to that of Zions, Synovus Financial Corp. and Popular Inc.
Southern Community Financial Corp. was acquired by Coral Gables, Fla.-based Capital Bank Financial Corp. As part of the acquisition, Capital Bank also acquired all of the securities issued by Southern Community to the U.S. Department of the Treasury.
(click to enlarge)

Click to enlarge
Disclosure: I have no positions in any stocks mentioned, and no plans to initiate any positions within the next 72 hours.