By Tahir Ali and Lindsey White, SNL Financial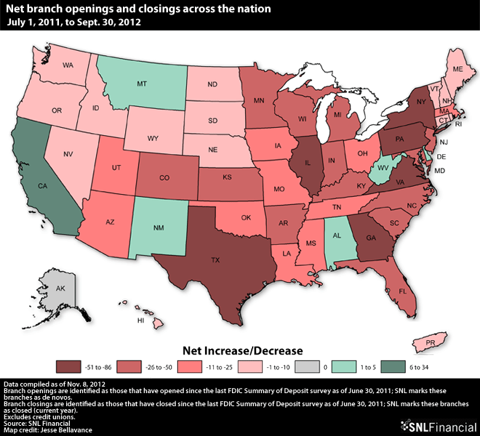 Banks continued to shutter branches across the U.S. during the third quarter, but at a much slower pace than in recent periods.
According to preliminary SNL data, banks and thrifts closed 352 branches in the third quarter - less than half the number of closures during the previous three months and slightly less than in the year-ago period. Banks closed more than 700 branches in the second quarter, more than 600 in the first quarter and more than 500 in the fourth quarter of 2011.
Meanwhile, branch openings tapered slightly to 241, compared to 299 in the linked quarter.
Ajay Nagarkatte, managing director and head of research at BAI, said the decrease in U.S. bank branches is unsurprising: For one thing, developments in online and mobile banking are giving tech-savvy customers the option to bank remotely. In addition, new regulations are putting pressure on the industry's bottom lines, leaving banks searching for ways to reduce their expense bases.
"A natural place for banks now to look is the branch distribution network, because that's a huge cost driver," Nagarkatte said. "So not surprisingly, a lot of banks are looking at it as potentially the first place to start to shave those expenses."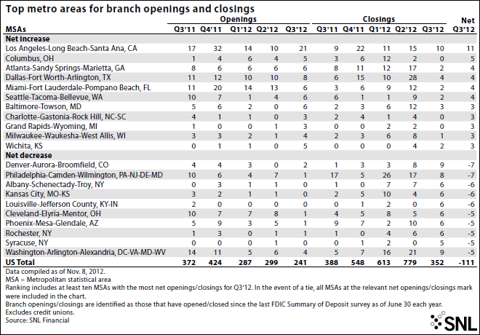 The Los Angeles metro area saw the biggest net increase in branches during the quarter, and California was once again the state that saw the most net growth. Meanwhile, New York state experienced the biggest net decrease in branches.
The usual suspects were the most active in opening and closing U.S. bank branches during the third quarter.
According to SNL data, Bank of America Corp. had the most net branch closures during the third quarter - perhaps unsurprising, given the company's recent focus on streamlining and cutting costs. The bank opened nine branches and shuttered 52, for a net loss of 43.
As BofA spokeswoman Betty Riess recently told SNL, the company is investing in new ways to serve customers, allowing them to bank through a combination of channels including branches, online banking, contact centers, ATMs and mobile banking.
Buffalo, N.Y.-based First Niagara Financial Group Inc. opened four branches and closed 21, for a net loss of 17 during the quarter.
Scott Fisher, First Niagara managing director of retail channels, told SNL via email that the branch consolidations related to the acquisition of 195 HSBC USA Inc. branches throughout upstate New York and Connecticut. "Due to the close proximity of some of the acquired branches, the company identified 35 HSBC and First Niagara locations which were consolidated in the second and third quarters of 2012," Fisher said. "Most consolidating locations were less than one mile away from receiving branches, including many which were across the street from each other or even in the same parking lot."
Fisher also noted that First Niagara continues to open branches in areas like western Pennsylvania and Connecticut.
KeyCorp opened one branch during the quarter while shuttering 16. Key Chairman and CEO Beth Mooney said during the company's third-quarter earnings call that the Cleveland-based bank plans to close an additional three branches during the fourth quarter.
Maria Coyne, head of Key's consumer and small-business banking segment, said the bank was overdue for some branch closures after several years of aggressive branch expansion. "Any good retailer every year is going to look at their stores and is going to open and close a certain amount," Coyne told SNL. "We had gotten so focused on the open piece that we just got a little behind on the close piece, and that's just where we're catching up now."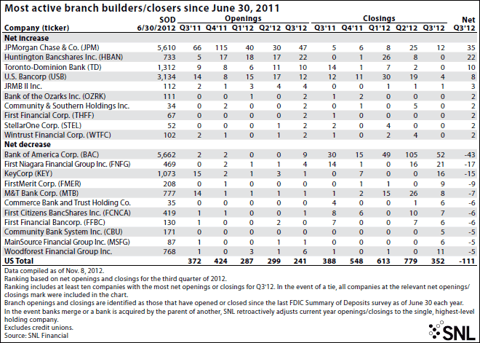 Of course, not all banks are shrinking their branch networks.
JPMorgan Chase & Co. opened 47 U.S. branches and shut 12, for a net gain of 35 during the third quarter - far more than any peer. The company has been outspoken about its strategy of expanding its branch network, especially in the growth markets of California and Florida.
Next up was Huntington Bancshares Inc., which added 22 branches during the third quarter and had no closures. On Huntington's third-quarter earnings conference call, CFO Donald Kimble noted that the company had opened 83 branches under its partnership with Giant Eagle and Meijer, and it plans to open another 44 by the end of next year.
Toronto-Dominion Bank also had no U.S. branch closures during the quarter, while opening 10 new locations. U.S. Bancorp opened 12 branches and shuttered four.
"There are some banks that are actually growing their franchises, their distribution systems, and that's because they are being opportunistic and think that they can indeed expand through new branches," Nagarkatte said.
But Nagarkatte expects the overall decline to continue, albeit gradually. "I think you'll see a steady decline in the total number of branches in the United States for the next few years, but I still think that the branch has a pretty important role," he said. "It continues to be the best source of new accounts and new households; it continues to be the best venue for conducting certain types of business … and it's also the best place for small businesses."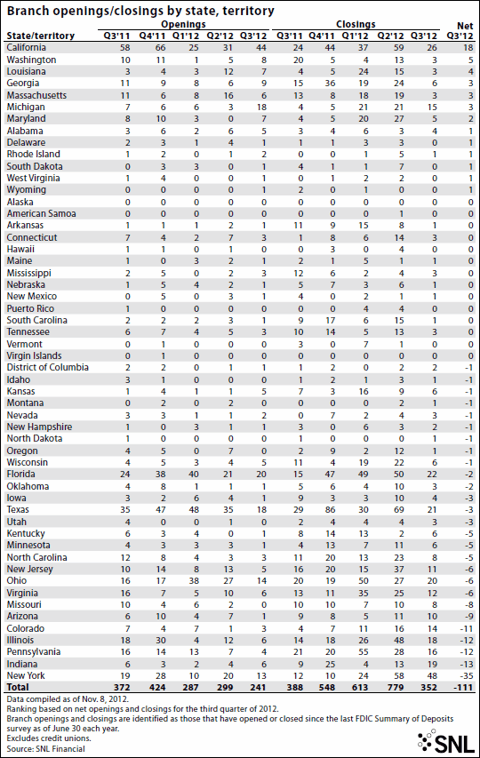 Disclosure: I have no positions in any stocks mentioned, and no plans to initiate any positions within the next 72 hours.