By Andy Pierce and Muhammad Umer Shahid, SNL Financial
(click to enlarge)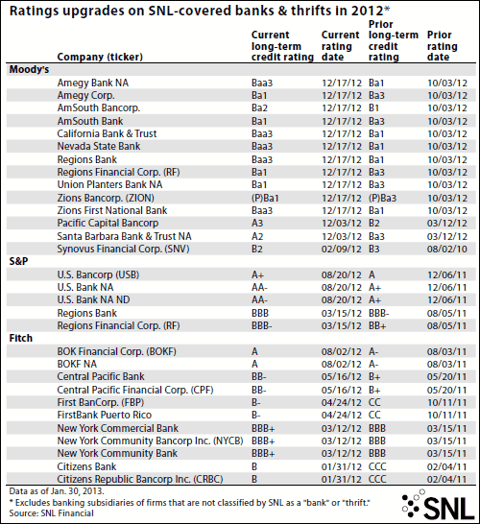 Click to enlarge
There was little consistency among the banks which received upgrades from the big three agencies. U.S. Bancorp received an upgrade from S&P in late August 2012, only to be downgraded by Moody's in December 2012. S&P cited U.S. Bancorp's outperformance of peers since the financial crisis, whereas Moody's cited "inescapable challenges that even a well-managed and diverse banking franchise currently faces," including pressures on net interest margins. Despite the downgrade, U.S. Bancorp remains well above Moody's investment grade threshold, and touts a stable outlook.
Bank ratings downgrades continued to outpace upgrades in 2012 as Moody's, Fitch Ratings, and Standard & Poor's Ratings Services issued 124 downgrades in the space, compared with only 30 upgrades, according to data compiled by SNL Financial. The analysis excludes ratings assigned to banking subsidiaries of firms not classified by SNL as a bank or thrift.
Moody's accounted for the bulk of the downgrades, issuing 68 in 2012. The agency also announced in September 2012 that its outlook on the banking sector remains negative, a view which reflects the "challenging domestic operating environment, with prolonged low interest rates, high unemployment, weak economic growth and fiscal policy uncertainties," according to Senior Vice President Sean Jones.
On June 21, 2012, 15 global banks and securities firms were downgraded, with Moody's citing "significant exposure to volatility and risk of outsized losses due to their capital markets activities." Bank of America Corp., Citigroup Inc., JPMorgan Chase & Co. and their bank subsidiaries were all affected. BofA and Citigroup were left with the lowest ratings out of the three, with long-term ratings of Baa2 at the holding company level, two notches above the minimum investment grade threshold, while JPMorgan remains at a more comfortable A2 rating.
Concerns out of Europe have also had an impact on U.S. domiciled banks. U.S. subsidiaries of Banco Santander SA and Banco Bilbao Vizcaya Argentaria SA were unanimously downgraded on the heels of the Spanish sovereign downgrades, which factored into the banking unit downgrades. In total, U.S. subsidiaries of European domiciled banks were issued 47 downgrades in 2012.
(click to enlarge)

Click to enlarge
Aside from the Santander subsidiaries, TCF Financial Corp. unit TCF National Bank was also unanimously downgraded in 2012, with all three agencies citing asset quality as one of their concerns. TCF National Bank's percentage of nonperforming assets to total assets increased during the first three quarters of 2012, but dropped to 5.79% during the 2012 fourth quarter, according to SNL Financial. The bank's holding company completed a balance sheet restructuring in March 2012 and saw their chief risk officer resign in November 2012.
(click to enlarge)

Click to enlarge
Disclosure: I have no positions in any stocks mentioned, and no plans to initiate any positions within the next 72 hours.