By Andrew Wolcott and Tahir Ali, SNL Financial
(click to enlarge)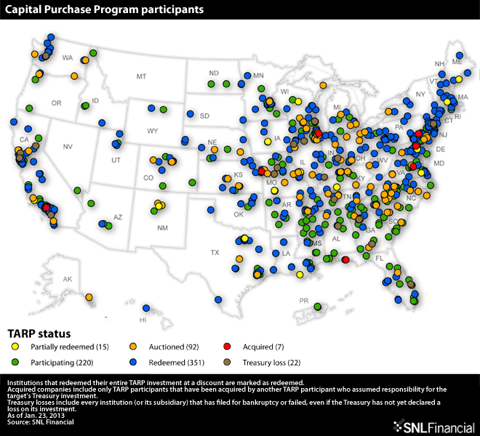 Click to enlarge
More than 60% of companies have exited the TARP program since its inception. The number of banks and thrifts that have exited the U.S. Treasury's TARP investment has increased to 443 from 367. This includes 351 companies that redeemed and 92 that were either fully or partially auctioned. The tally of companies on which the Treasury has recovered some or all of its investment, including partial redeemers and those auctioned, rose to 458 according to the Treasury's Jan. 23 transaction report. Only 220 of the initial 707 remain after adjusting for institutions that have either failed or had their TARP securities assumed by another company. Since Oct. 1, 2012, nearly $1.1 billion has been recovered from banks and thrifts, increasing the total to over $233.9 billion.
The period between Oct. 1, 2012, and Jan. 9, 2013, saw a windfall of TARP redemptions, the largest from Chicago-based PrivateBancorp Inc., which redeemed $243.8 million in preferred stock and $1.2 million in warrants on Oct. 24, 2012, and Nov. 14, 2012, respectively. According to the Treasury, PrivateBancorp's redemption was pursuant to a qualified equity offering, which priced Oct. 10, 2012. The second-largest cumulative redemption came from Laredo, TX-based International Bancshares Corp., which redeemed $216 million in preferred stock through three separate payments of $40 million, $45 million and $131 million starting in the summer of 2011 and ending Nov. 28, 2012.
(click to enlarge)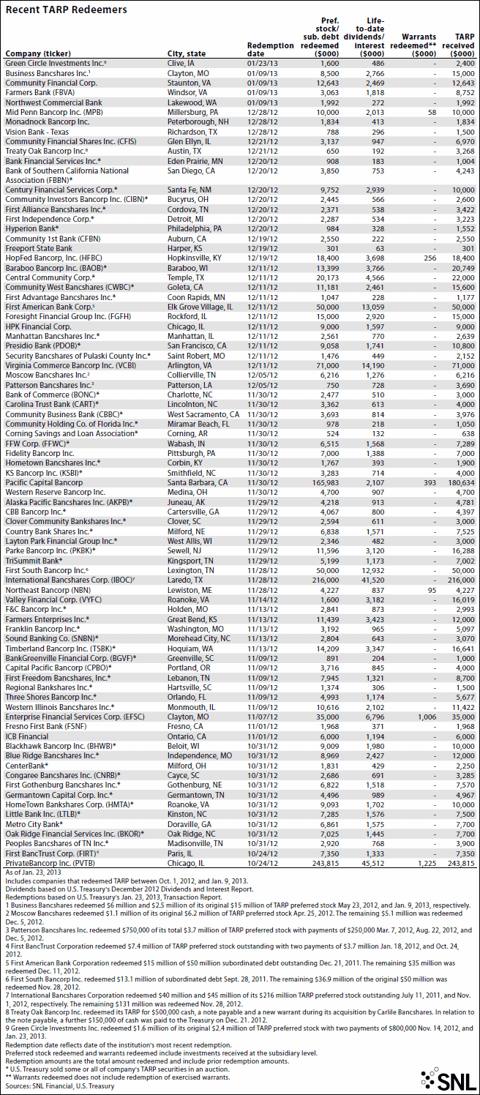 Click to enlarge
In late November 2012, the Treasury witnessed a TARP first when St. Paul, Minn.-based University Financial Corp. Inc. redeemed $22.1 million in subordinated debt. University Financial was the first bank or thrift to redeem its TARP investment through the Community Development Capital Initiative program. The CDCI is a TARP program that was implemented in February 2010 and targeted institutions that lend to small businesses in particularly hard-hit areas of the country. Banks and thrifts participating in the program received capital with a 2% dividend or interest rate for the first eight years, increasing to 9% in year nine. Many of the banks and thrifts that participate in the CDCI program transferred in from the Capital Purchase Program because the CDCI offered more favorable terms to those that were eligible.
(click to enlarge)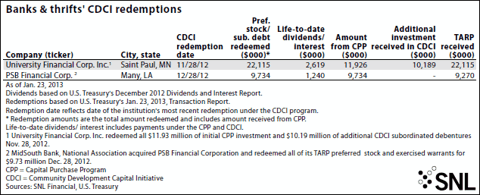 Click to enlarge
For those banks and thrifts that are still participating in the CPP, dividend payments on preferred stock are set at 5%. However, after the fifth anniversary of TARP participation, the dividend rate is set to increase to 9%. The added pressure of an increased cost of capital is forcing many banks to look to exit. For example, Synovus Financial Corp., one of the largest remaining TARP participants, recently stated that it expects to redeem its TARP securities sometime between the second quarter and fourth quarter of 2013. The stress of increased dividends makes the repayment of TARP a huge relief to those who choose to redeem. Peter Converse, CEO of Virginia Commerce Bancorp Inc., recently stated in the bank's 2012 fourth-quarter earnings call that "the real highlight for the quarter and the year was our full repayment of $71 million in TARP without an additional capital raise on December 11, almost four years to the day from December 12, 2008, when it was originally funded. We're very proud and relieved to have the retirement of TARP behind us."
The above analysis does not include the results of the Treasury's Jan. 29 TARP securities auction. Eleven financial institutions participated, and results were posted Jan. 30.
(click to enlarge)

Click to enlarge
Disclosure: I have no positions in any stocks mentioned, and no plans to initiate any positions within the next 72 hours.