By Andy Pierce, SNL Financial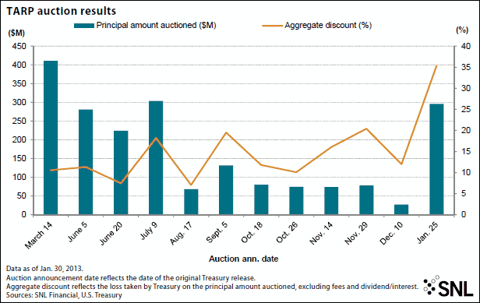 The U.S. Treasury is starting to realize heavier losses as it continues to auction its CPP investments in banks, many of which are behind on their dividend payments. Last week, the Treasury sold $295.8 million in CPP securities, taking a loss of $104.5 million before fees, a hit amounting to over a third of the principal amount auctioned.
The 35% aggregate discount is the steepest seen thus far in the multibank auction process by a long shot. Seven out of the 11 auctioned banks are well behind on their dividend payments, further crippling the Treasury's overall return.
The losses were mainly due in part to the 44.7% haircut the Treasury took on the $146 million in Series A preferred stock issued by Dickinson Financial Corp. II. The Dickinson investment was the largest to be included in a multibank auction to date, and accounted for over half of the total amount sold the prior week. Dickinson has struggled to keep up with its preferred dividends, missing 14 payments for a combined $27.9 million as of Dec. 31, 2012.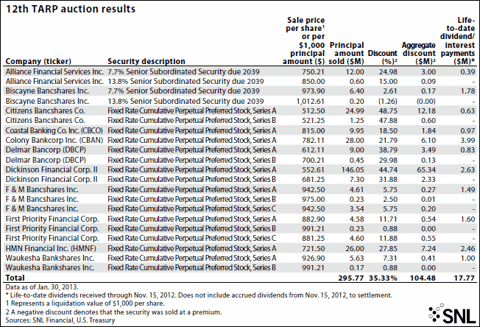 Not surprisingly, other banks that were behind on their dividend payments also priced at relatively higher discounts. The Treasury took the highest discount on Citizens Bancshares Co., whose Series A and B preferred stock sold for a little more than half its original value at discounts of 49% and 48%, respectively. The bank has missed 12 dividend payments which total over $4 million in unpaid dividends.
There were a few bright spots, as the Treasury should net a return on their investments in all four banks that were current on their dividend payments. Biscayne Bancshares Inc. was one such bank, and had their 7.7% subordinated notes sell at a 2.6% discount, while their 13.8% notes fetched a modest premium.

Disclosure: I have no positions in any stocks mentioned, and no plans to initiate any positions within the next 72 hours.