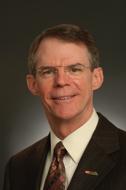 U.S. Bancorp chairman, CEO, President Executive Committee and member of Risk Management Committee, addressed the US Financial Services Conference.
Two months into 2013, U.S. Bancorp (NYSE:USB) CEO Richard Davis is seeing nothing to change his expectation this will be a difficult year for growing revenue. One reaction, "Is he laying people off? No, but he's not hiring only to find out the business isn't there."
"Now in terms of loans and deposits at the balance sheet, likewise, you can see that continues to grow nicely," he stated." I do expect both of these to grow throughout the year. I will tell you that I gave you my last terms of the forecast that loans would grow into 4% to 6% annualized rate. That's about 1% to 1.5% a quarter. I know you can do the math. We're looking at the low end of that now. We're looking right now in this quarter right at the bottom of that 1% to 1.5% because we're just not seeing the kind of robustness that we might have hoped to have as the year -- as the quarter starts to age. So 4% to 6% will still be our monitor, I hope as the year ages, we can get well into that range. But for quarter 1, we'll be at that bottom end because I just think it's important that we don't stretch. And in this company we'll not stretch on structure, and we will not do loans and lose money for a loan and find a way to make it upright. That is not the way we're going to do it...
The Bartlett study just came out last week and indicated that for the fifth year in a row, we've continued to exceed all performances of other banks in small business. It -- I wish I could get your attention by ringing a bell or something. Small Business is kind of a perfect proxy for the difference between a consumer who has an intent to manage their businesses kind of at a personal level, and the middle market manages at the business level. Small business is a great proxy.
"If you're growing small businesses, you're probably doing some of the best work you could do as a bank because you're serving customers' personal and business needs and under the patriotic aspect, you're really helping America grow in one small business at a time.
"USB plans to remain active in acquisitions, but not purchases of other banks as owners have too fanciful an idea of what they're worth," he said.
http://seekingalpha.com/article/1249051-u-s-bancorp-s-ceo-presents-at-citigroup-us-financial-services-conference-transcript?source=google_news
Disclosure: I have no positions in any stocks mentioned, and no plans to initiate any positions within the next 72 hours.