By Aarti Kanjani, SNL Financial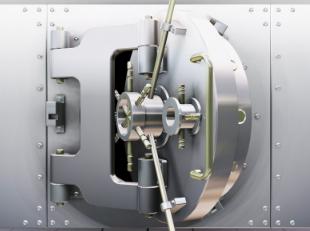 The pro forma ranking of the largest 50 banks and thrifts in the U.S. for the fourth quarter of 2012 saw little movement at the top, but there were several changes among the smaller companies. The top four held the same spots as the third quarter of 2012, with JPMorgan Chase & Co. holding the No. 1 spot. After that, many companies saw their rankings rise or fall.
Wells Fargo & Co. reported an increase in its deposits and joined JPMorgan and Bank of America Corp. in the group of companies having more than $1 trillion in deposits. According to Wells Fargo's recent Form 10-K, total assets grew 8% in 2012 to $1.4 trillion, funded predominantly by strong deposit growth. Core deposits grew $73.1 billion, or 8%, in 2012. The predominant areas of asset growth were in short-term investments, which increased $92.9 billion, and loans, which increased $29.9 billion.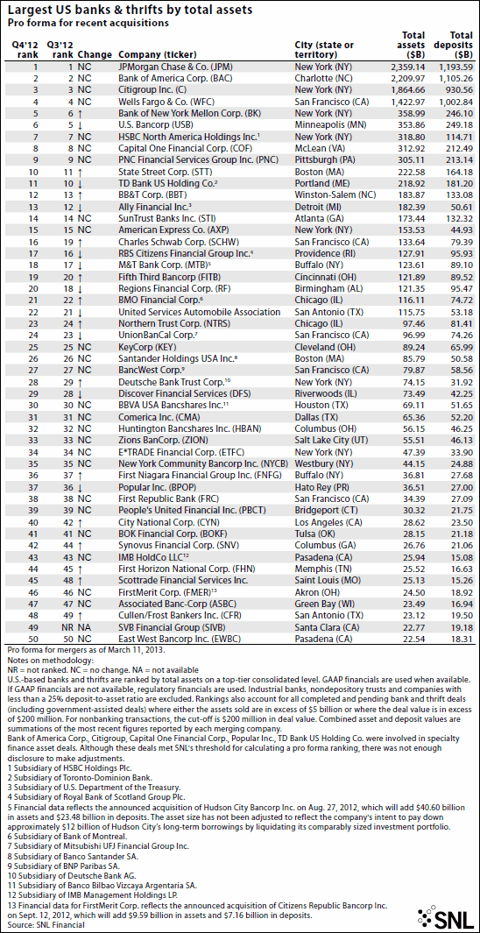 The largest upward movements in the top 50 were seen by Charles Schwab Corp., which sprang up three spots to No. 16 from No. 19, and Scottrade Financial Services Inc., moving up three spots as well, to No. 45 from No. 48. Charles Schwab's assets rose to $133.64 billion from $117.66 billion, while Scottrade Financials assets jumped to $25.13 billion from $22.64 billion in the third quarter.
The biggest downward movement was Regions Financial Corp., dropping to No. 20 from No. 18 as its assets fell to $121.35 billion from $121.80 billion.
SNL's ranking by assets is pro forma for pending M&A deals and transactions that have closed since Dec. 31, 2012.
FirstMerit Corp., which had entered the rankings at No. 46 in the third quarter of 2012 due to its announced acquisition of Citizens Republic Bancorp Inc., remained at the same position in the fourth quarter of 2012. The ranking is based on Citizens Republic's $9.59 billion in assets and FirstMerit's $14.91 billion in assets as of Dec. 31, 2012.
M&T Bank Corp., which rose to the 17th spot in the third quarter of 2012 with its announced $3.81 billion acquisition of Hudson City Bancorp Inc. on Aug. 27, fell to the 18th spot. M&T's new ranking is based on a combination of its $83.01 billion in assets and Hudson City's $40.60 billion in assets as of Dec. 31, 2012. The asset size has not been adjusted to reflect M&T's intent to pay down approximately $12 billion of Hudson City's long-term borrowings by liquidating its comparably sized investment portfolio.
SVB Financial Group was the sole newcomer to the list, which cracked the rankings at No. 49. It dropped off the list in the third quarter of 2012 after falling short. Its assets rose to $22.77 billion from $21.58 billion in the previous quarter.
Exiting the list this quarter was GE Capital Retail Bank, a unit of General Electric Capital Corp. General Electric Capital filed a consolidated regulatory filing with the Federal Reserve for 2012, its first bank holding company filing, which caused its exclusion, since SNL excludes holding companies with deposits totaling less than 25% of assets from the ranking. Its deposit-to-asset ratio stood at 8.50% at Dec. 31, 2012. GE Capital acquired the U.S. retail depository business from MetLife Inc. on Jan. 11. As a result, approximately $6.4 billion in bank deposits have been transferred to GE Capital Retail Bank. After the deal, MetLife started the process of deregistering as a bank holding company. On Feb. 14, it announced that it had received the required approvals to deregister as a bank holding company. MetLife has not appeared on SNL's top 50 ranking in the past because its deposit levels were too low.
Some other large firms regulated as bank holding companies, such as Goldman Sachs Group Inc. and Morgan Stanley, are also not ranked since their deposits totaled less than 25% of assets.
A number of ranked companies recently announced noteworthy specialty finance asset deals. Although these deals met SNL's threshold for calculating a pro forma ranking, there was not enough disclosure to make adjustments. Those deals are: Bank of America's announcement to sell a residential mortgage servicing rights portfolio Jan. 6, with $215 billion in receivables; Bank of America's completed sale of mortgage servicing rights Jan. 31, with $88.00 billion in receivables; Citigroup's announcement Feb. 19 regarding the acquisition of credit card receivables from Capital One Financial Corp. with, $7 billion in receivables; Popular Inc.'s announced sale of a portfolio of nonperforming loans and real estate owned Feb. 28, with $1.02 billion in receivables; and Toronto-Dominion Bank's Oct. 22, 2012, announcement to acquire a credit card portfolio from Target Corp. having $5.90 billion in managed receivables.

Disclosure: I have no positions in any stocks mentioned, and no plans to initiate any positions within the next 72 hours.