By Andrew Wolcott and Marshall Schraibman, SNL Financial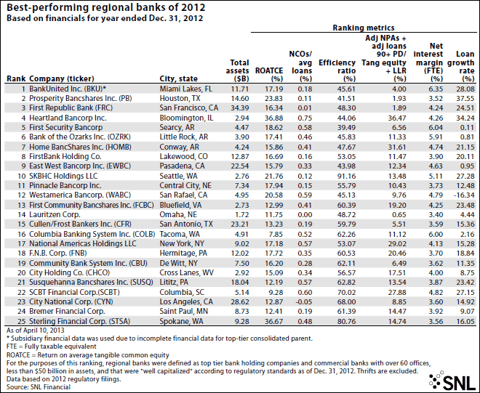 BankUnited Inc. landed at the top of SNL's regional bank ranking for 2012, the company's first year of eligibility. There were still plenty of familiar faces from last year's ranking - Little Rock, Ark.-based Bank of the Ozarks Inc., Searcy, Ark.-based First Security Bancorp, and Houston-based Prosperity Bancshares Inc. all still hold spots in the top 10.
BankUnited became eligible for our rankings after converting to a bank holding company in March 2012. SNL used the financial data of its subsidiary, BankUnited NA, since complete regulatory financial information was not available for BankUnited Inc. BankUnited NA still meets the number of offices, asset and capital criteria for this analysis.
BankUnited NA posted a net interest margin for 2012 of 6.35%, the highest of any company considered in our ranking. Despite its exemplary performance, the parent company was trading at just 140.25% of tangible book value, a discount to SNL's U.S. assets-over-$10-billion index, which sits at 149.34% of tangible book. They have been embroiled recently in a dispute concerning the potential Chapter 11 bankruptcy of St. Petersburg, Fla.-based Universal Health Care Group Inc.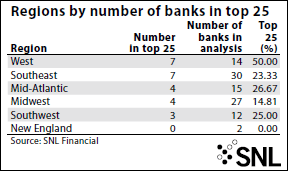 The Southeast and West regions tied for highest number of banks in the top 25, each with seven. Half of all Western banks considered in the analysis made the top 25. The Midwest and New England fared the worst, with only 14.81% and zero percent, respectively, of banks in those regions featured in the top 25.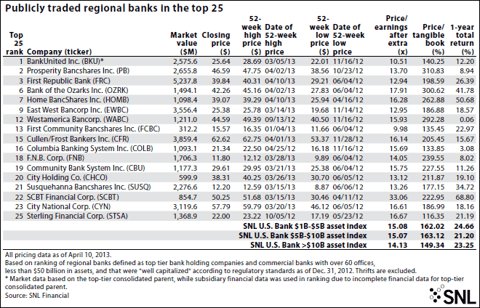 Prosperity Bancshares moved up one spot from last year to No. 2 in the rankings. Prosperity grew its assets nearly 50% in 2012 after completing four bank acquisitions during the year. It also continued to profit from the growth of the Texas economy, which is riding the coattails of an oil boom.
In the No. 3 spot was First Republic Bank, another newcomer to SNL's ranking after falling short of the office threshold for the 2011 ranking. First Republic was the biggest bank by assets in the top 25, catapulting themselves into the top five through great asset quality, with an adjusted Texas ratio of 1.89% and a net charge-offs-to-average-loans ratio of just 0.01%. 2012 was also the first year First Republic declared a common equity dividend, paying out 10 cents per share on Aug. 15.
The median price-to-tangible book for public companies in the top 25 was 205.5%, almost 20 percentage points higher than the median of public companies in last year's top 25. In comparison, PTBV growth of the SNL U.S. Bank index remained relatively flat over the same time period. Bluefield, Va.-based First Community Bancshares Inc. was the cheapest public company in the top 25 on a price-to-earnings basis. First Community has paid a steady dividend since 1991, recently increasing its dividend 9% to 12 cents per share earlier this year.
Definition: SNL ranked the best-performing regional banks using six core financial performance metrics that focus on profitability, asset quality and growth for the 12-month period ended Dec. 31, 2012. The metrics used were: return on average tangible common equity, net charge-offs as a percentage of average loans, adjusted Texas ratio, efficiency ratio, net interest margin and loan growth. SNL measured each company's standard deviation from the mean of each metric. The standard deviations, which were equally weighted, were then added together to calculate a performance score for each company. Cap and floors were also implemented to prevent significant outliers from skewing a company's rank.
For the purposes of this ranking, SNL defines regional banks as banks below $50 billion in assets with a branch network consisting of greater than 60 offices. Additionally, to be included in the analysis, banks had to be well-capitalized according to regulatory standards. Thrifts were also excluded from the analysis. Based on these criteria, 100 companies were included in the ranking.

Disclosure: I have no positions in any stocks mentioned, and no plans to initiate any positions within the next 72 hours.