As reported earlier, and as expected, the major banks have been hit by the same issue, such as experienced by Wells Fargo for instance: shrinking net interest margins and declining mortgage revenues. One of the problems is that many of the banks have exhausted the loans that can be refinanced, losing origination figures as well as declining interest margins.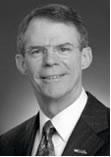 CEO Richard K. Davis in a telephone conference stated, "Although a total net revenue of $4.9 billion was slightly lower than the same quarter of last year and the previous quarter due to a reduction in total expense, we achieved positive operating leverage year-over-year and linked quarter. Total average loans grew year-over-year by 5.8% and as expected, 1% or 4% annualized linked quarter. We experienced strong growth in total average deposits of 7.3% over the prior year and 0.5% over the fourth quarter of 2012. Credit quality remained strong."
Andrew Cecere, Vice Chairman and Chief Financial Officer in the telephone conference noted:
"The 7-basis-point decline in net interest margin was primarily due to lower loan and securities rates and seasonally lower loan fees. On a linked quarter basis, noninterest income was lower by $164 million or 7%. This unfavorable variance was primarily the result of a decrease in Mortgage Banking revenue and seasonally lower payments and deposit service charges, as well as commercial products revenue. The variance in Mortgage Banking revenue largely reflected lower origination and sales revenue, offset by favorable variances in the addition to reps and warranty repurchase reserve and mortgage servicing rights valuation." (1)
The banks is weathering the story, as well as the Tier 1 Capital Risk-based capital ratio 13.2 is very healthy, but the loan business, including margins for the top credits has resulted in less business, as evidenced by the numbers below: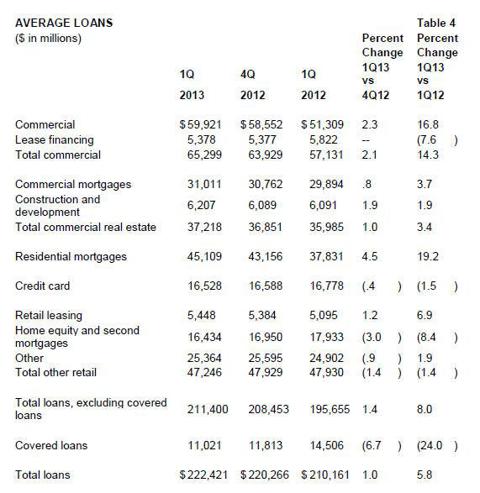 Page 8 Press Release
(1) Seeking Alpha Transcript:
http://seekingalpha.com/article/1345341-u-s-bancorp-management-discusses-q1-2013-results-earnings-call-transcript?page=2
US Bancorp Press Release:
http://www.leasingnews.org/PDF/USBank1stQuarter4192013.pdf
Disclosure: I have no positions in any stocks mentioned, and no plans to initiate any positions within the next 72 hours.