By Kevin Dobbs and Zuhaib Gull
SNL Financial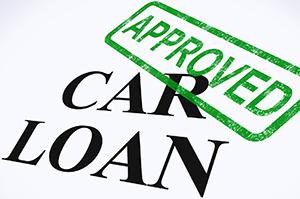 Auto lending continues to advance in 2013, picking up on momentum gathered last year, and analysts anticipate that demand for such credit will remain strong in tandem with demand for new cars and trucks.
The average age of U.S. cars and trucks has hovered near 11 years over the past couple years, according to the Polk auto research firm, making for the oldest stock of autos on the nation's roads on record. This was fed by the fact that would-be buyers shied away from auto purchases in the wake of the 2008 recession, preferring to put more miles on their used vehicles amid concerns about the job market and hits to personal wealth from slumping housing markets.
But as the economy has recovered and confidence has gradually returned, more buyers have returned to the market and capitalized on historically low interest rates to drive up sales and loan demand. An SNL Financial analysis found that aggregate auto loans at U.S. commercial banks have climbed every quarter since the beginning of 2011, reaching $306.67 billion at the close of the first quarter of this year.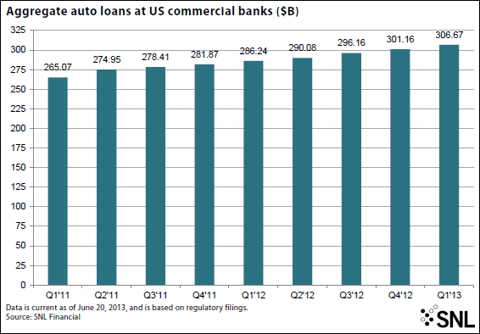 "The cars on the road today are the oldest they've ever been, so we're seeing that inventory needing to be replaced at the same time that the economy is healing, so there is a bullish long-term view on autos," Jefferson Harralson, a bank analyst at Keefe Bruyette & Woods Inc., told SNL.
Harralson also pointed out that, while residential real estate and other asset classes were badly bruised in the wake of the last recession, auto loans held up relatively well for many banks in terms of their credit performance. "And that makes autos a class that banks want to continue to lend to," he said. "The loans hold up and they are relatively short in duration" - limiting risk tied to shifts in interest rates - "so it's almost a perfect asset class."
What's more, SNL data show, interest rates on auto loans have come down substantially over the past two years, making loans appealing to customers and helping to fuel demand.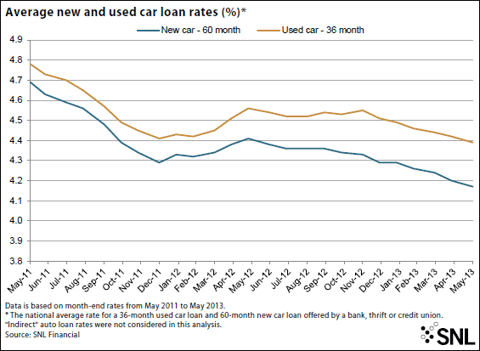 All of that noted, Harralson said, "the bad news about being the perfect asset class is that everyone wants in and pricing gets very competitive."
Indeed, in recent conference presentations, bankers have cited pricing as an issue important to track.
"Competition continues to be very strong, due to the attractive credit and duration profile of the paper," Fifth Third Bancorp Treasurer Tayfun Tuzun, for one, said while speaking at a June conference.
Changes to the regulatory framework could also complicate matters for lenders.
The fledgling Consumer Financial Protection Bureau, created in the aftermath of the financial crisis of the past decade to help guard against predatory lending, is looking to ensure auto dealers, who often act as brokers between customers and lenders, are not taking advantage of car buyers.
The CFPB is targeting the so-called dealer reserve, which is the difference between the rate a bank will quote on a loan and the quote that the dealer provides the customer. The dealer keeps the difference and pads the income it makes on an auto sale. The CFPB has said that, since it cannot directly regulate dealers, it intends to put the onus on banks to ensure that fair lending rules are not violated during this process.
"And so what we did in response - and a couple other banks have done similar things - is we've narrowed the possible gap in that discretion that the dealer has," U.S. Bancorp CFO Andrew Cecere said at a conference this month. "So we compressed their ability - they still have some room, but it's less than it used to be. … [W]hen the CFPB came out with its guidance, we were quick to react to try to limit that fair-lending issue."
So far, Cecere said, dealers have responded favorably and loan volumes have held steady. But time will tell if dealers migrate toward other lenders that are not quick to react to the CFPB's guidance.
Separately, there is the matter of the Federal Reserve signaling that it could begin to pull back on its quantitative easing efforts as soon as the second half of this year as the economy continues to improve. This could lead to higher interest rates. Already, some rates have climbed in recent weeks in anticipation of this. Over time, higher rates could crimp auto loan demand, particularly if rates climb fast, analysts say.
But in the short term, Harralson said the higher rate possibility might actually lead to a surge in sales, as consumers may see reason to rush out this summer to buy before rates shoot up.
J.D. Power and LMC Automotive estimated that June sales will hit a seasonally adjusted annualized rate of 15.7 million, according to a Reuters report. That would be a 7.6% increase from a year earlier and mark the highest level since the final month of 2007.
Against that evolving backdrop, most major auto lenders are optimistic.
"One of the primary drivers of consumer lending growth nationwide has been auto lending," SunTrust Banks Inc. CFO Aleem Gillani said while presenting at a June conference. "And we certainly have seen this trend in our own auto portfolio."

Disclosure: I have no positions in any stocks mentioned, and no plans to initiate any positions within the next 72 hours.