By Sam Carr and Thornton McEnery, SNL Financial

SNL has compiled a list of banks with the highest implied upside in their stock price, and that list is replete with institutions that are seen as significantly undervalued - though investors might need an appetite for risk to reap those rewards.
The implied upside is calculated as the percentage difference between the July 11 closing price and the mean price target as reported by FactSet on July 11. Only public banks and thrifts with three or more analyst estimates according to FactSet are included in the analysis.
Banks and thrifts by greatest implied upside to price target chart
A prime example of a bank with a stock price that posits a range of risk and reward is also the bank with the greatest implied upside according to the metric - Easton, Md.-based Shore Bancshares Inc., which at 27.90% outpaces its nearest competition by almost 8 percentage points.
According to Sandler O'Neill analyst Casey Orr, Shore is not only a high-risk, high-reward stock, it is "one of the last credit stories left in the industry."
Shore's ratio of nonperforming assets to total assets in the first quarter stood at 8.39% and has not been below 8% since first-quarter 2012 when it was reported at 7.77%.
"They are in a burn-down process," said Orr. "My price target, at least, is based on that burn-down expectation."
Orr's target is also based in part on the possibility that things might turn around at Shore, which would undermine any of the potential that Shore displays through its upside potential.
A troubling sign for Shore is the consent order issued in May 2013 by state regulators in Maryland requiring the bank to fulfill certain requirements, including improving credit quality and reviewing and revising certain of the bank's policies and procedures.
But not all banks on the list contain a level of risk within their potential for reward, as Bowie, Md.-based Old Line Bancshares Inc. appears to be more of a case of a solid institution waiting for an inevitable bounce in its stock price.
Orr concurs with that interpretation of Old Line and points to two major factors in why the bank's stock price may be a case of temporary undervaluation rather than untapped potential.
With a strong credit position, a few quarters of consistent asset growth and a strengthening loan business, Orr refers to the bounce in valuation that Old Line has yet to realize from its recent acquisition of WSB Holdings Inc., which it completed in May 2013.
"It hasn't yet benefited from that deal in terms of share price," said Orr, adding "Plus, no one was really even aware of them until recently."
One stock valuation factor that Shore and Old Line share despite their varying positions is the overall strength of the bank group, which according to SNL data is well outpacing other indexes.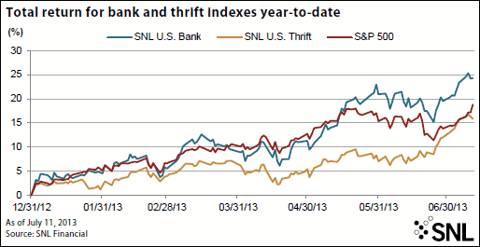 Since the opening of the fiscal year, total returns have soared in almost every investment group, but the SNL U.S. Bank Index has outpaced even that overall potent growth, climbing above 25% in early July. By comparison, neither the SNL U.S. Thrift Index nor S&P 500 has been able to crack the 20% mark.
And even within that expanding group, the metric of potential upside proves that there are major profit opportunities to be had, but not without some risk.
As Orr sees it, "It's a case of maybe getting greater reward but taking greater risk."

Disclosure: I have no positions in any stocks mentioned, and no plans to initiate any positions within the next 72 hours.