by Christopher Menkin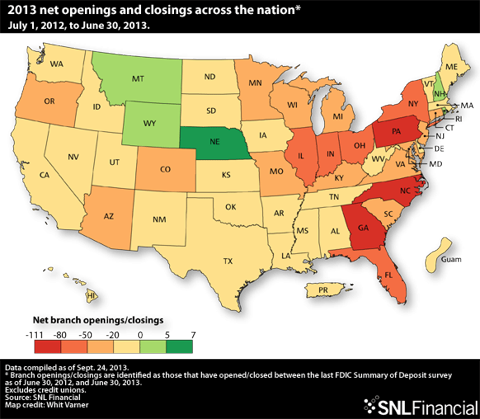 A recent report by SNL Financial which appeared in Leasing News (1) demonstrated the bank branch deals are declining as would-be sellers and sellers have been consolidating and closing locations rather than sell.
It appears more and more bank customers are increasing to do more business online or via mobile devices, the traditional, heavily staffed branch networks are not as important, including their size and having multi-branches in smaller cities and townships.
In the SNL Financial statistic among the large banks, there were 2,519 branch closings compared to 1,247 opening, making a loss of 1,272.
The top five spots on that list went to Bank of America Corp., SunTrust Banks Inc., PNC Financial Services Group Inc., Capital One Financial Corp. and KeyCorp.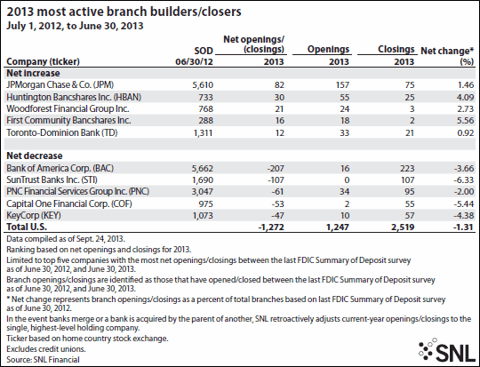 The map at the beginning of this article is from the following SNL Financial statistics: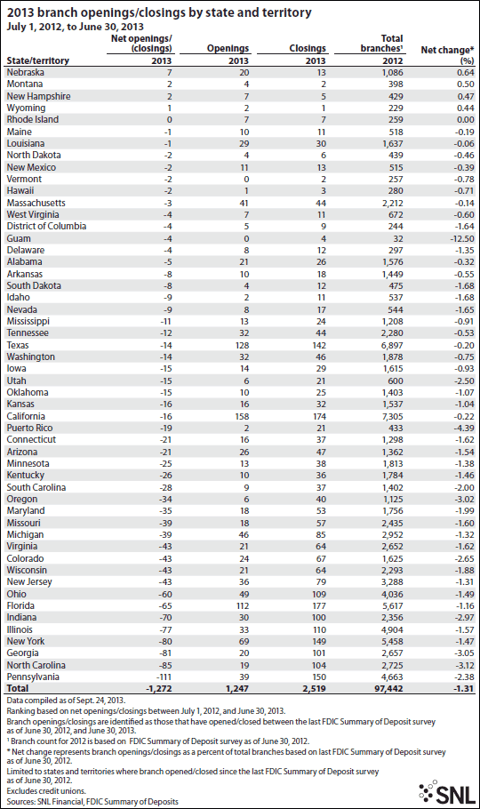 Reportedly banks see fees from online and mobile device access, as well as looking for more service products as they recover from the mortgage fall out and realize new mortgage laws might push smaller banks out of this marketplace; although may create more opportunity for larger banks to service these borrowers.
(1) Bank Branch deals decline, leaving community banks behind
http://leasingnews.org/archives/Sep2013/9_30.htm#snl
Disclosure: I have no positions in any stocks mentioned, and no plans to initiate any positions within the next 72 hours.