Top 50 Banks Deposits/Branches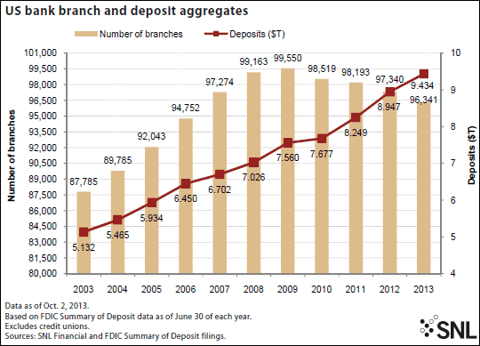 SNL Financial reports, "BofA's "express branches" will have tellers onsite during regular business hours as well as during early morning and evening hours - as well as on weekends…But, importantly, these offices will be much smaller - the first such branch, which recently opened in New York City, is about 2,200 square feet - than typical bank branches, which often range in size from 3,000 square feet to 6,000 square feet. As such, fewer people will be needed to staff the express offices, and BofA will save money"
B of A plans to open five more in Boston, Charlotte and the New York City area by the end of the year, they report.
The express branches feature ATMs with "Teller Assist," which lets customers speak with an off-site representative through the ATM. Onsite B of A employees will be available to help customers during normal working hours, and Teller Assist will make offsite employees available during nights and weekends, B of A said.
"We are working to make the customer experience with Bank of America reflect how people live their lives every day," said Katy Knox, retail banking and distribution executive, in the BofA news release. "With the addition of express centers, our retail business offers customers more flexibility and convenience."
SNL Financial reports, "Banks of varying sizes are studying ways to make similar moves, analysts say…"
"Wells Fargo & Co., for example, earlier this year launched its own version of express branches, beginning with a store in April in Washington, D.C. Wells said its smaller branches are designed to be about 1,000 square feet, roughly a fourth of what many of the bank's existing traditional branches encompass."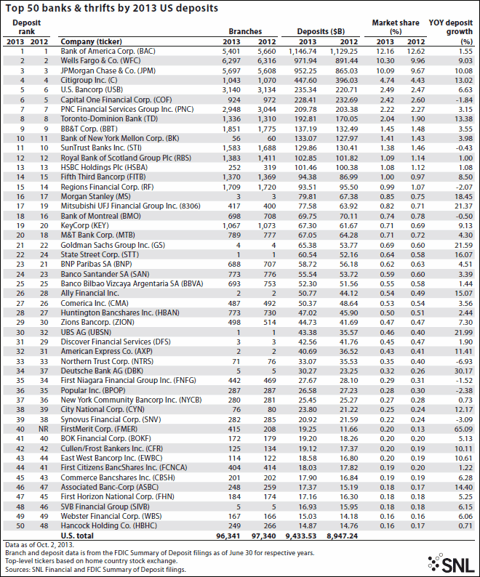 "Mark Fitzgibbon, head of research at Sandler O'Neill & Partners LP, told SNL Financial that a decade ago many banks tried to push for increased use of online banking only to face some pushback from customers. But today, in a smartphone-driven world, increasingly more Americans are eager to do more of their business, including banking transactions, via new technology.
" As such, it makes sense that banks are powering forward on this front in order to deliver what customers want. And it happens to feed a trend at a time when banks desperately need technology to help them become more efficient, he said. Loan demand is soft, he noted, making organic revenue growth a constant challenge. And, in the wake of the last financial crisis, regulations are tougher and greater in number, forcing banks to spend more on compliance. Banks therefore need ways to trim expenses elsewhere, he said.
"'Banks are grappling with weaker-than-they'd-like profitability, while their cost structures are under constant pressure from the regulatory burden,' Fitzgibbon said. 'So they are working hard to take advantage of technology to reduce branches, shrink the size of others and to scale back on staffing. … Almost every bank we talk to is doing this or at least looking to do it.'
"At the same time, he and other analysts note, with both businesses and consumers sitting on greater levels of cash and saving more in the aftermath of the last recession, most banks are flush with deposits and do not need more branches to bolster their liquidity positions."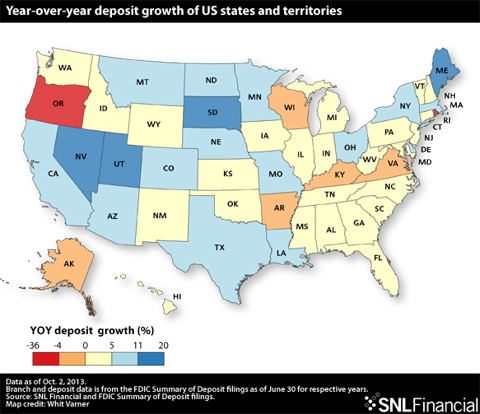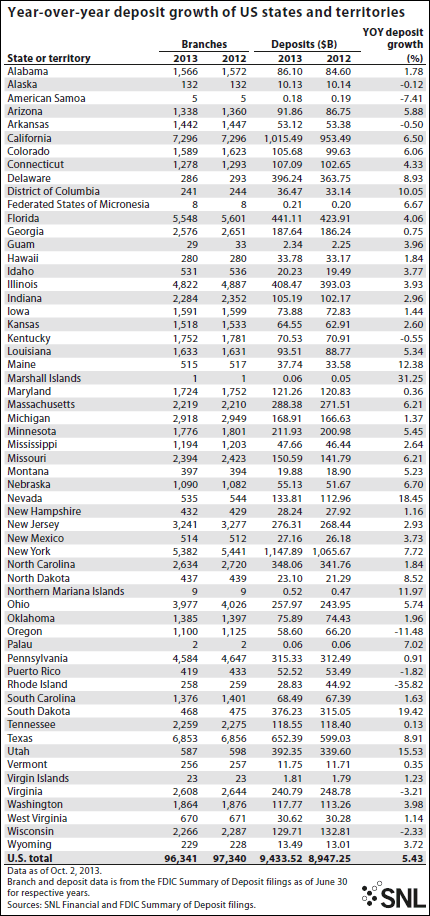 Disclosure: I have no positions in any stocks mentioned, and no plans to initiate any positions within the next 72 hours.