By Kevin Dobbs and Marshall Schraibman
Median third-quarter loan growth among lenders with less than $10 billion in assets, when compared with the previous quarter, came in at a mere 1.25% nationwide. Compared with a year earlier, median growth just topped 3%, according to an SNL Financial analysis.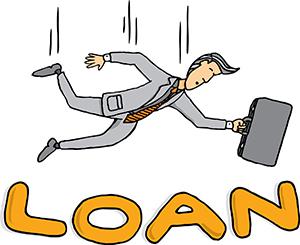 A SNL Financial Exclusive Report
Yadkin Financial Corp. President and CEO Joseph Towell, after reporting a third-quarter profit, struck an optimistic tone on loan growth, telling analysts that "our lending teams are on the offensive, looking for quality deals with creditworthy borrowers."
But the Elkin, N.C.-based company's total loan balances - nudged by modest commercial real estate and C&I growth - advanced slightly during the third quarter and are up just 2% on the year.
That, Towell said of his $1.8 billion-asset bank, "is right in line with our market expectations for 2013."
Such is the definition of optimism on the loan growth front this year.
An SNL Financial analysis of regulatory filings found that Yadkin Financial experience is emblematic of what community banks nationally are experiencing.
Median third-quarter loan growth among commercial banks with less than $10 billion in assets, when compared with the previous quarter, came in at a mere 1.25% nationwide. Compared with a year earlier, median growth barely topped 3%.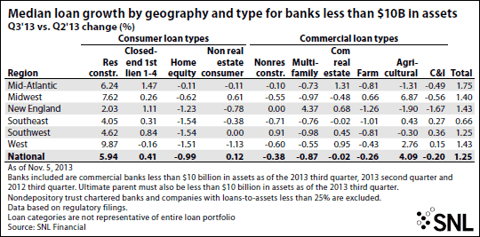 Generally tepid demand resulted in anemic growth in every region of the country during the third quarter. When compared with the linked quarter, no region reached the 2% median growth level, according to the SNL analysis. The mid-Atlantic region fared best, at 1.75% growth, while the Southeast produced the weakest result, with 0.66% growth.
"Organic growth was OK in that we got some growth," D.A. Davidson & Co. analyst Jeff Rulis told SNL.
Rulis said commercial borrowers and consumers continue to be aggressive in paying down debts and, as such, pay-downs and payoffs cut into loan balances and in some cases may mask decent loan growth. He said that, while spotty, some banks are making advancements in C&I, CRE and residential construction.
"But it's sort of hot and cold - depending on the company," he said. "And there was nothing to indicate that a wave of demand came in," Rulis said, noting that loan growth of late at certain banks often tends to come via stealing share from competitors. "Demand is still light."
From a year earlier, median growth was notable in some regions, but still hovered in single digits. New England produced the strongest median expansion, at 6.23%, while the Southeast again struggled the most, generating median loan growth of just 1.06%, SNL found.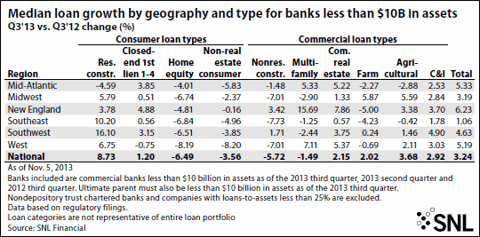 By asset size, there was little to differentiate one group from the other. From the second quarter, banks with less than $100 million in assets eked out median loan growth of 1.20%; lenders with $100 million to $1 billion produced 1.21%; and banks with $1 billion to $10 billion produced 1.52% median growth.
Chicago-based MB Financial Inc., with just over $9 billion in assets, falls into the latter category. Its third-quarter loans were flat from the previous quarter and, excluding covered loans, were up just 3.6% from a year earlier.
MB Financial President and CEO Mitchell Feiger, after reporting a third-quarter profit, told analysts that, with overall demand from prized borrowers modest, competition for good loans is fierce, making it difficult to produce strong growth without compromising on terms. "The Chicago market is hyper-competitive with tremendous pricing pressure and a steady decline in credit structure," Feiger said.
His concerns were echoed by bankers and analysts across the country during earnings season.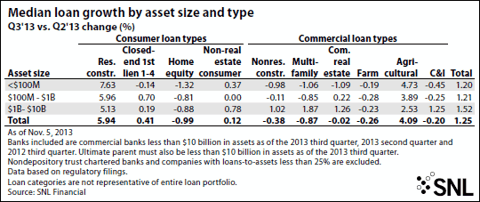 In the face of persistently challenging competition and only modest overall loan demand, many banks are considering mergers and acquisitions as a way to fuel near-term growth and to gain heft to leverage for longer term expansion.
MB Financial, for one, in July agreed to acquire Rosemont, Ill-based Taylor Capital Group Inc.
Yadkin Financial, meanwhile, is reportedly in talks to merge with Raleigh, N.C.-based VantageSouth Bancshares Inc. Rumors about a possible Yadkin sale have circulated for months. VantageSouth and Yadkin Financial combined would have almost $4 billion in total assets and 80 branches; that would make it the fourth-largest bank in North Carolina.
With organic loan growth hard to come by and regulatory expenses weighing heavily on small banks, observers say more lenders are likely to grow frustrated with the current sluggish environment and at least consider sales.
Charles Wendel, president of Financial Institutions Consulting Inc., put it this way to SNL in a recent interview: "I don't think there are many community banks that expect loan growth to suddenly take off and profits to surge and life as a standalone bank to become easy. … People are looking at their options."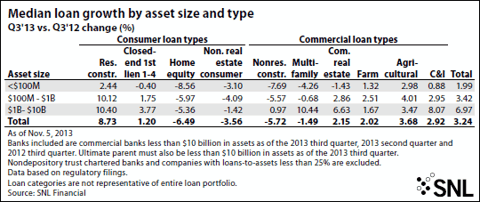 Disclosure: I have no positions in any stocks mentioned, and no plans to initiate any positions within the next 72 hours.