by Christopher Menkin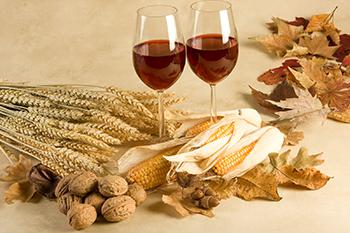 Don't wait until the last minute. Buy it now or before the weekend and the better stuff is no longer available. And don't buy cheap wine just because it is cheap and you are having a "turkey meal." Life is too short to drink bad wine-anytime!
First, have some glass bottle beer handy, especially for sports on TV, and sparkling water for those who don't drink alcohol. Yes, beer also goes with turkey and if guests want to drink it, encourage them to enjoy the meal with whatever they want to imbibe.
I recommend juice drinks rather than soda for kids, or even grownups. Sangria also is a good drink with or without wine (one trick, soak the fruit in vodka before putting in).
As for wine, you need both red and white (actually it is pale yellow or clear, not white). Depending on how many don't drink alcohol, a rule of thumb to be safe is a bottle for every two people. Assume that guests will drink at least two glasses of wine, easy. So if you have ten people, five bottles handy ( you don't have to open them all). In fact, better to have six bottle around than run out.
I like Champagne or American Sparkling Wine beforehand in a toast (there are some good Italian and Spanish, too). However, to keep it simple, I recommend a Pinot Grigio or Sauvignon Blanc for
the so-called "white wine." They go well with rich foods and Sauvignon Blanc goes great with almost everything (and there are many different styles from dry to fruity, depending on how much Semillon is added---New Zealand has the best, in my opinion). I like Pinot Grigio from almost everywhere. It is a standard. It is an underrated grape.
"No" on Chardonnay for Thanksgiving, as well as "no" on Cabernet Sauvignon with its rich tannins (great for red meat, but not a bird). I prefer a very good, well aged Pinot Noir (at least five years old), and Zinfandel (younger, the better), as well as you will find a California Syrah perfect for heavy dark meat and stuffing.
As for an after dinner drink, don't laugh, some 18 year or 25 year old rum served "neat" is very American to me. It's cheaper than Scotch, and I think a lot smoother and perfect after a traditional American dinner. Try it, you'll really like it. It's real American from revolutionary days!
Disclosure: I have no positions in any stocks mentioned, and no plans to initiate any positions within the next 72 hours.