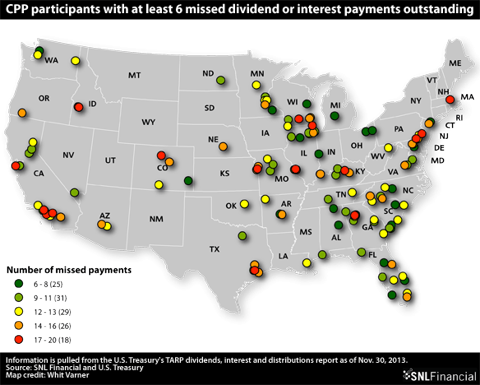 The number of U.S. banks and thrifts behind on quarterly TARP dividend payments has fallen to 56, according to a Dec. 10 report from the Treasury. This figure is down from 73 institutions in August, 89 in May and 113 in February, thanks to TARP redemptions and Treasury auctions.
In addition to the 56 banks and thrifts behind on quarterly payments, in November the Treasury sold its stake in five institutions with deferred dividends: Bridgeview Bancorp Inc., Madison Financial Corp., Midtown Bank & Trust Co., Pacific City Financial Corp. and Village Bank and Trust Financial Corp.
Collectively the 56 companies owe $580.2 million, or about 0.28% of the original $204.9 billion that 707 banks and thrifts received under the Treasury's Capital Purchase Program.
Under TARP, bank holding companies must pay cumulative dividends, and missed payments accrue. Banks without holding company status pay noncumulative dividends, and missed payments do not accrue. In some cases, regulators may restrict banks from paying dividends if accumulated earnings do not meet a certain threshold. Some banks also must attain shareholder approval before paying dividends.
Out of the 56 companies in question, 53 have deferred payments more than six times in the past, and 26 of these companies have agreed to have a Treasury observer assigned and attend board meetings. Under the terms of the CPP, the Treasury has the right to elect up to two directors to the board of any institution that misses six dividend payments. To date, a total of 129 institutions have missed six or more payments.
Six companies have missed 18 payments, and three companies have missed 19. Saigon National Bank has missed 20 payments, more than any bank in the country. Saigon has declined to have a Treasury observer attend its board meetings. The company declined SNL's request for comment.
Full Report and Analysis:
http://www.snl.com/InteractiveX/Article.aspx?cdid=A-26307233-12341
Disclosure: I have no positions in any stocks mentioned, and no plans to initiate any positions within the next 72 hours.