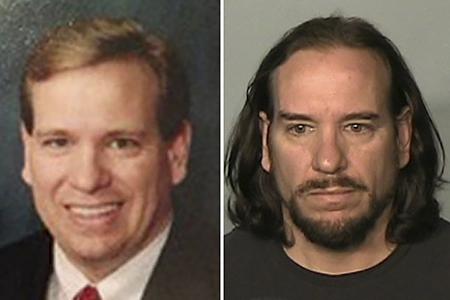 Price 2012 / Price 2014
Aubrey Lee Price, former bank director of failed Montgomery Bank & Trust, Ailey, Georgia, was found alive in Brunswick, Georgia, after faking his death. He apparently had returned to Georgia to renew the tag on his truck, and was stopped in a routine traffic stop over illegally tinted windows. He reportedly was also "hoarding" marijuana plants.
The U.S. Coast Guard complained that it spent more than $173,000 searching for Price in the belief that he had jumped off the ferry.
Here's the story:
July 9, 2009 the FDIC closed Montgomery Bank & Trust, Ailey, Georgia. The bank had 45 full time employees as of March 31, 2012 at their two offices in Vidalia and one office in Ailey. December 31, 2008, they had 89 full time employees.
The FDIC estimated that the cost to the Deposit Insurance Fund (DIF) to have been $75.2 million.
What happens seems to be a major embezzlement with the U.S. Attorney's office charging Montgomery Bank director, and one-time metro Atlanta investment adviser Aubrey Lee Price with wire fraud of $17 million from the bank. After telling upper management that he was investing in U.S. Treasury securities, he wired bank funds to accounts he controlled and prepared falsified statements to cover his tracks, the federal complaint said. He is also charged with allegedly defrauding more than 100 clients in Georgia and Florida.
Aubrey Lee Price was charged in federal court in Georgia with one count of wire fraud on June 28, 2012, and could face up to 30 years in prison and a $1 million fine, the FBI said. He also is subject to stealing over $21 million from clients and investing in real estate that got caught in the downturn of the housing marketplace.
According to reports at the time, a letter bearing his name was sent to friends and colleagues about the same time that said he had lost millions of dollars in client funds and suggested he intended to commit suicide."
Price was reportedly last seen boarding a ferry in Key West, Florida, bound for Fort Myers, Fla. A surveillance camera caught him purchasing the ticket. He had "previously stated that he owns real estate in Venezuela" and "may own a boat that would be large enough to travel to Venezuela from Florida."
Before his arrest, he was last seen getting tickets
to the ferry in this YouTube:
www.youtube.com/watch?feature=player_emb...;v=MOGPWzwI3XI
A judge reportedly declared that was dead, but the FBI kept him on the "most wanted list."
Perhaps Sheldon Player of Equipment Acquisition Resources is also still alive, despite current rumors.
Original Story:
$17 Million Fraud Closes the 6th Bank this year in Georgia
http://leasingnews.org/archives/Jul2012/7_09.htm#bank_beat
Disclosure: I have no positions in any stocks mentioned, and no plans to initiate any positions within the next 72 hours.