By Marshall Schraibman, SNL Financial Special Report
The U.S.'s five largest banks and thrifts own 44% of the bank and thrift industry's total assets, as of Sept. 30, according to a recent analysis by SNL.
(click to enlarge)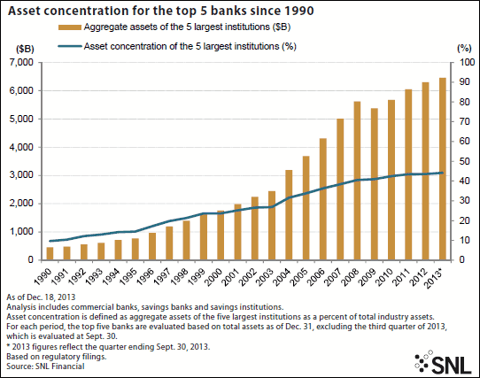 Click to enlarge
For the purposes of this analysis, SNL defined the banking industry as commercial banks, savings banks and savings institutions.
Individually chartered institutions within the same corporate structure were considered as separate institutions.
JPMorgan Chase Bank NA, Bank of America NA, Citibank NA, Wells Fargo Bank NA and U.S. Bank NA together had $6.46 trillion in total assets at the end of the third quarter, compared to $8.15 trillion by the rest of the banking industry. JPMorgan Chase Bank NA, the main commercial bank subsidiary of JPMorgan Chase & Co., alone owned 13.62% of the entire industry's assets. In contrast, the five largest banks in 1990 had just $457.92 billion in total assets or 9.67% of the industry's total assets.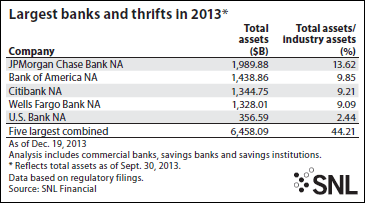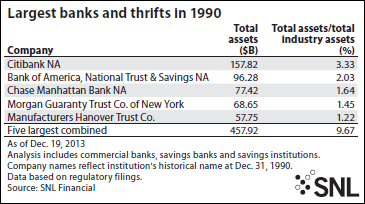 Total assets concentrated in the five largest banking institutions have steadily increased since 1990, reaching a peak in the third quarter of this year. Consequently, different narratives have emerged on how to interpret consolidation in the industry - some argue that the industry is overbanked and increasing regulatory burden has made it less and less practical to operate as a smaller institution. Others have contended that consolidation has only exacerbated the complexity of the banking system, worsening regulator's abilities to manage bank safety and perpetuating the notion of "too big to fail."
Still, small bank deals are unlikely to move the needle in asset concentration, and even the largest banks seem to agree that so-called "transformational deals," the largest bank deals which helped banks become the behemoths they are now, have reached a dead end for the time being.

U.S. Bank NA was the only institution in this analysis whose parent company did not also rank in the top five in SNL's third-quarter top tier bank and thrift asset ranking, which included bank and thrift holding companies. In that list, U.S. Bancorp ranked sixth behind Bank of New York Mellon Corp.
The composition of the five largest institutions in 2013 hasn't changed significantly from the five largest in 1990. Chase Manhattan Bank NA, Morgan Guaranty Trust Co. of New York and Manufacturers Hanover Trust Co., the third, fourth and fifth largest institutions in 1990, are all, in some form, now a part of JPMorgan Chase & Co., the parent company of the currently largest commercial bank, JPMorgan Chase Bank NA.
Citibank NA only dropped 2 spots in 23 years, going from $157.82 billion in assets in 1990 to $1.34 trillion in assets as of the third quarter of 2013. Citibank NA was the subsidiary of Citicorp during its high profile merger with Travelers Group Inc. in 1998. A legacy institution of Bank of America Corp., Bank America National Trust & Savings NA, was also among the top five institutions in 1990. In 1999 Bank of America National Trust & Savings NA was merged into Bank of America NA (formerly NationsBank NA), the currently second-largest institution in the U.S.
While the largest banks have continued to capture a larger portion of the industry, their returns on those assets have only recently begun to outsize the industry as a whole. For the nine months ended Sept. 30, the five largest institutions' median return on average assets (ROAA) was 1.20%, nearly 50% higher than the industry median ROAA of .80%. However the 1990s showed nearly the opposite trend - from 1990 to 1999 the industry's ROAA, on average, was 33 basis points higher than the five largest institutions.
(click to enlarge)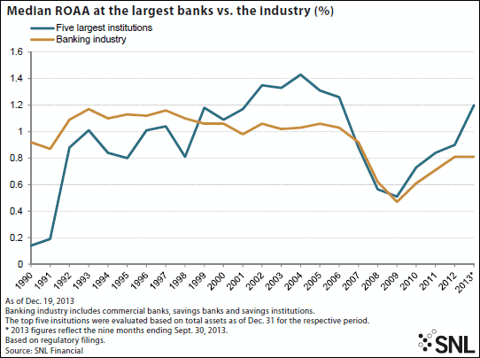 Click to enlarge
(click to enlarge)

Click to enlarge
Disclosure: I have no positions in any stocks mentioned, and no plans to initiate any positions within the next 72 hours.