By Kevin Dobbs and Marshall Schraibman
A SNL Financial Feature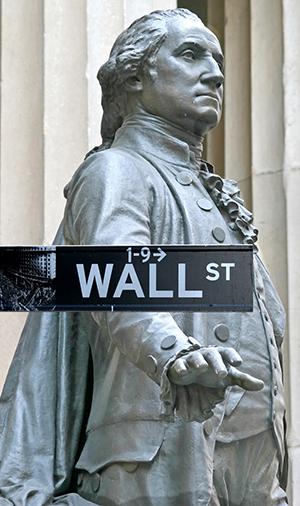 Wall Street's fourth-quarter 2013 earnings expectations for large U.S. banks are modest, with undercurrents of restrained loan growth, subdued mortgage income, lingering margin pressure, high regulatory compliance and legal costs, and, in the case of firms with major investment banking operations, soft capital markets revenue.
"There are a lot of issues still to clear up," Sam Pappas, president and CEO of Mystic Asset Management Inc., told SNL.
An SNL analysis of average estimates for 19 major U.S. banking companies shows that analysts, on average, anticipate that 15 of them will report fourth-quarter 2013 net income that is down from the previous quarter. A majority of them are expected to report lower revenue, as well.
(click to enlarge)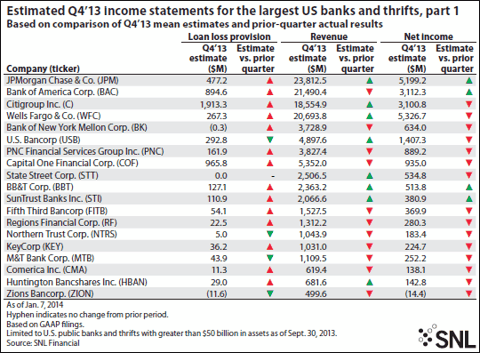 Click to enlarge
Big-bank earnings season kicks off Jan. 14 with results from JPMorgan Chase & Co. and Wells Fargo & Co., Bank of America Corp. follows the next day, with Citigroup Inc. and PNC Financial Services Group Inc. slated to report Jan. 16.
Evercore Partners analyst John Pancari, in a note projecting "sluggish" earnings, said the fourth quarter was marked by flat net interest income and loan growth that was typically only in the single digits. And while net interest margin pressure, a thorn in the side of banks for years, began to ease in 2013 as long-term rates rose, NIM compression persists for many. Short-term rates remain historically low and competition is fierce; as such, new loans are often coming on at lower yields.
Meanwhile, a rise in the 10-year Treasury yield that pushed up long-term rates at points last year made 30-year mortgages less affordable. Not surprisingly, demand for mortgage refinances waned, cutting into banks' income on that front, analysts say.
For larger banks, the paltry capital markets conditions that many experienced in the third quarter of last year likely dragged into the fourth quarter, Oppenheimer & Co. analysts said in a report.
It "once again seems to be surprisingly weak," they wrote. "Despite a global bull market in equities that has taken the S&P up more than 60% in the past two years, investment bank trading profits seem likely to be down on a year-over-year basis again this quarter."
Such banks are finding little relief elsewhere, with regulatory hurdles increasing - most recently with the so-called Volcker rule, which, among other steps, restricts proprietary trading. "That creates uncertainty" for investors in that it is not clear how such banks will replace revenue the rule effectively forces them to forgo, Pappas said. "And the uncertainty hurts."
And, as Pappas noted to SNL, big banks in particular are grappling not only with heavy regulatory scrutiny but relentless legal woes. JPMorgan is a case in point. The company this month settled charges tied to money laundering in managing accounts of convicted Ponzi-scheme operator Bernard Madoff. The company will reportedly pay $1.7 billion under the settlement. Because of legal settlements, JPMorgan has said it expects fourth-quarter 2013 net income will be reduced by approximately $850 million.
"The backlash of litigation is significant," Pappas said. "I think 2014 will be another year of cleaning up on that front."
All of that noted, credit conditions improved throughout 2013, and banks focused on trimming costs and funneling the savings to the bottom line. Many analysts expect to see evidence of both again in fourth-quarter results.
Indeed, the SNL analysis of 19 major companies found that analysts expect a majority to report that fourth-quarter net charge-offs and non-interest expenses were both down from the previous quarter.
(click to enlarge)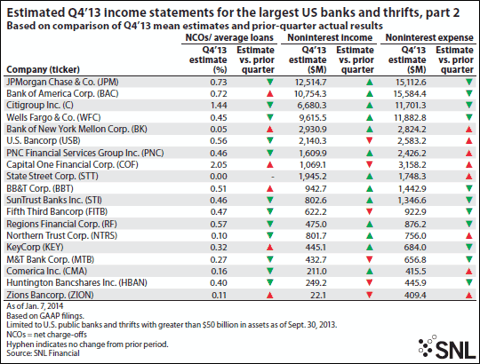 Click to enlarge
There are concerns, as the Oppenheimer analysts noted, that credit conditions "can't get much better" and therefore will "normalize upwards" and hurt earnings this year.
But, with the U.S. economy showing signs of notable momentum - U.S. gross domestic product grew at a 4.1% annual rate in the third quarter, bolstered by steady consumer spending and increased production from both home builders and manufacturers - investors and analysts anticipate that many banks during the upcoming earnings season will provide optimistic views on the year ahead.
"While earnings will be weak, our sense is the industry's outlook will prove more upbeat - consistent with recent economic data," analysts Todd Hagerman and Robert Greene of Stern Agee & Leach wrote in a report previewing earnings.
That, coupled with conservative underwriting, could mean continued credit improvement, even as lending could potentially increase at a greater rate this year, analysts say.
The final quarter of any year is often a so-called "kitchen-sink" period, in which banks try to throw out every trouble they can, aside from the metaphorical sink. So it would not surprise investors and analysts to see banks add to reserves to deal now with future legal headaches, for example, in an effort to clear the decks for the year ahead. As such, results may look weak now but, at the same time, may not be an indicator of what is to come.
Economic conditions do in fact appear to be brightening. That should drive more business investment, lift employment and bolster loan demand, Pappas said. "That would be a big, big plus," he said.
But, given the long, slow recovery since the financial crisis of 2008, Pappas said the country - and its banks - need several quarters of solid growth to engender genuine confidence. Unemployment still hovers around 7%. "It is all very dependent on an even stronger job market and overall economy," Pappas said.
(click to enlarge)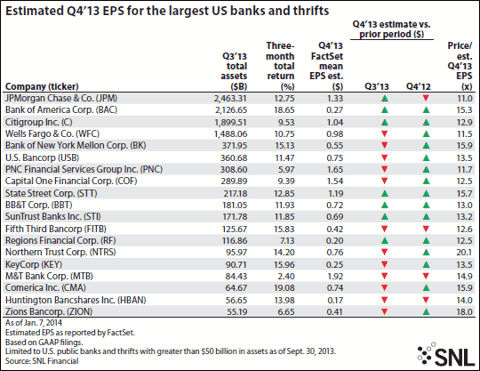 Click to enlarge
(click to enlarge)

Click to enlarge
Disclosure: I have no positions in any stocks mentioned, and no plans to initiate any positions within the next 72 hours.