By Divya Lulla and Robert Clark, SNL Financial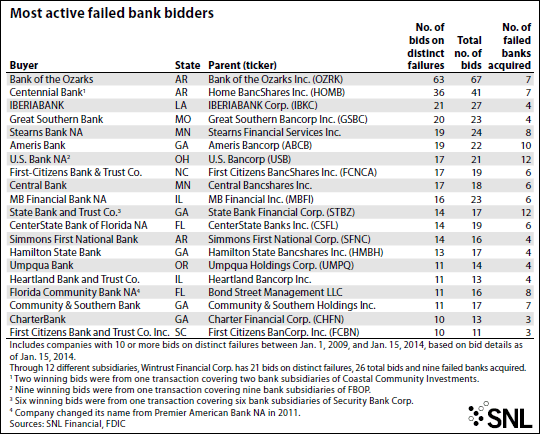 Although Umpqua Bank, a unit of Portland, Ore.-based Umpqua Holdings Corp., has not been disclosed as a bidder in a failed-bank transaction in more than three years, it still ranks as one of the most active bidders since 2009. Umpqua's Sept. 11, 2013, announcement that it is acquiring Spokane, Wash.-based Sterling Financial Corp., which had $9.98 billion in total assets as of Sept. 30, 2013, could keep it on the sidelines for any bank acquisition in 2014 as well. The deal for Sterling is slated to close in the first quarter.
Umpqua has submitted a total of 14 bids on failed banks, based on disclosed bids to the FDIC from Jan. 1, 2009, through Jan. 15, 2014. That includes 11 bids on distinct failures. It has completed four failed-bank deals and was the runner-up bidder on five deals.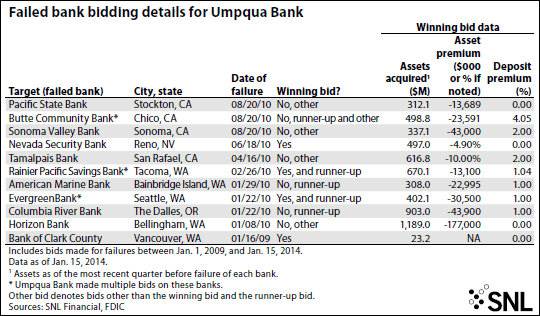 Umpqua has stayed within its West Coast footprint in its failed-bank bidding efforts. Of the 11 distinct bids, five of the banks were based in Washington, one was in Oregon, four were in California and one was in Nevada.
One of the most recent bids disclosed for Umpqua was for the Stockton, Calif.-based Pacific State Bank failure on Aug. 20, 2010, as an "other" bidder. The failed bank received five bids, with the winner being Roseville, Calif.-based Rabobank NA.
Umpqua was also another bidder for the Aug. 20, 2010, failure of Sonoma, Calif.-based Sonoma Valley Bank. The failure drew 11 bids and was won by Westamerica Bank, a unit of San Rafael, Calif.-based Westamerica Bancorp.
Additionally, Umpqua bid on another Aug. 20, 2010, failure. It was listed as the runner-up bidder, as well as another bidder, for Chico, Calif.-based Butte Community Bank. The winning bidder for that transaction was Rabobank.
For both the Tacoma, Wash.-based Rainier Pacific Savings Bank seizure and the Seattle-based EvergreenBank closure, Umpqua was the only disclosed bidder.

Disclosure: I have no positions in any stocks mentioned, and no plans to initiate any positions within the next 72 hours.