by Salman Aleem Khan, SNF Financial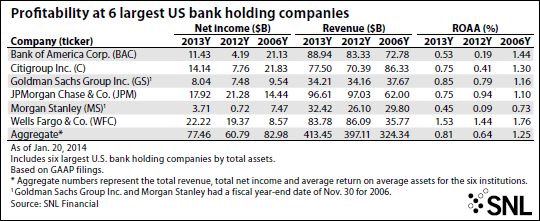 The six largest bank holding companies in the U.S. by asset size reported the highest annual profits on an aggregate basis since 2006, during a year highlighted by high legal costs, reserve cuts and improving credit quality.
Net income for the group was $77.46 billion in 2013, up 27.43% from 2012 and 6.65% shy of the $82.98 billion all-time high reported in 2006. The aggregate return on average assets, or ROAA, also improved on a year-over-year basis to 0.81% in 2013, while still short of 1.25% ROAA reported in 2006.
Bank of America Corp., currently the U.S.'s second-largest bank by asset size after acquiring Merrill Lynch & Co. Inc. in 2008, reported net income of $11.43 billion in 2013, up $7.24 billion from 2012. Its ROAA in 2013 was 0.53%, compared to 1.44% in 2006. The bank has not cracked the 1% ROAA barrier ever since.
During BofA's recent fourth-quarter earnings call, CFO Bruce Thompson said the bank is "looking to get to the point where we're returning 1% on assets" over the next three years, according to the transcript.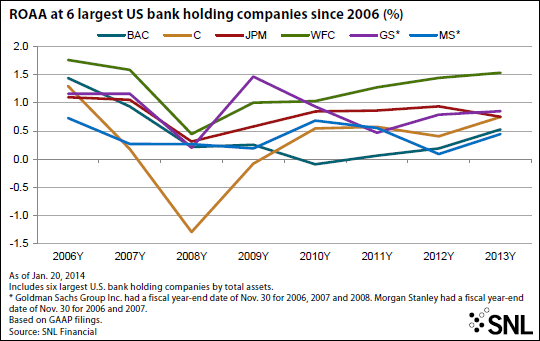 All six institutions, with the exception of JPMorgan Chase & Co., saw an increase in their return on average assets in 2013 compared to the prior year. JPMorgan has paid more than $9 billion in credit and mortgage-related settlements since 2010, according to SNL data.
Bolstering income at JPMorgan was the release of loan loss reserves. According to the transcripts of the third- and fourth-quarter earnings calls, the consumer segment saw a reserve release of $1.6 billion, and the real estate portfolio contributed $950 million to reserve releases.
Excluding Goldman Sachs Group Inc. and Morgan Stanley, with their investment banking focus, the other banks relied on the release of loan-loss reserves and noninterest income to boost their revenues, as loan growth was sluggish in 2013.
Wells Fargo & Co., which became a national presence after its acquisition of Wachovia Corp. in 2008, reported the highest profit for the year among all six. The quarter ending Dec. 31, 2013, was the bank's 16th consecutive quarter of EPS growth. The bank is expecting further future loan loss reserve releases as credit quality improves, according to the fourth-quarter call transcript.
Morgan Stanley reported an almost $3 billion increase in its profits in 2013. CFO Ruth Porat said in the latest earnings call, according to the transcript: "The focus is an ROE-focus as opposed to a revenue-focus. … [W]e have a number of areas that are driving the overall ROE higher. First and foremost, we talked about commodities and the steps that we're taking in commodities. We are selling two physical oil businesses there."
Although the largest banks increased profitability in 2013, regulators are still wary of the steps being taken by these institutions to boost their bottom lines. During a banking conference, while making a comment about reserve releases in the industry, Comptroller of the Currency Thomas Curry noted that "for some banks, the ease with which the allowance could be repurposed as earnings has proved habit-forming."

Disclosure: I have no positions in any stocks mentioned, and no plans to initiate any positions within the next 72 hours.