SNL Financial
(click to enlarge)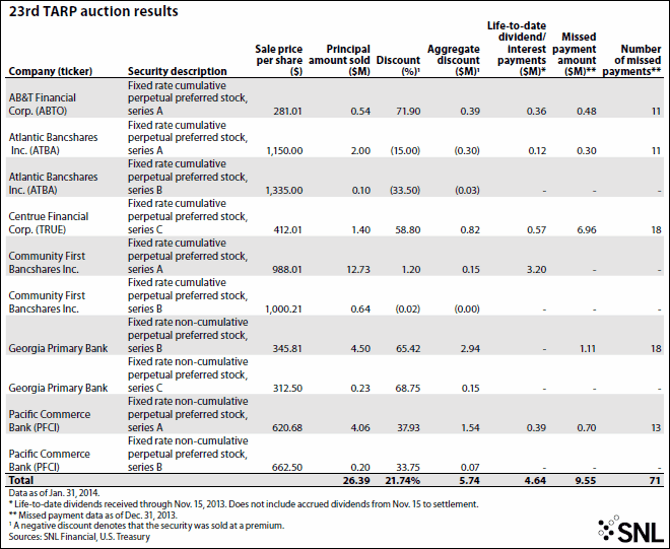 Click to enlarge
The Treasury auctioned $26.4 million in TARP securities issued by six banks participating in the Capital Purchase Program, making auction 23 the smallest thus far in terms of the total principal amount sold. The securities on offer sold for an aggregate discount of 21.74%.
In the previous round of auctions, the Treasury sold its TARP positions in seven banks for an aggregate discount of 46.87% - surpassed only by a 60.29% aggregate discount in auction 19. When asked for comment on those results, Treasury spokesman Adam Hodge directed SNL to a statement by Assistant Secretary for Financial Stability Timothy Massad: "Treasury continues to make steady progress winding down the bank program through the auction process," Massad said. "TARP helped to stabilize the economy during the financial crisis and the program has already returned a significant profit to the taxpayers."
In auction 23, the government took another crack at selling its investment in Ottawa, Ill.-based Centrue Financial Corp., after struggling to offload its stake in the company during previous auctions due to insufficient bidding.
Centrue's 1,402 shares of fixed-rate cumulative perpetual preferred stock, series C, were priced at $412.01 per share, representing a discount of nearly 59% for the Treasury. Centrue Financial Executive Vice President and CFO Daniel Kadolph declined SNL's request for comment.
The Treasury also took another swing at selling its stake in AB&T Financial Corp. In auction 22, the government only sold 85% of the Gastonia, N.C.-based bank's shares because it did not receive sufficient bids above the minimum price. This time around, AB&T Financial's series A fixed-rate cumulative perpetual preferred stock sold nearly 72% below par - the largest discount in the auction. AB&T Financial did not return SNL's calls seeking comment by the time of publication.
Full SNL Financial Article with charts:
http://www.snl.com/InteractiveX/Article.aspx?cdid=A-26744182-10803
Disclosure: I have no positions in any stocks mentioned, and no plans to initiate any positions within the next 72 hours.