SNL Financial Exclusive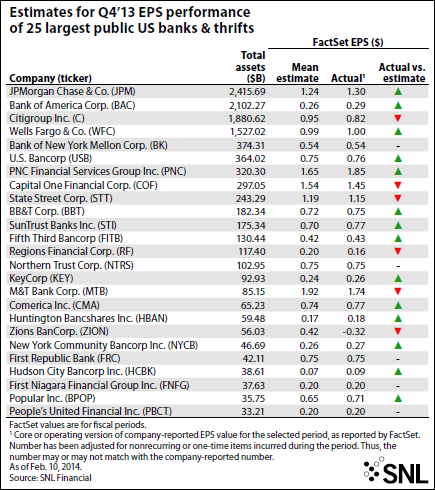 Earnings at U.S. banks and thrifts rose year over year, based on the median percentage of earnings-per-share growth, according to related 2013 fourth-quarter reports for about 86% of major-exchange-traded companies. SNL examined data from 346 of approximately 443 banks and thrifts traded on major exchanges, representing institutions that had reported 2013 fourth-quarter earnings as of Feb. 10. The analysis excluded companies that reported negative earnings in any of the three periods analyzed.
The median EPS growth was 5.20% over the year-ago quarter, while there was no change over the linked quarter. The median loan loss provision decreased 12.50% compared to the prior quarter and 55.00% from the year-ago period. However, net interest margin continued to act as a spoilsport. The median NIM was down 14 basis points quarter over quarter and declined 160 basis points year over year.
Of the largest 25 banks and thrifts by assets, 14 companies reported improved EPS compared to their year-ago figures.
JPMorgan Chase & Co. has dusted itself off after being the only one in 2013's third quarter to post a loss. At $1.30 per share, it is doing almost as well as it was at the end of 2012, about which Chairman and CEO Jamie Dimon was his characteristically feisty self during that quarter's earnings call held at the outset of 2013. The New York-based company's latest figures even take into account the expected hits from litigation - of which there have been many - and Dimon noted that JPMorgan had at least put "some significant issues" behind it in the 2013 fourth quarter. The company has been criticized as "too big to manage."
Keep reading the full report and analysis here:
http://www.snl.com/InteractiveX/Article.aspx?cdid=A-26783032-12336
Disclosure: I have no positions in any stocks mentioned, and no plans to initiate any positions within the next 72 hours.