By Kevin Dobbs and Marshall Schraibman
A SNL Financial Exclusive
Deposits remain cheap for bank and thrifts, with interest rates paid on both checking and savings accounts about as low as they can get.
Short-term interest rates have been low for years, thanks in large part to downward pressure from Federal Reserve policymakers. This has allowed the typical lender to focus heavily on transaction accounts, rather than on more costly CDs, while still hauling in plenty of deposits in a post-recession era in which many bank customers have spent less while sitting on more cash than in the past.
But observers say rates will eventually rise, as the Fed has indicated that it could ease its pressure next year. If the economy gains steam before then, policymakers might be forced to act earlier. Either way, says Charles Wendel, president of Financial Institutions Consulting Inc., bankers should be positioned to at least weather a changing rate environment - and "hopefully" to take advantage of it. But he said many banks are not ready yet.
"When rates rise, the cost of funds will go up and the question is whether banks can move up their loan rates even faster than that to capitalize on this," he told SNL, referring to the spread between what bankers pay for deposits and what they earn on loans. "But I think in many cases, they won't be able to. There are some badly managed banks out there that are slow to move, slow to make decisions, and they will lag reality."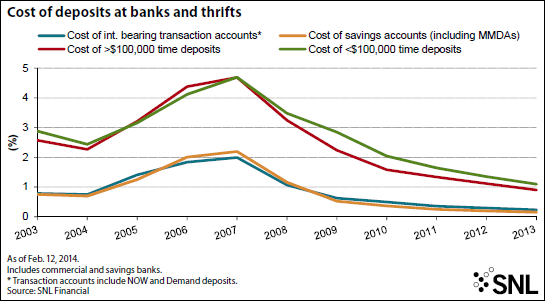 Starting out 2014, he said, many banks are almost sitting idle, dealing more with heightened compliance challenges and cost-cutting than growing loans. And the latter is difficult regardless, Wendel added, with the economy only jogging forward.
But if the economy gathers momentum and loan demand not only builds up but is sustained at a higher level, changes are likely to occur in tandem, he said. Short-term interest rates would probably rise and competition for deposits to fund those loans would eventually build as well.
Bank customers typically do not shift their money around often, given the hassle of doing so, but after a prolonged period of earning very little interest on deposits, many will start shopping around for higher rates and will park their money where they get the best deal, Wendel said. As this develops, banks will try to raise rates on loans more quickly and more notably than they do on deposits, but some could struggle on this front, he said.
Larger banks, Wendel said, tend to have more leeway to pay higher rates on deposits because they earn income from a variety of business lines, not just traditional lending, and at the same time they can compete on loan pricing. Big banks also have the luxury of focusing resources on growth markets or certain products that are in high demand to drive growth. Community lenders tend to be more reliant on bread-and-butter lending and the health of their local economies.
All of that would mean fierce competition for deposits in the future for many community banks.
"There will be an adjustment period," Wendel said. "For the smaller banks, in particular, it could be difficult to pass along the higher rates quickly."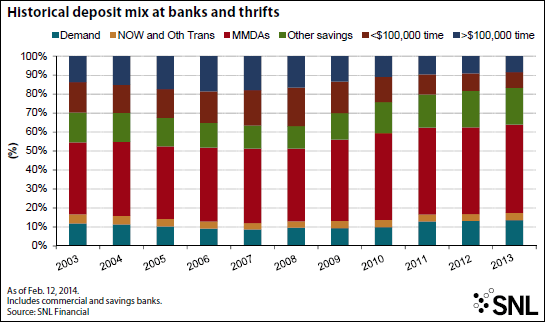 As this new reality lurks, analysts note, many banks have been focused on cost-cutting, including closing branches. The U.S. branch total declined by 1,487 locations in 2013, a recent SNL analysis found.
Branch consolidation has come as banks look to both cut costs and as they react to customers increasingly doing more of their business online or via mobile devices. Americans every year do less routine business in branches, making it necessary for banks to downsize some locations and close others.
It is "clear that customers want to do business with us in very different ways than in the past, and we're working to align our products and services to meet these needs," PNC Financial Services Group Inc. CFO Robert Reilly said at a conference this week. PNC last year reduced its branch count by 160, according to SNL data. "Today retail banking is less about where you go and more about what you want to do."
But banks must strike a balance. While fewer branches are necessary, they still serve as the public face of banks and are therefore important marketing tools. When the need to drum up more deposits surfaces, branches will still play a role. And community lenders, with far fewer branches than the likes of PNC, have to be particularly careful about making cuts, Wendel said.
The good news on the interest rate front is that banks still have some breathing room, as Boenning & Scattergood analyst Matthew Schultheis notes.
Rates have yet to move and when they do, they may rise only slowly. That would be the Fed's preference, he told SNL, to avoid any shocks to both banks and customers. Most banks are flush with deposits right now and could sustain some run-off when rates rise, particularly if loan demand is not strong.
But at some point, both loan demand and deposit costs will rise. "And then you'll have to compete for funding," Schultheis said. "If it all happens at a measured pace, I think they can weather this, but if there is more of a sudden shift, it could be difficult for a lot of banks."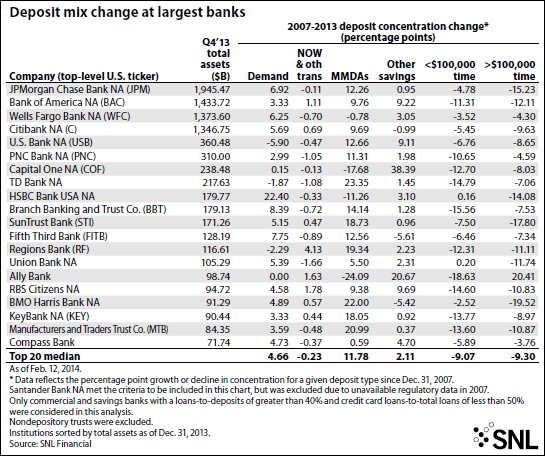 Disclosure: I have no positions in any stocks mentioned, and no plans to initiate any positions within the next 72 hours.