by Zuhaib Gull
A SNL Financial Exclusive Report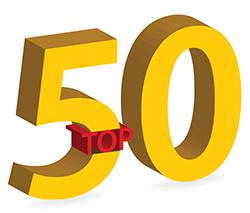 No changes were seen in the largest six banks and thrifts in the final quarter of 2013. JPMorgan Chase & Co. and Bank of America Corp. remain the only companies to have more than $2 trillion in assets, according to SNL Financial's latest ranking of the largest 50 banks and thrifts by assets.
Green Bay, Wis.-based Associated Banc-Corp returns to the top 50 list while Utrecht-America Holdings Inc., the U.S. unit of Netherlands-based Rabobank Group, joined the ranking for the first time.
The two banks replace Memphis, Tenn.-based First Horizon National Corp. and Pasadena, Calif.-based IMB HoldCo LLC, which were present on the third-quarter 2013 list.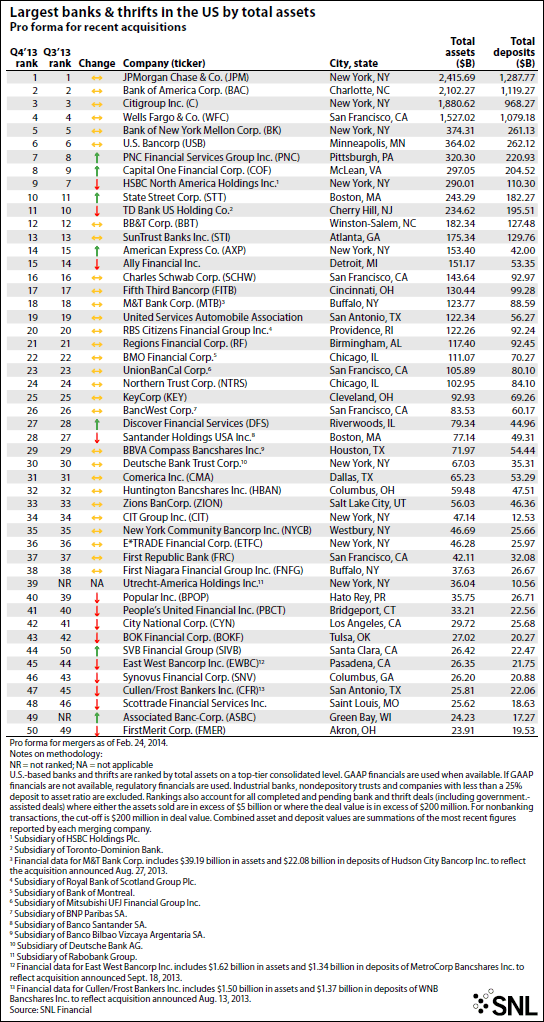 Utrecht-America Holdings enters the list with $36.04 billion in assets and $10.56 billion in deposits as of Dec. 31, 2013. The institution had not appeared on SNL's previous rankings because its deposits were less than 25% of assets. The company saw a $16.27 billion drop in assets during the fourth quarter of 2013, which brought its deposits-to-assets ratio up to 29.29%.
PNC Financial Services Group Inc. moved up to No. 7 from No. 8 and Capital One Financial Corp. rose to No. 8 from No. 9. State Street Corp. managed to jump into the top 10 from No. 11 with a $26.11 billion boost in assets during the fourth quarter of 2013. Much of the increase can be attributed to a rise in interest-bearing deposits held at financial institutions. HSBC North America Holdings Inc. ended 2013 with a $19.30 billion drop in assets during the fourth quarter. A $7.67 billion decrease in reverse repurchase agreements and a $10.14 billion decline in interest-bearing balances held at U.S. financial institutions were responsible for the drop.
Methodology
SNL ranks the largest banks and thrifts operating in the U.S. with a deposits-to-assets ratio of at least 25% for each relevant quarter. Some of the financial institutions that are regulated as bank holding companies did not meet the criteria and thus were excluded from the analysis. Examples include Goldman Sachs Group Inc., Morgan Stanley and American International Group Inc.
In addition, industrial banks were also not considered for this analysis. One of the significant exclusions from the list is UBS Bank USA, which reported $45.60 billion in assets as of Dec. 31, 2013.
Pro forma adjustments
In compiling rankings, SNL calculated pro forma assets for companies with pending M&A deals or deals that have closed since Dec. 31, 2013. To be used in calculating an adjusted asset size, the M&A deal must include a bank or thrift target with assets of at least $5 billion, or a deal value of more than $200 million. Three of the companies in the top 50 rankings have pending deals that qualify for adjustments.
SNL adjusted the assets of Buffalo, N.Y.-based M&T Bank Corp. to reflect the pending acquisition of Paramus, N.J.-based Hudson City Bancorp Inc. The deal was announced in August 2012 and is awaiting regulatory approval. SNL added Hudson City's $38.61 billion in assets as of Dec. 31, 2013, to M&T Bank, bringing M&T Bank's pro forma assets to $123.77 billion from $85.16 billion.
The second most sizable adjustment was made for Pasadena-based East West Bancorp Inc. The company's recently completed acquisition of Houston-based MetroCorp Bancshares Inc. boosted the total assets tally by $1.62 billion and deposits by $1.34 billion.
Similarly, in the case of San Antonio-based Cullen/Frost Bankers Inc., the company's announced Aug. 13, 2013, acquisition of WNB Bancshares Inc. increased its assets by $1.50 billion and its deposits by $1.37 billion.
Notable exceptions
Some deals involving the listed entities could not be considered as they did not meet SNL's criteria for pro forma adjustments. Bank of America Corp. is involved in two deals that met the threshold for adjustments. But due to incomplete disclosures, no changes were made to the listed financial figures. A deal in excess of $7 billion for the sale of a residential mortgage servicing rights portfolio announced Jan. 7, 2013, and another one worth $886 million for the sale of its international wealth management business announced Aug. 13, 2012, could not be taken into consideration due to limited details.
SNL also did not adjust for Wells Fargo & Co.'s pending $2.7 billion sale of mortgage servicing rights announced Jan. 22. Another $347 million sale of collateralized debt obligation securities by Zions Bancorp., announced Feb. 12, is also not reflected in the rankings. Additionally, SNL did not make adjustments for the Dec. 11, 2013, announced sale of RidgeWorth Capital Management Inc. by SunTrust Banks Inc.; the Dec. 2, 2013, announced sale of Airborne Systems Inc. by Citigroup Inc. to TransDigm Group, Inc. for $250 million; and the November 2012 announced sale of the international automotive finance operations of Ally Financial Inc. to General Motors Financial Co. Inc.
SNL also did not adjust the rankings for RBS Citizens Financial Group Inc.'s pending divestiture of 94 Chicago area branches to U.S. Bancorp. The transaction, announced Jan. 7, could add up to $5.3 billion in deposits to U.S. Bancorp.

Disclosure: I have no positions in any stocks mentioned, and no plans to initiate any positions within the next 72 hours.