By Divya Lulla
SNL Financial Feature Article

Deposit growth continues to outpace loan growth among U.S. banks and thrifts. Aggregate deposits at U.S. banks and thrifts closed at $11.190 trillion at Dec. 31, 2013, up 3.49% from the end of 2012.
Meanwhile, loans stood at $7.892 trillion at the end of 2013, 2.62% above year-ago levels. The aggregate loan-to-deposit ratio continued trending downwards in the fourth quarter, ending at 70.53% at Dec. 31, 2013, down 22 basis points from Sept. 30, 2013, and 59 basis-points from the fourth quarter of 2012.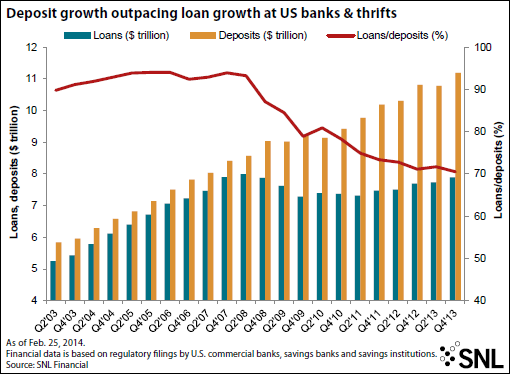 Most of the 15 largest bank holding companies by assets ended the fourth quarter with a gain in both loans and deposits compared to the third quarter. Of the 15, Capital One Financial Corp. posted the highest annualized growth in its loan portfolio at 11.16% for the fourth quarter, helped by a surge in credit card lending.
Deposits at Capital One declined during the quarter at an annualized rate of 4.66%. During the company's Jan. 16 earnings conference call, CEO Richard Fairbank referred to the company's consumer banking segment and remarked, "We have ample deposit funding in a period of relatively low overall loan growth, so we've throttled back on growth, mostly in legacy Capital One direct deposit businesses."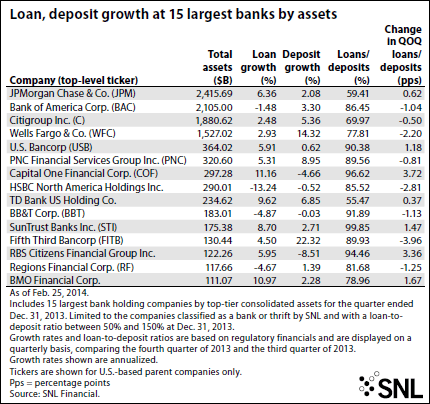 BMO Financial Corp. increased both loans and deposits during the fourth quarter at annualized growth rates of 10.97% and 2.28%, respectively. The company reported a loan-to-deposit ratio of 78.96% at December 31, 2013, up from 77.29% at the end of the third quarter.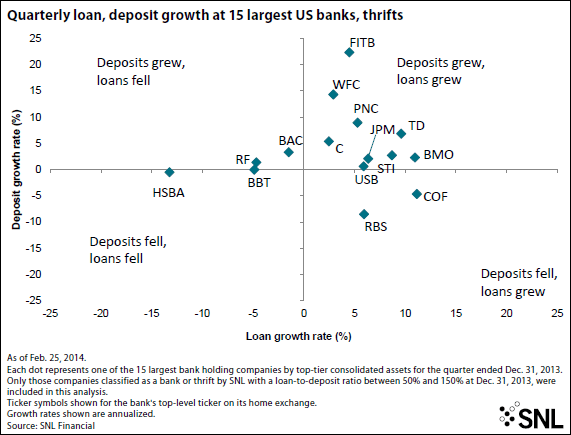 Among the top 15, only BB&T Corp. and HSBC North America Holdings Inc. reported a quarter-over-quarter decline in both loans and deposits in the fourth quarter. Though deposits for both companies declined only marginally, the annualized declines in loans were 4.87% and 13.24%, respectively.
Loans at BB&T totaled $117.14 billion on Dec. 31, 2013, down from $118.58 billion a quarter earlier. BB&T Chairman, President and CEO Kelly King attributed the decline in BB&T's loan portfolio to mortgage warehouse lending being down, seasonality and the sale of a consumer lending subsidiary, according to a fourth-quarter earnings conference call transcript.
Fifth Third Bancorp saw its deposits jump by an annualized 22.32% during the fourth quarter and its loans grew by an annualized 4.50%. CFO Tayfun Tuzun stated that the increase in deposits was helped by a "deposits simplification initiative" completed in 2013 and increased commercial customer relationships, according to a fourth-quarter earnings conference call transcript.

Disclosure: I have no positions in any stocks mentioned, and no plans to initiate any positions within the next 72 hours.