By Nathan Stovall and Salman Aleem Khan
A SNL Financial Exclusive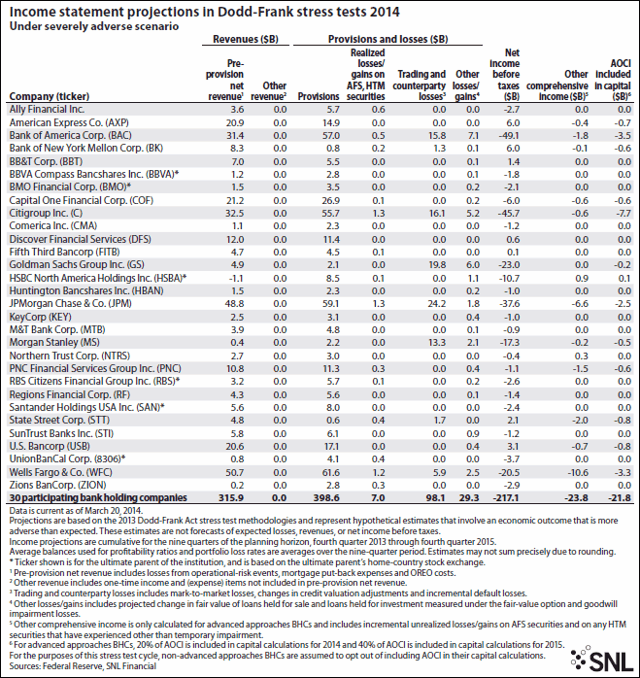 While the Street took the annual Dodd-Frank Act stress tests mostly in stride, Zions Bancorp's performance in the exercise left some questioning if the company has a capital hole and what actions it will take to address it.
The Dodd-Frank Act stress tests, or DFAST, largely showed that the banking industry is on strong footing, even under fairly draconian scenarios, including one where housing prices fall 25% and commercial real estate prices plunge nearly 35%. Analysts said the results could even offer some support for the capital plans a handful institutions submitted to regulators as part of the Comprehensive Capital Analysis and Review, or CCAR process, which will surface March 26. Compass Point analysts noted that American Express Co., Inc. Regions, Wells Fargo & Co., KeyCorp and Ally Financial Inc. demonstrated notable improvement in their minimum Tier 1 common ratios in the DFAST exercise, giving the market confidence about the capital deployment requested by the publicly traded institutions and the latter's possible IPO.
The DFAST results did leave questions about Zions' future capital plans. The Fed disclosed that Zions would have a 3.5% Tier 1 common ratio under the Fed's severely adverse stress scenario, well short of the 5% minimum. Zions said the stress test results were worse than it had projected due to significantly higher commercial real estate losses, significantly greater risk-weighted assets and lower pretax, pre-provision net revenue. Most of the projected losses in the Fed's scenario came from Zions' commercial real estate bucket, where the Fed assumed $1.5 billion in losses, or 60% of total loan losses, based on a portfolio loss rate of 8.3%. The average loss rate on commercial real estate projected by the Fed across the 30 BHCs that participated in the exercise was 8.4%.
Zions also noted that the original submission it made to the Fed occurred before it sold a block of collateralized debt obligations, or CDOs, in January and February that would result in a substantial reduction in risk. The company said during its investor day in February that the CDOs would "have contributed disproportionately to hypothetical projected losses." Zions said it had included over $600 million of "stress case" losses on its CDO portfolio.
The Salt Lake City-based bank said after the DFAST results surfaced that it plans to resubmit its capital plan and include additional actions aimed at further reducing risk and/or increasing common equity capital such that its capital ratios at least meet the minimum.
Klock further noted that risk-weighted assets used in the stress tests were higher than the company expected. He said it is hard to know what credit was given to the total return swap Zions has against its CDO portfolio that helps lower the company's level of risk-weighted assets.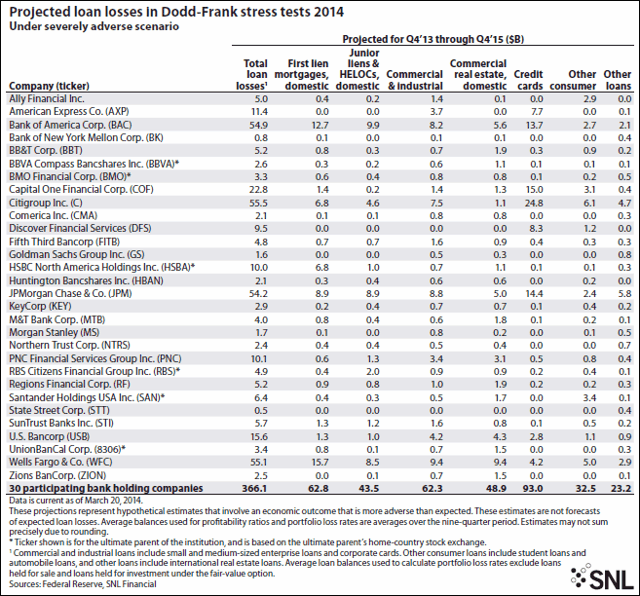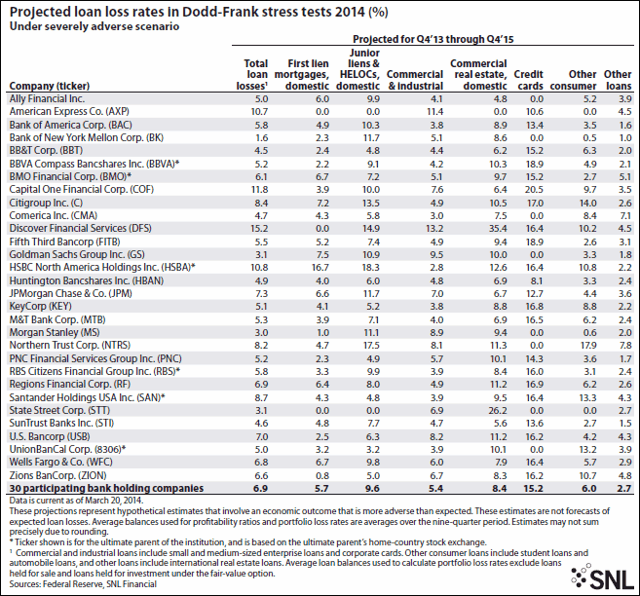 More importantly, though, were the pretax, pre-provision net revenue assumptions used by the Fed, he said. The Fed disclosed that Zions would post $200 million in pretax, pre-provision net revenue over the nine-quarter period under the severely adverse scenario, which Klock said equates to just 12% of his estimates for the company during a non-stressed environment.
"That's lower than anyone else, than any of the peers," Klock said.
Some other members of the sell-side community expressed greater concern over Zions' performance in the DFAST exercise. Evercore analyst John Pancari said Zions' credit performed materially below expectations and the results suggested that the company has a capital hole. The analyst said in a March 21 report reviewing the stress tests that Zions' shortfall in the stress tests might make a common equity raise "necessary as other options may not be as beneficial or feasible." He said that Zions could sell the remaining $1.2 billion in CDOs it holds and reduce losses by up to $300 million. He said the company could sell a portion of its CRE portfolio to reduce credit losses, but the analyst noted that would come at the cost of lost revenue.
"However, this would also hurt PPNR and would be a significant impediment to growth and a shift in Zions core business model," Pancari noted, adding later: "In our view, Zions is most likely to sell down the CDO portfolio and pursue a common equity raise up to $300 [million], which we estimate would be about 5% dilutive to annual EPS."
Zions made clear that it will take actions to increase its capital ratios, though did not provide much detail on its plans. Klock believes that a common equity raise is unlikely and thinks the company can build its capital ratios through other means, including further sales of its CDO portfolio. He said the CDO sales the company already conducted in January and February likely would improve its capital by close to 70 basis points, putting it roughly halfway to the 5% minimum level laid out in the stress tests. Zions has a $70 million embedded gain in its insurance CDO portfolio due to the change in the Volcker rule, he said, giving the company the opportunity to sell those assets at a gain while reducing risk.
"In my opinion, it's a very minimal possibility that they're going to raise any common equity," Klock said. "They've proven ways to go about raising capital without diluting capital. I think the easiest way for them to do it here is sell more of the CDOs."
Other banks participating in the DFAST are less likely to take any actions based on the results of the exercise. Fourteen of the 30 institutions - Bank of America Corp., BB&T Corp., Citigroup Inc., Capital One Financial Corp., Comerica Inc., Huntington Bancshares Inc., JPMorgan Chase & Co., KeyCorp, Northern, PNC Financial Services Group Inc., Santander Holdings USA Inc., SunTrust, U.S. Bancorp and Wells Fargo - had provided their results as of this publication.
Those institutions simply released the results of their own exercises and did not offer any real commentary on the stress tests or insight into the capital plans they submitted in connection with CCAR. The institutions' own stress tests results boasted an average Tier 1 common ratio that was 98 basis points higher than the Fed's stress tests.
However, BB&T took a harsher stance in its own stress tests, disclosing that it would post a minimum Tier 1 common ratio of 6.8% under the severely adverse scenario. The Fed measured that BB&T's Tier 1 common ratio would fall to 8.2% under that scenario. The more aggressive approach by the Winston-Salem, N.C.-based bank comes after it received an objection to its capital plan in the 2013 CCAR exercise due to the Fed's qualitative assessment. The Fed insinuated at that time that it could not rely on the numbers that the company provided in its capital plan due to a recent change in risk weighting of assets.
BB&T and others remained quiet on their plans for the upcoming CCAR, but Discover Financial Services decided to release its plans a week early. The company said that its capital plan aims to increase its dividend by 20% and repurchase up to $1.6 billion of its common stock. The proposed capital actions in Discover's capital plan are subject to the receipt of a "nonobjection" from the Federal Reserve on March 26.
Disclosure: I have no positions in any stocks mentioned, and no plans to initiate any positions within the next 72 hours.