By Divya Lulla and Ken McCarthy
A SNL Financial Exclusive
Community banks, in many cases, are serving markets that are not yet totally comfortable operating in the online space, but during the next 10 years that is likely to change in a big way.
There will be dramatic changes to the way people buy financial products in the next decade, Jim Adkins, founder and managing member of bank consultancy Artisan Advisors, told SNL. And it will pose a huge competitive issue for community banks that have yet to fully embrace technology. "Right now, they are going to get a pass," he said. "Right now, you can skate, you can look the other way and it won't affect you in a big way." But Adkins said the pace of change is ever-increasing, and banks need to get their cost structures in line to be able to compete with online retailers.
Today, the choice for customers concerned only with rate on many retail products is a no-brainer. For example, the national average that U.S. savings and commercial banks pay for a $1,000 regular savings product is 0.13% interest, while Ally Bank is offering 0.87% and Capital One Bank (NYSE:USA) NA is offering 0.75%, according to SNL data. In terms of a one-year, $10,000 CD, Ally is offering 0.99% interest and Nationwide Bank is paying 0.91%. By comparison, the average commercial and savings bank is paying 0.37%.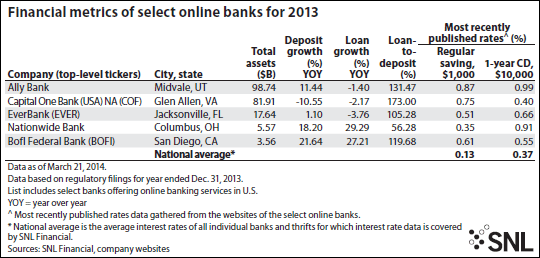 There is a certain portion of the market that will gravitate to online, and it will be very difficult for a traditional community bank to capture those customers, Michael Jamesson, head of bank consulting firm Jamesson Associates, told SNL. He said community banks need to understand that retail has become difficult to serve in a cost-effective manner. For online banks, the costs are marginal compared to community banks with brick-and-mortar buildings staffed by employees. But Jamesson said community banks can effectively compete by leveraging up the fact that they are local, and by zeroing in on the businesses and commercial customers that do want relationships. "Typically, a small business borrower is going to look for a banker that is going to be there when things get tough," he said. "They've all gone through the cycle, and anybody can get a loan when everything is great."
Jamesson said business owners want a bank that knows their business and understands that they will come out of downturns. He said if banks can leverage that factor and gain commercial and small business loans, they might be able to turn those customers and their employees into retail customers too. "I think that's the approach community banks have to use," he said. "The 'build it and they will come' branch approach … I don't see how that can work in the digital age."
Scotia, N.Y.-based First National Bank of Scotia President John Buhrmaster told SNL he agrees that being local gives community banks an advantage versus online banks. No matter how customers access their accounts, problems invariably arise, he said. And being able to call a bank down the street instead of a 1-800 number gives community banks a big advantage over their online counterparts. "Community banks are going to compete as long as they have the products and services the customers want," he said. "The real competitive edge comes from the service that we provide."
Adkins, for one, is not so sure. He said that playing up the local angle will not cut it with the younger generations and called it a "long-term, losing strategy." Adkins said he has a son in college that has probably never been in a bank branch. He said that is not unusual among the younger generation. Even the ability to have someone close by when problems arise is not a big deal to those customers, he said. "They don't care. They're so comfortable dealing with issues online," he said.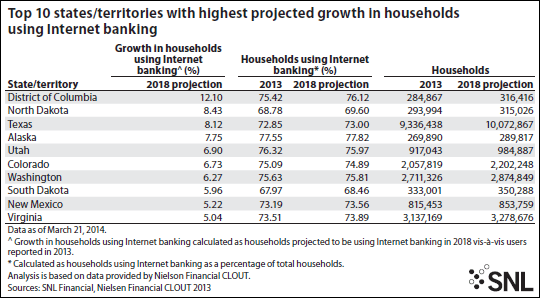 Jamesson, from the bank consulting firm, said technology is undoubtedly changing the battlefield, but it is important for people to be able to talk to other people when problems arise and when they want their needs met. So bank branches, in some form, will continue to dot the landscape for at least the next 10 years to 15 years. "I think there's still going to be a need for that interaction, not on the routine stuff, but when something pops out of the box," Jamesson said. But he said the days of 5,000-square-foot branches housing seven tellers "have got to go." Community banks must evolve sort of like the airlines have in terms of pushing customers into self-service with basic transactions while trying to leverage relationships and problem solving with qualified customer service representatives, he said.
Big banks are always going to have the advantage of multiple delivery channels and geographic reach, and, on top of that, community banks have to compete with a variety of competitors including online banks and new options such as PayPal. "There's a whole mess of competitors out there that community banks are going to have to, in some fashion, come up with a counter to," he said. Jamesson said online is no more of a threat than credit unions or a financial service provider like Wal-Mart. "It's not really a bilateral battle, it's a multilateral battle against many competitors in the marketplace," he said.
First National Bank of Scotia's Buhrmaster said community banks are onboard with online products and most now offer it in some form. And he said those offerings are not only targeted for the younger generation. First National Bank of Scotia has "snowbird" clients - New Yorkers who spend the winters in warmer places such as Florida or Arizona - who are heavy users of the bank's online services.
Adkins, from Artisan Advisors, agreed that almost all banks have a website and some online presence, but many have yet to invest in things like mobile payments and are "far from prepared" for the possibility that customers could leave for nontraditional platforms. "A lot of them aren't even recognizing it, but the smart ones are," he said.
Adkins said that as the younger generation becomes more prominent, the community banking model will have to change. "It will have to define personal customer service as something other than coming in and sitting down," he said.

Disclosure: I have no positions in any stocks mentioned, and no plans to initiate any positions within the next 72 hours.