##### Press Release ############################
ICBA on FDIC Study on Industry Consolidation


Study Confirms That Community Banks Remain Resilient
Washington, D.C. -John Buhrmaster, president of 1st National Bank of Scotia, N.Y., and chairman of the Independent Community Bankers of America® (ICBA), and Camden R. Fine, ICBA president and CEO, issued this statement following the Federal Deposit Insurance Corp.'s (FDIC) release of a study addressing community bank resiliency amid banking industry consolidation.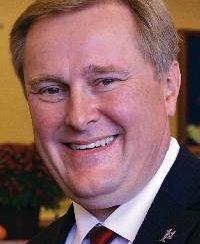 John Buhrmaster, Chairman, ICBA
President, 1st National Bank of Scotia, N.Y.
"ICBA thanks the FDIC for commissioning this report, which clearly demonstrates that the community banking industry remains resilient and has a bright future ahead. This FDIC study reiterates that community banks continue to grow, adapt, and evolve and debunks the misguided rumors that banks must hold $1B in assets to survive. Indeed, most community banks are in fact thriving, despite significant headwinds brought on by the after effects of the financial crisis, such as increased regulatory burden and compressed interest margins.
"Despite industry consolidation, the FDIC points out that most community bank combinations have been with other community banks. Not only is this good for the industry, but it's also fortunate for communities and small businesses that depend on the expertise that only a community bank can provide. Nevertheless, it cannot be overlooked that consolidation sheds much-needed light on the current regulatory environment that community banks face and the continued need for tiered regulation. This is exactly why legislation like the CLEAR Relief Act (H.R. 1750), which aims to limit regulatory burden on community banks, is essential for community banks and the communities they serve.
"The report points to the fact that consolidation has had its biggest net effect on the very smallest and the largest banks, noting that the number of institutions with assets less than $25 million declined by 96 percent during this period, from 5,717 to just 205. The FDIC study also highlights the alarming trend of increasing financial concentration among the nation's largest financial institutions. In 1990, the ten largest banks controlled 19 percent of industry assets, but by the end of 2013, they controlled 56 percent. The recent financial crisis showed us firsthand how financial concentration in a handful of megabanks can produce devastating consequences for our nation's economy which ultimately led to even more financial consolidation. That is why ICBA supports real reforms to limit systemic risk and taxpayer support of too-big-to-fail financial institutions, such as the Terminating Bailouts for Taxpayer Fairness (TBTF) Act (S. 798), introduced by Sens. Sherrod Brown (D-Ohio) and David Vitter (R-La.).
"Still, this report points to the fact that even after more than 30 years of industry consolidation community banks continue to serve as vital sources of credit for small businesses and providers of banking services to communities that might not be served by non-community banks. The evidence strongly suggests that community banks will continue to carry out these important functions for years to come for the benefit of small businesses, consumers and communities nationwide.
"ICBA commends the work of the FDIC in focusing on the importance of community banks to the nation's economy and looks forward to continuing this critical discussion with the agency to demonstrate how tiered regulatory and legislative policies are essential for the health of our nation's economy."
To review the FDIC's research study on long-term bank consolidation and the ongoing resilience of community banks, click:
http://www.fdic.gov/bank/analytical/quarterly/2014_vol8_2/article.pdf
About ICBA
The Independent Community Bankers of America®, the nation's voice for more than 6,500 community banks of all sizes and charter types, is dedicated exclusively to representing the interests of the community banking industry and its membership through effective advocacy, best-in-class education and high-quality products and services. For more information, visit icba.org.
### Press Release ############################
Disclosure: I have no positions in any stocks mentioned, and no plans to initiate any positions within the next 72 hours.