By Divya Lulla and Tahir Ali
A SNL Financial Report
(click to enlarge)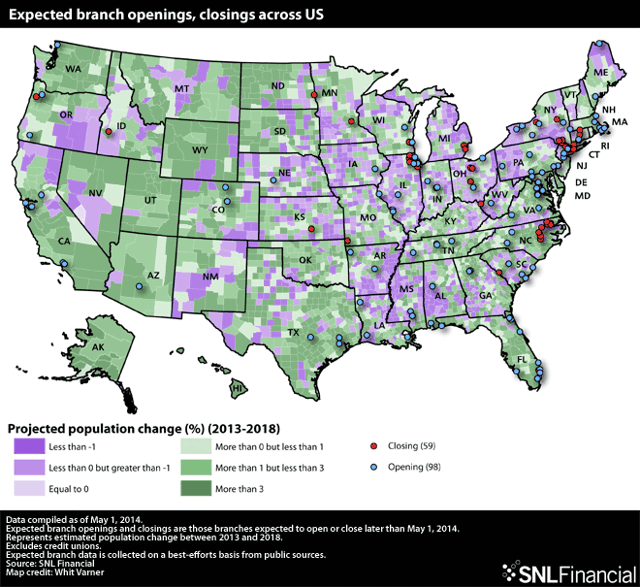 Click to enlarge
As more banking customers opt for virtual platforms over physical branches, total bank branches across the U.S. continue to fall. As of May 1, U.S. banks and thrifts have announced 98 planned branch openings and 59 expected branch closings that had not yet been executed, according to data collected by SNL. In total, U.S. banks and thrifts operate 95,555 branches in the country. However, this may not be a definitive indicator of the total number of openings and closings for 2014.
According to the Federal Reserve, a national bank must file a 90-day advance branch closing notice whenever it intends to close a traditional brick-and-mortar branch, or any similar banking facility at which deposits are received, checks paid, or money lent. The notice must detail the reasons for closing the branch, as well as statistical or other information in support of those reasons. The banks are also required to notify customers of the proposed closing, both by posting a notice at the branch slated for closure and by mailing a notice to affected consumers.
While the industry as a whole is trimming branches, new branches are still being built. JPMorgan Chase & Co. is expected to open 17 branches by year end, 12 of which are scheduled to be opened in the second quarter. The new branches would be spread across the country, with five in Florida, four in California, three in Illinois, two in Georgia, two in New Jersey and one in Louisiana. According to the company's first-quarter earnings transcript from April 11, CFO Marianne Lake said that the company has been focusing on building its branch network in order to strengthen its distribution capacity.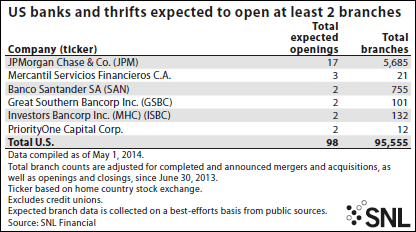 Full SNL Financial Data Dispatch:
http://www.snl.com/InteractiveX/Article.aspx?cdid=A-27903905-12587
(click to enlarge)

Click to enlarge
Disclosure: I have no positions in any stocks mentioned, and no plans to initiate any positions within the next 72 hours.