SNL Financial Feature Article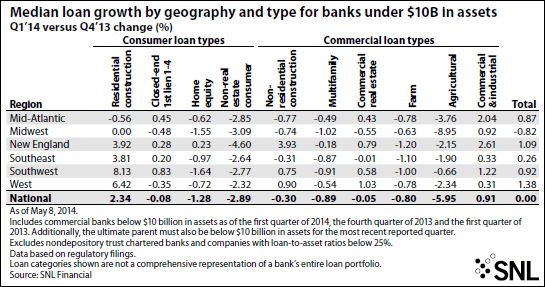 An unusually severe winter coupled with a prior quarter that saw the closing of many of the loans in the pipeline contributed to an inauspicious start to 2014 in terms of loan growth for the nation's community banks.
Median first-quarter loan growth among commercial banks with less than $10 billion in assets, when compared with the previous quarter, came in flat, an SNL Financial analysis of regulatory filings found. Compared with a year earlier, median growth was up by 5.20%.
Generally weak demand resulted in slow growth in every region of the country during the first quarter. When compared with the linked quarter, no region reached the 2% median growth level. The West showed the best growth coming in at 1.38%, according to the SNL analysis. The New England region fared second best with 1.09% growth, while the Midwest produced the weakest result, with a decline of 0.82%.
Median year-over-year growth was notable in some regions, but still hovered in the single digits. The New England region produced the strongest median expansion, at 8.09%, while the Southeast struggled the most, generating median loan growth of just 2.70%, SNL found.
Keefe Bruyette & Woods analyst Damon DelMonte told SNL that loan growth underwhelmed in part due to weather as the Northeast, Midwest and Mid-Atlantic regions all experienced tough and seemingly endless winters. Cold temperatures and snow-covered grounds contributed to the slow activity, he said. "As one banker put it, it's tough to appraise a piece of land when you can't see the ground," he said. The inclement weather also slowed down many projects and made it difficult to get projects off the ground.
Keep reading the full report and analysis here:
http://www.snl.com/InteractiveX/Article.aspx?cdid=A-28081598-13091
(click to enlarge)

Click to enlarge
Disclosure: I have no positions in any stocks mentioned, and no plans to initiate any positions within the next 72 hours.