SNL Financial Special Report
By Tahir Ali and Zuhaib Gull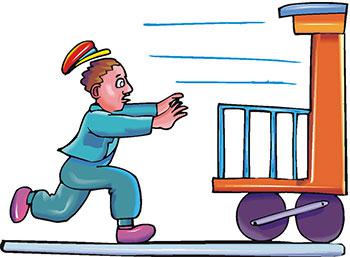 Forty banking institutions missed the May quarterly TARP dividend payment as required by the Capital Purchase Program, according to a June 10 report from the Treasury. The May quarter marked an improvement from the 48 deferrals in February, 56 in November and 73 in August. Deferrals fell in the latest quarter thanks to a mix of Treasury auctions, sales, exchanges and a bankruptcy.
(click to enlarge)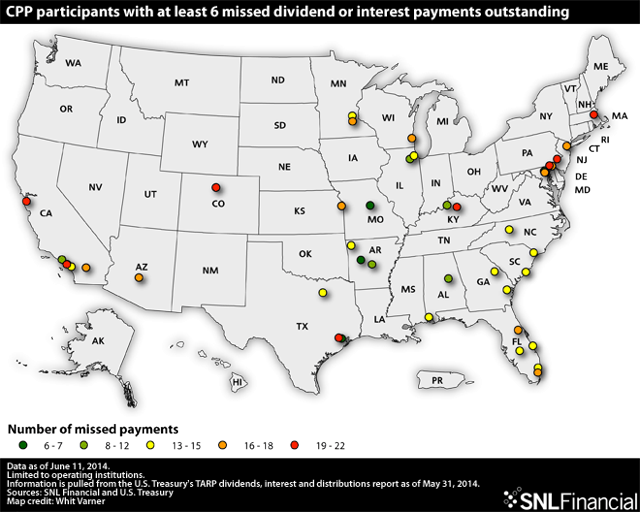 Click to enlarge
Boise, Idaho-based Idaho Bancorp filed for Chapter 11 bankruptcy April 24 after previously missing 19 dividend payments. The company received $6.9 million in TARP investments in January 2009.
Columbia, Tenn.-based Community First Inc.; Iselin, N.J.-based IA Bancorp Inc.; and Houston-based Patriot Bancshares Inc. had preferred shares auctioned off by the Treasury before the May quarterly TARP dividend was due.Community First had deferred 12 payments and owed the Treasury $2.9 million in unpaid dividends, while IA Bancorp had missed six payments worth approximately $472,000 and Patriot Bancshares missed 13 with an accrued dividend balance of $4.6 million.
TARP preferred stock from Northern States Financial Corp., initially worth $17.2 million in early 2009, was exchanged for common stock by the Treasury on April 30.
Meanwhile, as part of a merger deal, the Treasury sold the TARP preferred stock and warrants belonging to Rock Hill, S.C.-based Provident Community Bancshares to its new parent, Charlotte, N.C.-based Park Sterling Corp., for $5.1 million on the last day of April.
Two banks went current on dividend payments in May. Oakland, Md.-based First United Corp. and Greer, S.C.-based Greer Bancshares Inc. had previously missed 14 and 13 payments, respectively. First United was the third-largest CPP participant by noncurrent dividends at $5.3 million in February.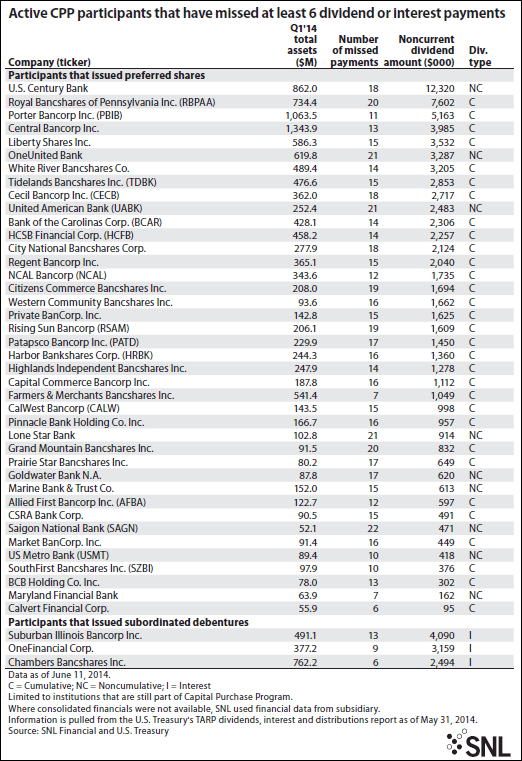 The 40 banks that missed the May dividend payment to the Treasury collectively received $381.2 million in TARP funds, or about 0.19% of the initial $204.9 billion given to 707 banks and thrifts under the Capital Purchase Program.
Under TARP, bank holding companies must pay cumulative dividends and missed payments accrue, while banks without holding company status pay noncumulative dividends and missed payments do not accrue. In some cases, regulators may restrict banks from paying dividends if accumulated earnings do not meet a certain threshold and some banks must attain shareholder approval before paying dividends.
All 40 of the companies that missed the May dividend payment have also missed at least five others. Eleven of these institutions have agreed to have a Treasury observer assigned and attend board meetings, while three have denied that request. Under the terms of the CPP, the Treasury has the right to elect up to two directors to the board of any institution that misses six dividend payments.
In addition, there were three companies that missed six or more TARP interest payments as of May 31. Collectively the 43 that missed six TARP dividend or interest payments have amassed $89.1 million in noncurrent payments, of which $58.1 are cumulative dividends, $21.3 million are non-cumulative dividends and $9.7 million are accrued interest.
Westminster, Calif.-based Saigon National Bank leads all other CPP participants with 22 missed payments to the Treasury, so far. The company has refused to have a Treasury observer attend its board meetings and has noncurrent dividends worth $470,673 outstanding. There are three banks that have missed payments 21 times, while two others have deferred 20 payments, as of May.
All 20 of the institutions with the highest amount of noncurrent dividends missed the May dividend payment. Doral, Fla.-based U.S. Century Bank had the highest amount of noncurrent dividends to the Treasury among all CPP participants at $12.3 million. However, the bank's dividends are noncumulative. The company has missed payments to the Treasury 18 times as of the end of May.
Narberth, Pa.-based Royal Bancshares of Pennsylvania Inc. still owes the Treasury the most in cumulative noncurrent TARP dividends among all other banks under the CPP at $7.6 million. The bank has missed 20 payments.
Elmhurst, Ill.-based Suburban Illinois Bancorp Inc. is one of three Subchapter S corporations with noncurrent interest outstanding that have missed six or more interest payments on subordinated debt issued under the CPP. The bank has missed 13 payments and has outstanding balances of $4.1 million on its noncurrent interest.
Baxter, Minn.-based Great River Holding Co. had missed 14 interest payments on its TARP subordinated debenture notes, before the Treasury auctioned off its notes in April. Little Rock, Ark.-based Riverside Bancshares Inc. which had missed two payments, went current on its dues through May.
Little Rock-based OneFinancial Corp. has missed nine interest payments to the Treasury as of May 31, accumulating noncurrent interest of $3.2 million.
As of May 31, the Treasury has received $12.09 billion in dividend and interest payments on securities issued under the CPP, $28.3 million of which came in May
(click to enlarge)

Click to enlarge
Disclosure: The author has no positions in any stocks mentioned, and no plans to initiate any positions within the next 72 hours.