By John Lachica and Robb Soukup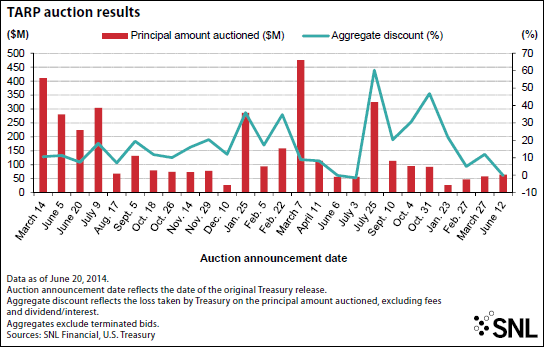 The U.S. Treasury Department recently completed its latest auction of TARP preferred equity, selling into a market that is still seeing strong demand and consistent pricing.
The Treasury announced June 23 that it had priced the auctions of six more institutions and it expected gross proceeds from the auction to be approximately $64.4 million. The agency auctioned off its TARP holdings issued by six banks in the process: Vero Beach, Fla.-based Marine Bank & Trust Co.; Elko New Market, Minn.-based Market Bancorp. Inc.; Towson, Md.-based Maryland Financial Bank; Narberth, Pa.-based Royal Bancshares of Pennsylvania Inc.; San Mateo, Calif.-based United American Bank; and Fayetteville, Ark.-based White River Bancshares Co.
Overall, the Treasury saw a slight 0.11% aggregate premium in the auction, according to SNL data, after recording aggregate discounts in its last seven auctions; it has netted premiums in only two other auctions, though the size of the aggregate discounts had come down in its previous two auctions: to 5.05% and 11.95%.
(click to enlarge)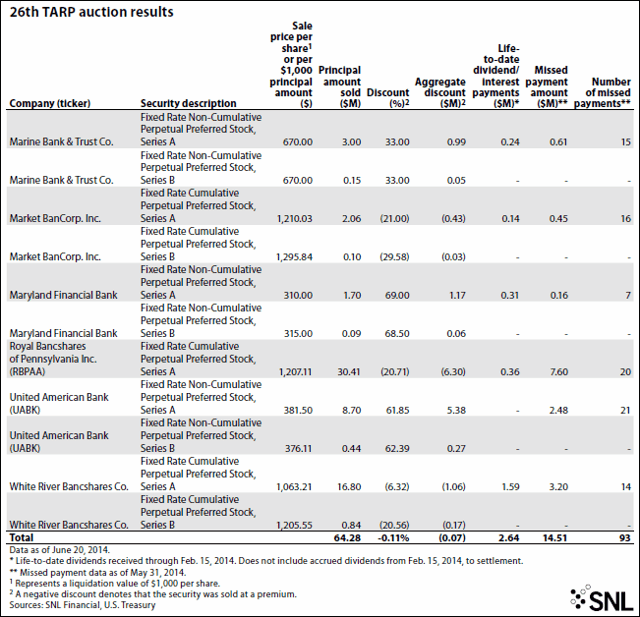 Click to enlarge
Michael Nichol, a portfolio manager at Hildene Capital - which has participated in the process and put money to work - said Hildene and other investors examine the companies whose preferred equity is up for auction rigorously. "You really do have to look at it from all different angles," he told SNL.
Royal Bancshares of Pennsylvania saw the highest aggregate premium in the auction and contributed to the slight premium that the Treasury recorded in this round of auctions. The company has 20 missed payments on the preferred equity it issued under TARP - a fact that in some cases will make a company a top target for buyers in the auction.
Nichol said that more investors have moved into the space, which in many cases has made pricing more competitive, especially as buyers in some cases grow confident that companies with missed payments will survive and move quickly to make payments. Still he noted that despite the increased competitiveness in the bidding, "there are still attractive opportunities even at these higher levels - just because something is at 120% doesn't mean that the … back interest the issuer owes won't trickle through in the next year or so … then you work towards having the issuer hopefully redeem at par in the not-too distant future."
The equity issued by Market BanCorp. Inc. and White River Bancshares Co. also drew aggregate discounts in the auction, although Royal Bancshares of Pennsylvania may have seen particularly strong demand because the company launched a private placement and said it would use the proceeds to help it purchase 14,000 of its own shares in the auction - a fact Nichol said is appealing from the perspective of investors.
For companies that display the right profile for investors, pricing will continue to hold fast for the best names in future auctions - though Nichol said there are still many good opportunities despite the increased competitiveness. But a divide could emerge because much of the paper left to be auctioned off was issued by institutions which are still in troubled straits.
"I would not be surprised if whatever comes out [of] that are high quality trades in line with what we've seen recently - or even better. Or, on the other end of the spectrum if they decide to sell off some of the deeper distressed levels … that [the preferred equity] would sell at some of the minimum clearing levels the Treasury has in mind," Nichol said.
(click to enlarge)

Click to enlarge
Disclosure: The author has no positions in any stocks mentioned, and no plans to initiate any positions within the next 72 hours.